Inspired by these Woven Paper Placemats, today I am sharing some simple Christmas Pattern Place Mats that you can make at home. My favorite thing about these place mats is that they not only look cute, but they reinforce fine motor skills while creating a beautiful pattern. They are super easy to make and only require a few supplies, making them a perfect activity for the kids to do while you are preparing the Christmas meal. If you are looking to keep the kids busy with some other fine motor activities, don't miss 18 Fine Motor Activities for Preschoolers and Fine Motor Practice with Straws.

You will need: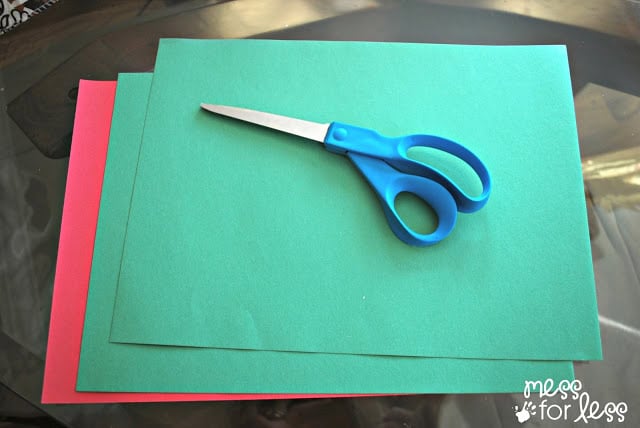 Fold a red 9 by 12 inch piece of construction paper in half and make four cuts almost to the end. You can see below how I left the ends of the paper attached. You don't need to measure these but try and make them a similar size.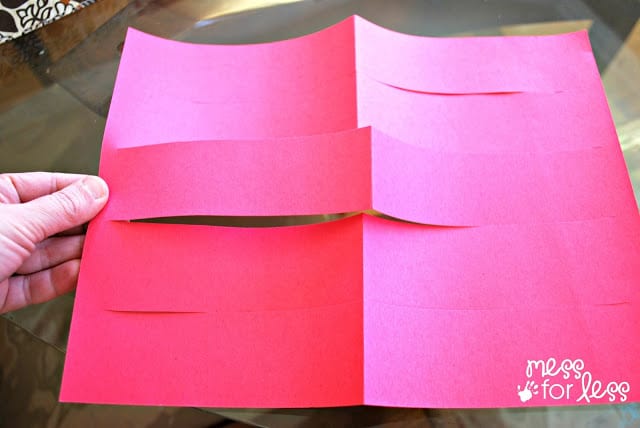 Next, you will cut 6 strips from the green construction paper. Try to get these strips roughly the same width as the lines you cut on the red piece of construction paper. It doesn't need to be exact though, so you can just eyeball it. If you are using a 9 x 12 piece of construction paper, 6 strips will be enough to weave the entire paper.
Demonstrate how to weave in an over under fashion. I weave the first strip while my child watches and then remove it so they can start again. Begin with the first strip under the paper and then pass it over the second cut and under the third and so forth. When your child is done with one strip have them rotate the mat and repeat the process on the other side.
When you are finished weaving a strip, push it to the strip next to it so there will be room for all the strips and they will be spaced evenly.
This is a great fine motor activity since it requires lots of manipulation of the paper to create a pattern.
When my daughter was finished, I taped the ends down. You can see that the ends will stick up a little bit. If you skip this step the strips will move about.
If you want to make these mats last and use them over and over again, you can have them laminated. You can leave them as is if you just plan to use them for Christmas dinner. Your kids can also draw on the mat or use stickers to decorate them.
For more fun Christmas crafts check out: