This week I am taking part in Play, Craft and Learn with Dinosaurs, a series where some of my favorite bloggers are sharing their ideas for fun with dinosaurs. There are dinosaur themed posts in the following areas - learning, fine motor, gross motor, arts and crafts and food. Yesterday we shared a fine motor activity - Digging for Dinosaur Footprints. Today everyone is sharing posts for Gross Motor Play with a dinosaur twist. We played a fun Dinosaur Toss game where we used our arm muscles to throw rocks into dino themed targets.
You will need:
12 small rocks or stones (we used the dinosaur footprint rocks we made here)
Sidewalk chalk in different colors
Dinosaur toss free printables
To get the free dinosaur game click here.
I have included some free dinosaur printables so you can play Dinosaur Toss at home. The ones I used were black and white since I accidentally forgot to switch off that option when printing. Yours will be in color.
Once you have printed out your dinos, head outdoors with some tape, chalk and your rocks.
Use your chalk to draw four circles on the pavement, starting with a large one and getting smaller as you get further out. We used four dinosaurs for this activity - Apatosaurus, tyrannosaurus rex, stegosaurus and triceratops. Since the Apatosaurus was the largest of these four, I taped its picture to the largest and closest circle and wrote the number one on it. Getting a rock in that circle would be worth 1 point. Since the T-Rex was the next largest, its picture went in the second biggest circle with a number 2. Stegosaurus is in the third, slightly smaller circle with the number 3. The smallest circle belongs to the triceratops which is worth 4 points.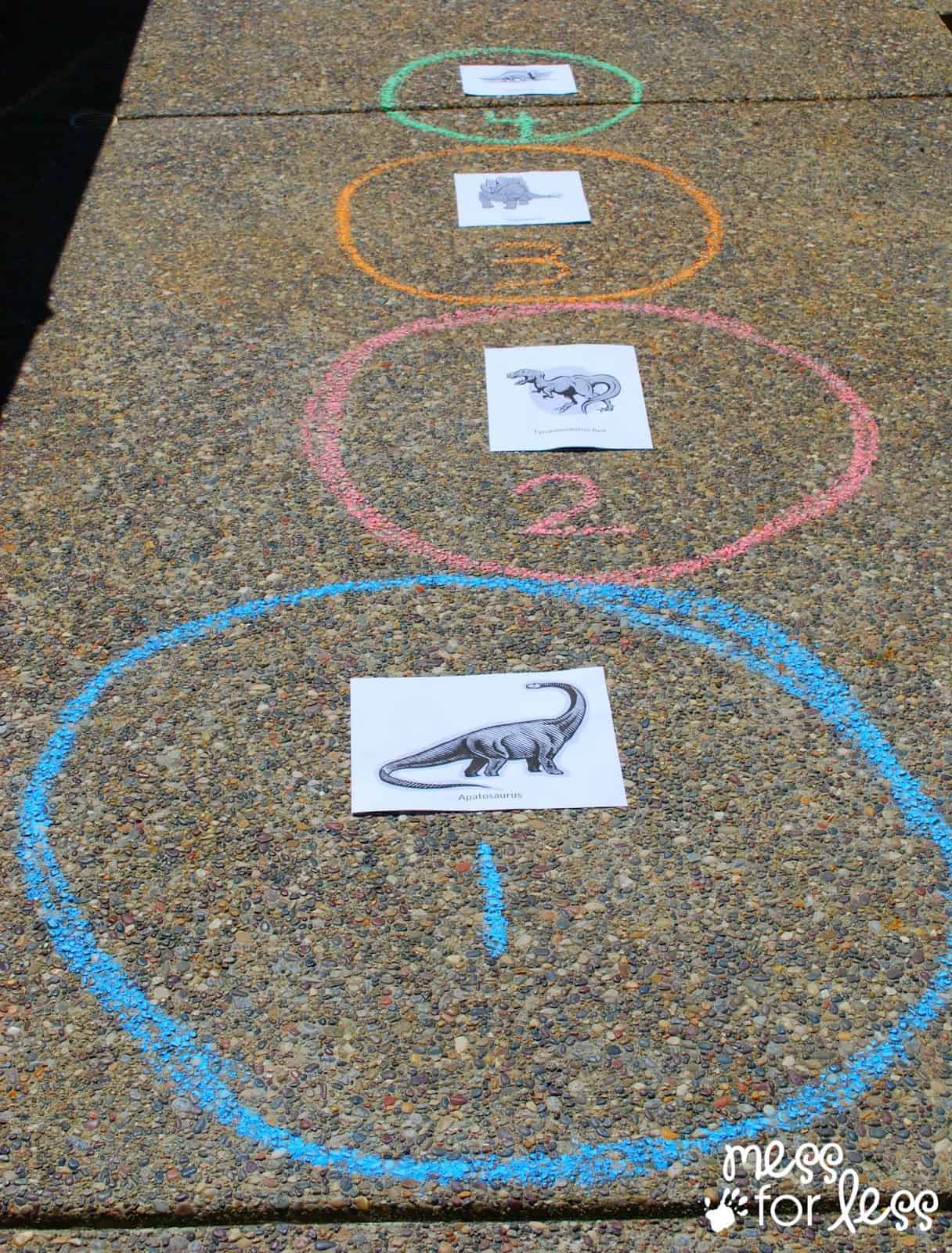 When you are done making your circles, make a square a short distance away. This is where you child will stand while they are throwing the rocks.
Rules: You have 12 rocks to throw to try to get as many points as possible. Only rocks that land in or on the circle will count. When you have thrown all the rocks, add up the score. If playing with more than one player, the one with the highest score wins.
I thought it would take my daughter a while to get the hang of the game, but she was pretty good from the start.
The stones tend to bounce and roll but she was able to use that to her advantage as she would have a stone hit the first dinosaur and bounce all the way to the last one for 4 points.
She was thrilled when that happened! The triceratops looked so far away that she never thought she would get 4 points.
Yes, she was so excited that her feet actually left the ground! That's when I knew this Dinosaur Toss game was a winner. She played over and over again trying to beat her high score and roaring like a dinosaur each time she scored some points.
Besides being a fun game and chance to learn a little about dinosaurs, Dinosaur Toss works large arm muscles as kids throw and leg muscles as they run back and forth bending over and collecting the rocks to play again.
Keep an eye on on Mess for Less for more dinosaur themed posts this week. Also, you can find some other great dinosaur ideas here:
Dinosaur Obstacle Course from Craftulate
Dinosaur Scavenger Hunt from Frogs and Snails and Puppy Dog Tails
DIY Dinosaur Feet Stilts from Lalymom