I have been getting into the Easter spirit lately (mostly with candy) and I had a fun idea for a simple Preschool Easter Learning Game using paint chips I got from the home improvement center. This game took a few minutes to put together but offers a number of ways for kids to practice reading and making words. For more Easter activities, try our Easter Egg Letter Match to help kids with their letter-matching skills.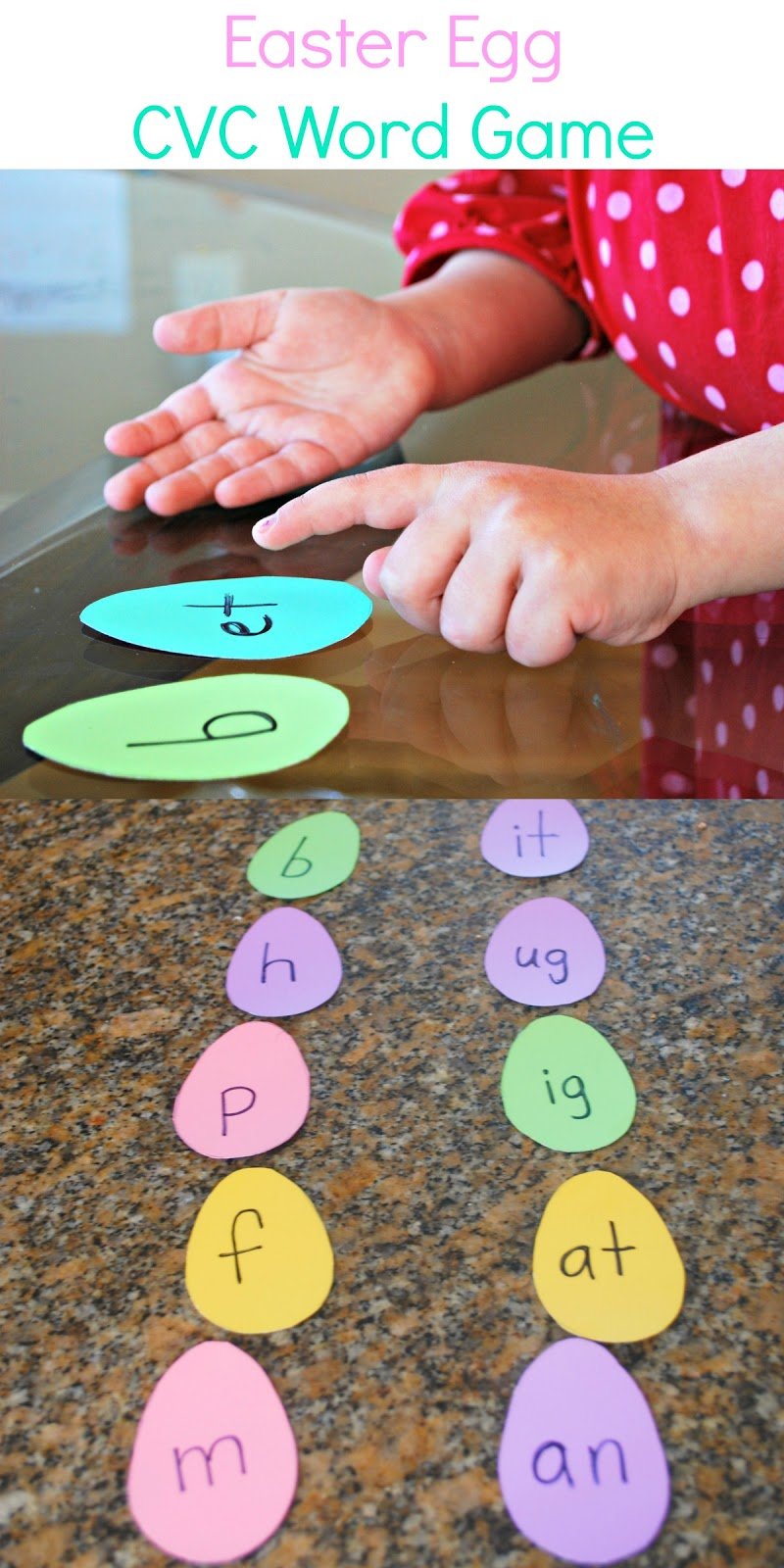 Jump to:
⭐Why This Preschool Easter Learning Game is Awesome
Fun Easter games you can make that help kids learn literacy skills with an Easter theme
Easter literacy activities like this one help younger kids learn while having fun in a hands-on way.
Inexpensive and easy to make - no craftiness required for this fun Easter activity.

🖍️Supply Notes
Paint Chips - You can use bright or pastel colors. I got these at a local home improvement store. Make sure to get the thicker ones.
Scissors - to cut out the eggs
Black permanent marker - to write the words on the eggs.

📋Step by Step Instructions
STEP 1: Draw and cut some eggs out of the paint chips. I was able to get 2 eggs for this Easter egg game out of each of the larger paint chips.
STEP 2: Write some endings for CVC (consonant-vowel-consonant) words on some eggs and consonants that could be used to make words on other eggs. The endings I used were -an, -at, -ig, -ug, -it, -ag, -un, -et, -ot. I used the following consonants: c, s, r, t, b, h, p, f, and m.
STEP 3: Give your child one word ending egg and some eggs that have consonants on them. They can push various letters next to the word ending cards and sound them out until they found the ones that make a word.
Once kids get used to the ending sound, in this case -et, it will be easy to switch the beginning letter and figure out what it says.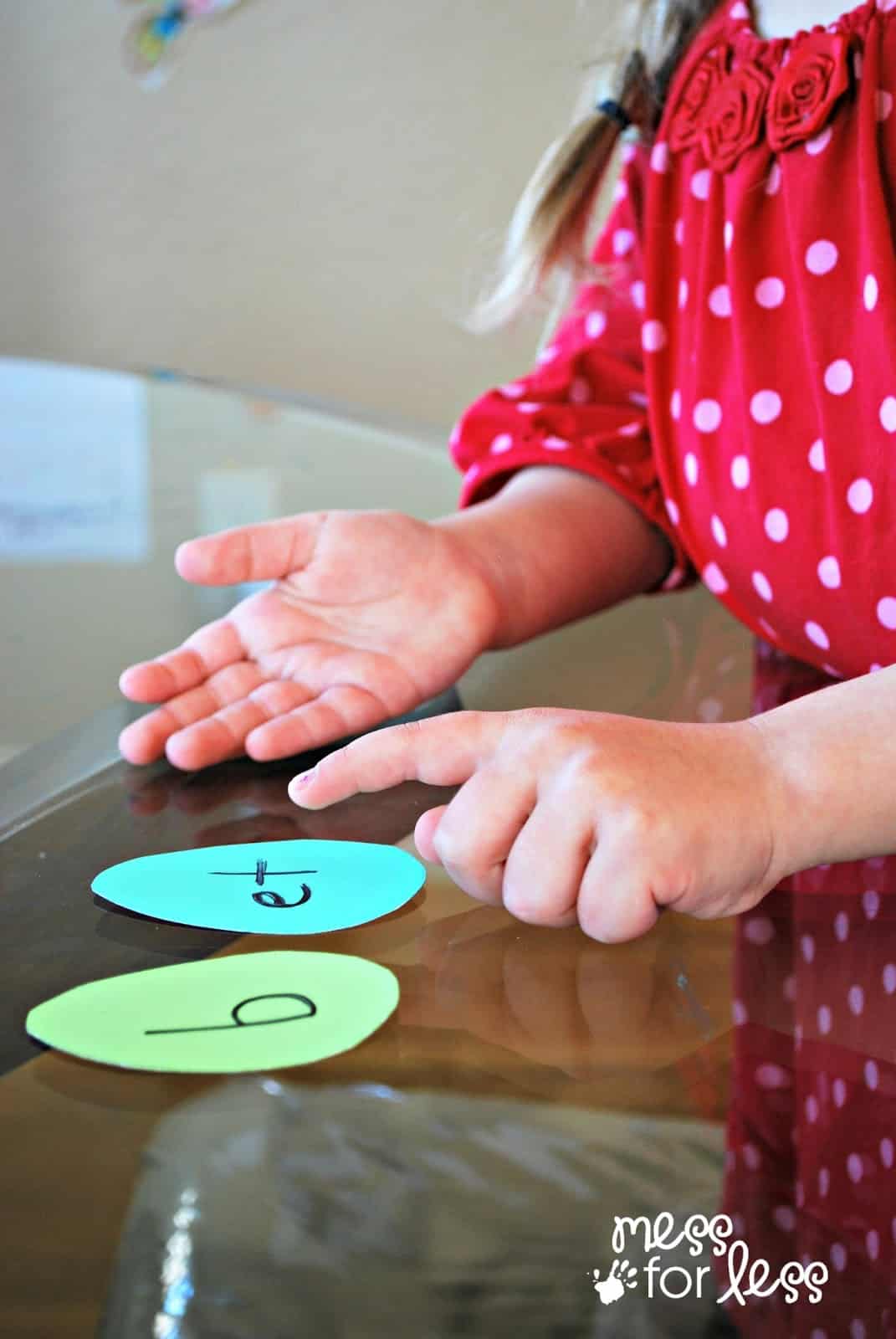 My daughter had so much fun with this Easter Egg CVC Word Game. Other fun games that she enjoyed were Water Balloon Phonics and Sensory Sight Word Games.
Have you ever made anything with paint chips? I would love to hear how you have used them in the past.
🌟If you try this activity, leave a review in the comment section. Be sure to sign up for my newsletter to get my latest kids' activities!
✂️Expert Tips
Tip 1: For an extra challenge, place all the word ending cards out and give your child the stack of consonants and ask them to see what words they can make.

🤷🏻‍♀️Activity FAQs
Where do I get the paint samples you used?
Head to your local home improvement store and grab some paint chips in pastel colors. For this activity try to get the larger paint chips rather than the ones that look like a bookmark.
What can this game teach kids?
This game can help kids who have started sounding out short words. It is a great way to practice making words and working on letter sounds.
Do you write the letters of the alphabet in uppercase or lowercase?
I used lowercase letters, but you can use all uppercase if you prefer since most kids recognize them first.

🐰Related posts