Have you ever started out doing one thing and ended up with something totally different? That's what happened when we tried an exploding milk experiment. It started off as a completely innocent experiment using milk, food coloring and dish soap and ended up as a bubbly, fizzy adventure. We did all of these activities at once but you can split them up over a series of days culminating with this bubbling milk activity. If you are in the mood for more science activities for kids, try our Making Color Disappear experiment.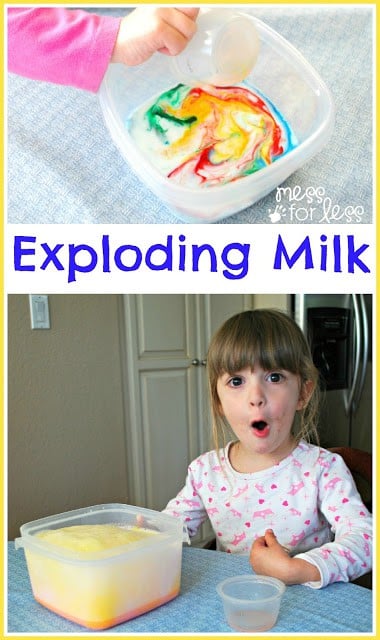 Milk
Dish soap in a small cup
Tooth picks
Vinegar
Bowl or container for milk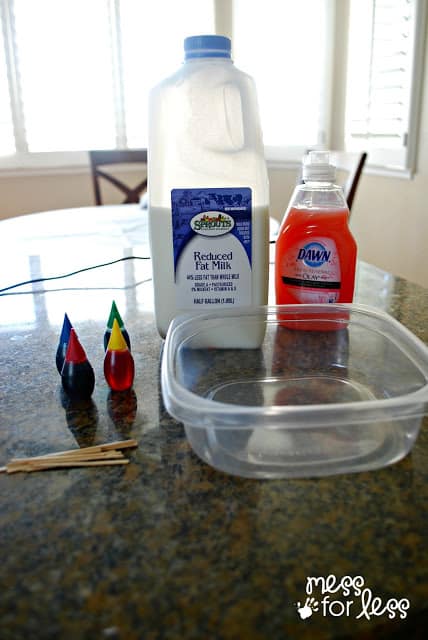 We started out by adding a few drops of food coloring to some milk.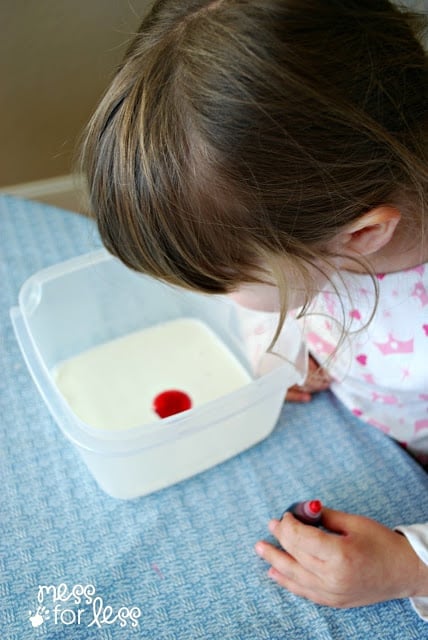 Then we dipped a toothpick in some dish soap and touched it to the food coloring in the milk. My daughter was so impressed with the reaction that took place between the dish soap and the liquid. I think it's pretty impressive, don't you?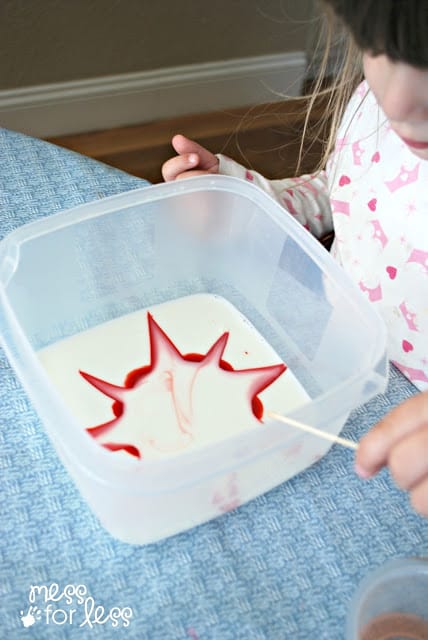 Next, she tried stirring it up with her toothpick.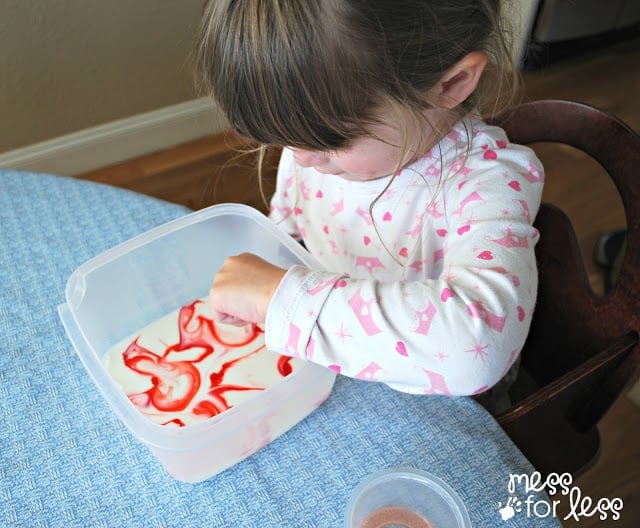 My other daughter worked with blue food coloring.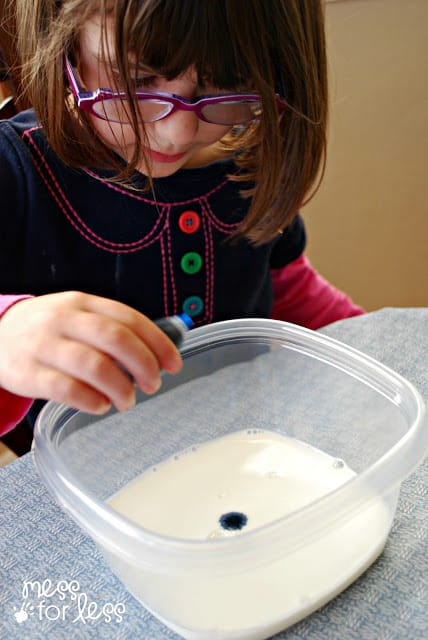 She had the same cool result when the dish soap made contact with the liquid.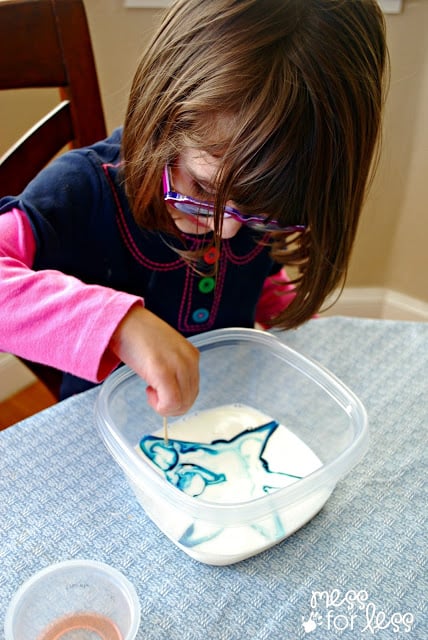 Then she added lots of different colors for a rainbow effect.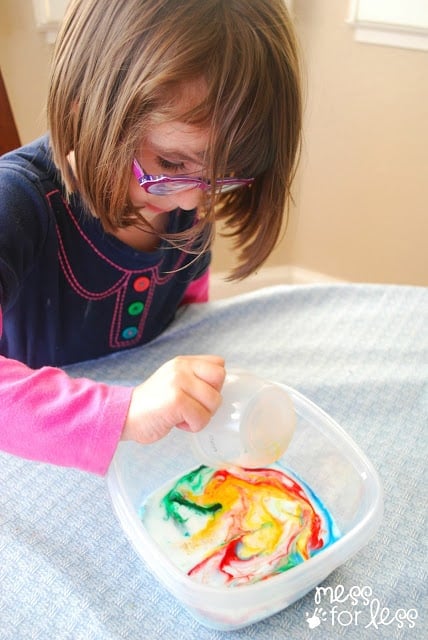 At this point I had the idea to add baking soda and vinegar to the milk and food coloring mixture. I didn't know if the milk would curdle. I was surprised when the baking soda and vinegar acted as they normally did and caused a bubbling, fizzy eruption. Apparently the milk made no difference. As you can see my youngest was surprised as well.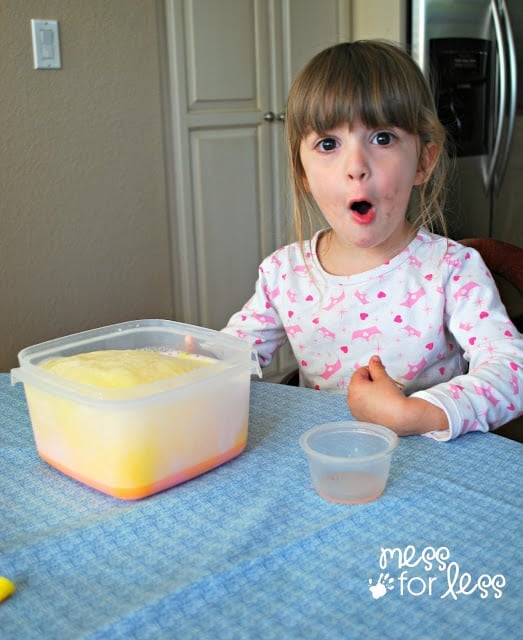 We loved how the resulting foam was colored from the food coloring. We added some more food coloring to the mixture along with more baking soda and vinegar and it was fun watching the colors bubble up.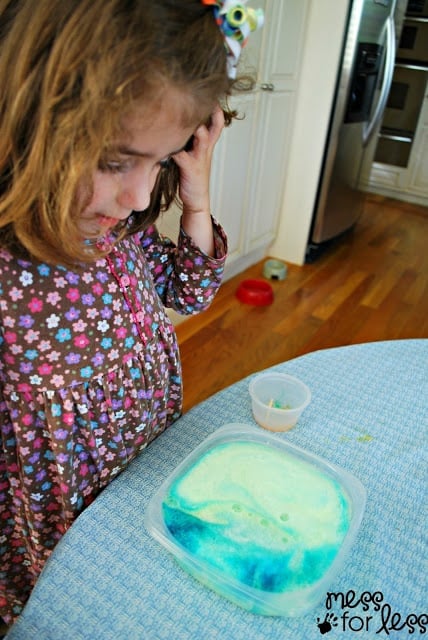 We also tried adding food coloring on top of the bubbled mixture and using a spoon to make beautiful swirls.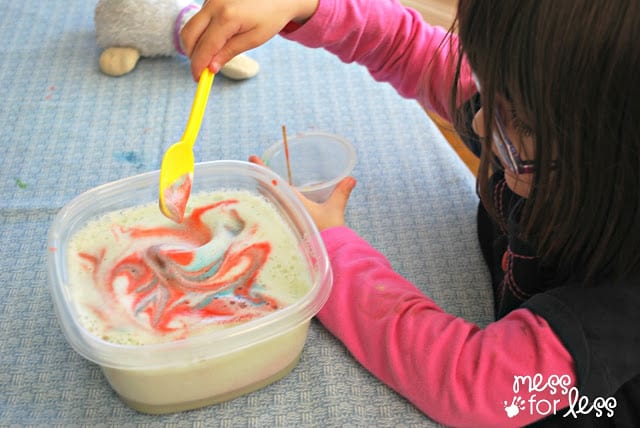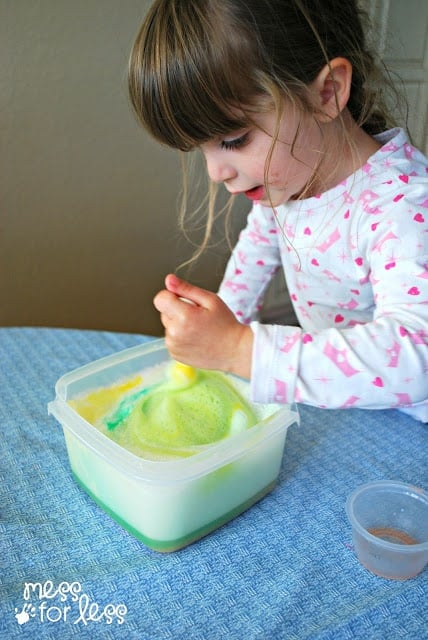 The kids really loved all the experiments we did with the milk and food coloring but the watching the milk erupt was by far their favorite. They kept asking me to add more vinegar and baking soda, so you want to make sure you have a good sized container for the exploding milk experiment so the milk doesn't overflow.
For more fun science experiments check out: