I have an easy science experiment for you today. All you'll need is soda, a cup, pennies and some time. Teaching kids about science doesn't have to be intimidating. You can actually do lots of simple science experiments at home with just a few basic supplies. Recently, we did this Cleaning Pennies Experiment and the results were surprising to my kids. When you are done with this fun experiment, check out Making Pennies Green.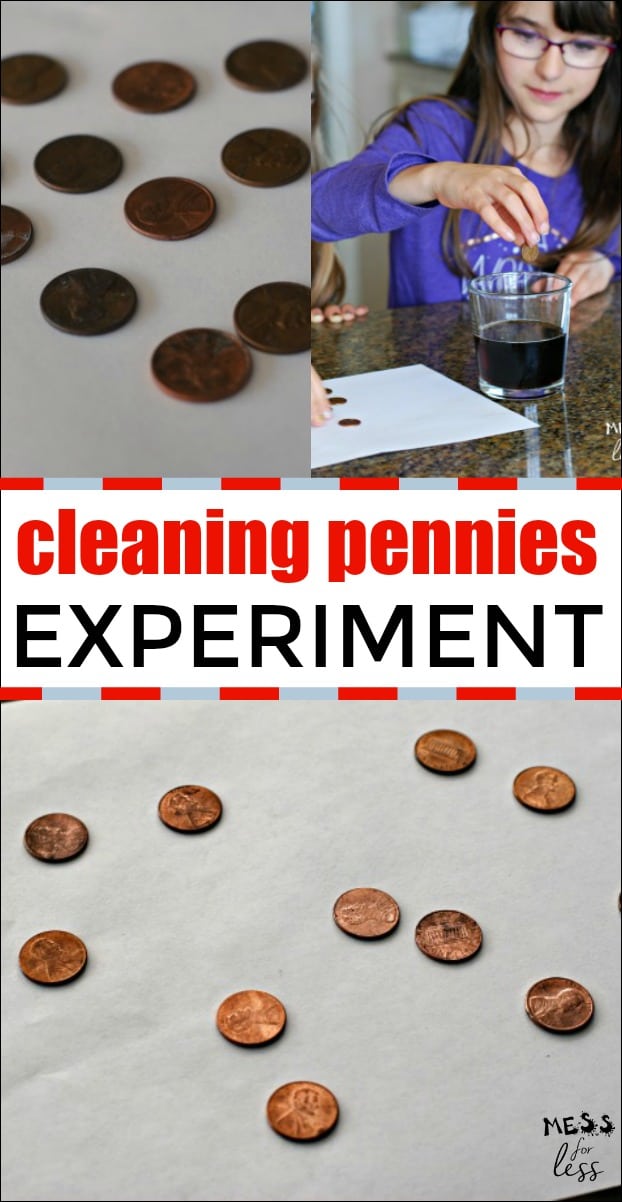 Cleaning Pennies Experiment
Please supervise your children during all activities.
You will need:
glass or see through plastic cup
can of Coke or Pepsi
dirty pennies
Before we started our cleaning pennies experiment, I talked to my kids about what they thought would happen when we placed pennies into some soda. One of my daughters thought that the pennies would get dissolved while my other daughter thought the soda would make the pennies dirtier. So we did a little experiment to see what would actually happen.
To begin with, you'll want to find a handful of dirty pennies. My kids had fun doing this, raiding their piggy banks to find some dirty pennies.
Once you have the pennies, pour some of the soda into the glass. About half way filled is fine. If you have older kids, you can let them pour the soda. Younger kids might need a bit of help. Drop the pennies into the soda.
This is what the pennies look like sitting at the bottom of the glass. Now comes the hardest part of the experiment - the waiting. Let the pennies sit in the soda overnight. Keep it out of reach with a note to be sure no one drinks the soda.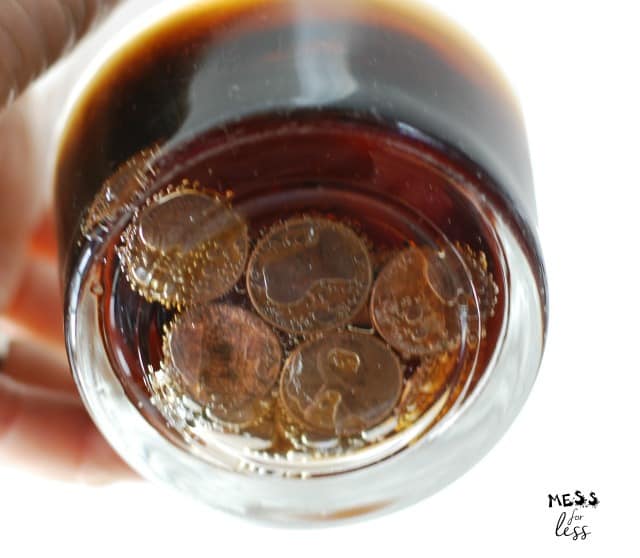 The next day, pour the soda out of the glass, careful to leave the pennies.
Dry the pennies with a paper towel. As you are drying them, you'll notice that rubbing results in some of the dirt coming off the pennies.
We laid our pennies out to look at them and were surprised with the results. None of our pennies were dull anymore, and some were downright shiny!
How did this happen? The pennies have become tarnished as the copper coating reacts with oxygen in the air and forms a copper oxygen compound, which makes the pennies appear brown. The soda cleans the pennies because it contains phosphoric acid. Phosphoric acid breaks down the copper oxygen compound and causes a new layer of the copper to be exposed.
If you are looking for a fun and engaging way to keep kids passionate about learning, check out Groovy Lab in a Box. These boxes are presented in partnership with Popular Mechanics so you know you'll be getting some great stuff each month. Kids will love Groovy Lab in a Box because it contains everything they need to do experiments focused on science, technology, engineering and math (STEM). Kids will get all the supplies they need to complete the activities in addition to a cool lab book .Subscribe here.
If you enjoyed this cleaning pennies experiment, you'll love: