My kids always enjoy a fun science experiment. We have learned so much with Simple Science for Preschoolers and an awe inducing Ice Cube Experiment. So naturally, when I asked my kids if they wanted to do a science experiment where we would be making pennies green, they were all for it. This easy experiment takes just minutes to set up which is always a plus in my book!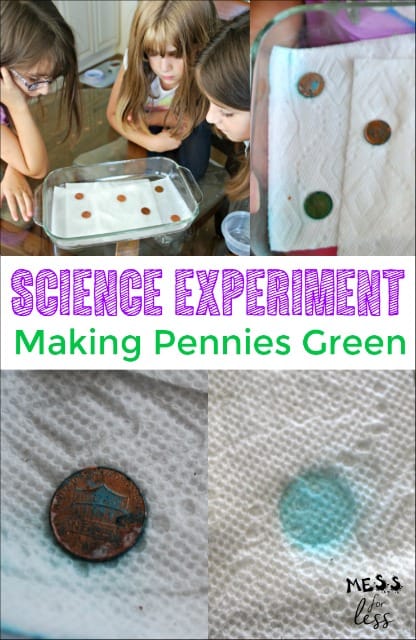 Science Experiment - Making Pennies Green
You will need:
We started out by lining our pan with paper towels. We made a layer using a few paper towels.
Next it was time to add the vinegar. The kids were curious to smell the vinegar. They were not pleased with the scent.
Pour the vinegar onto the paper towels until it is absorbed. We used about ⅓ cup of vinegar. Make sure you use enough to wet the entire paper towel.
Now it's time to add the pennies on top of the paper towel.
Next, comes the toughest part of this science experiment - the waiting. For maximum results, you'll want to wait 24 hours.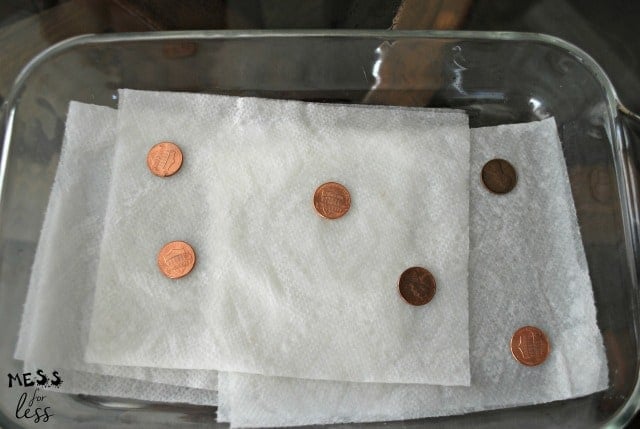 My kids insisted on watching to see if they pennies started to change color. But you know how they say a watched pot never boils? Well, watched pennies never turn green. We set the pennies aside and went about our day.
The pennies did not turn green right away, but even after a few hours, we noticed that some green was starting to appear on them.
After 24 hours, we were pleased to see that the pennies had turned green. Depending on the age and condition of the pennies, some got more green than others. We were surprised when we picked up the pennies that the bottom of the paper towel where the pennies were had turned green as well.
So what happened and why did the pennies turn green in our science experiment? The acetic acid in the vinegar reacts with the cooper oxide on the pennies and the cooper in the penny to form copper acetate, which is green.
We found that this experiment works better with older pennies since prioir to 1983 pennies were 95% cooper. Current pennies are are little over 2% cooper.