I love doing this Colorful Dancing Milk experiment with preschoolers and young children because they are always totally amazed with the magic that happens. To have some fun with this colorful dancing milk dish soap experiment, you will be using items you probably already have at home. When you are done with this fun experiment, don't forget to check out our other science experiments.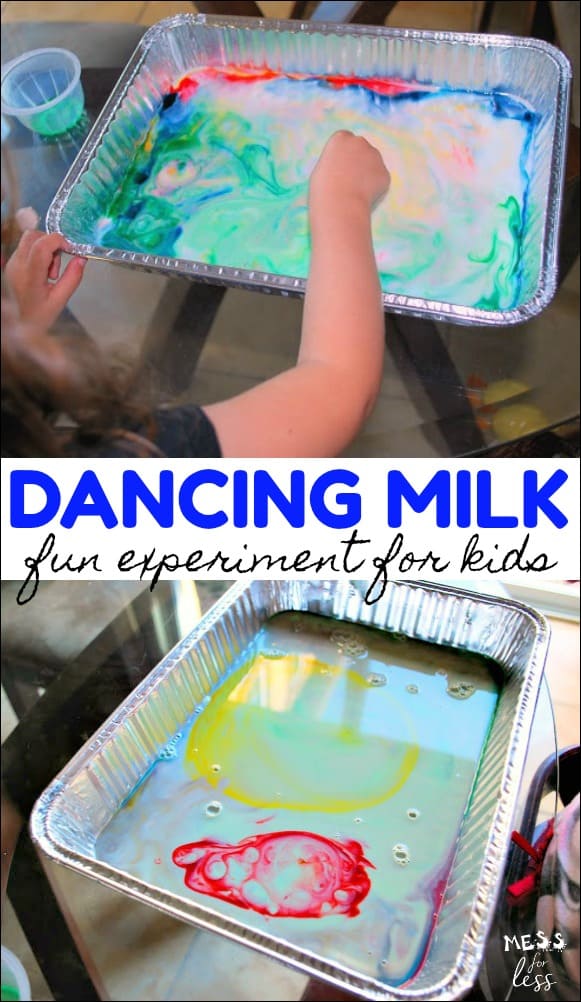 Jump to:
Why this magic milk science experiment is awesome
easy science experiment for kiddos
can be done with common household materials
kids will love how the colors appear to "dance" in the middle of the milk
Supplies you'll need
tray (can use a pie plate too)
milk (I heard whole works better with this but we were pretty happy with the results we got with 2 %)
tooth picks
dish soap
small cups
Please supervise children during all activities.
Instructions for the magic milk experiment
Pour some room temperature milk in the tray or pie plate. You'll want to make sure the bottom of the plate or tray is fully covered with milk so you can no longer see the bottom. Have your kids help you squeeze drops of food coloring into the milk. You can use a variety of colors of food coloring. You only need a drop of color.
Squeeze a drop of liquid dish soap into a small cup. Give your child a toothpick or cotton swab. Have them dip the tip of the cotton swab or toothpick in the soap and then dip it into the food coloring and milk. My kids were delighted with this step as the food coloring started moving in all different directions. They squealed with delight as their actions made the milk move. "Look it's dancing!"
The secret behind this experiment
The colorful dancing milk was not really dancing, but the easy explanation is that the soap had disturbed the surface tension of the milk which caused it to spread apart when the toothpick touched it.
The more complex explanation is that the dish soap molecules are drawn to the fat molecules in milk causing the molecules to rush around seeking to connect. When the food coloring gets moved around, it appears to burst, creating a colorful display.
I admit, even I was impressed by this effect. So impressed, that I borrowed my daughter's toothpick and tried it myself. It was so fun to make a milk rainbow as the colors spread!
A really neat thing about this colorful dancing milk activity was that even when the kids were not touching the milk with the toothpick, it would keep on moving the burst of color around to different places on the tray. It was fun to just sit and watch. I could not really capture this with my camera, so you will just have to try it yourself.
When my daughter was done with her toothpick and soap, she discovered that she could also mix the colors to create a variety of colors by blowing on the milk.
What I really liked about this classic magic milk science experiment, was that it can be used with younger kids or older kids where you can bring in more of the science behind the magic.
If you are looking for some more easy experiments, the Spangler Science Club delivers amazing hands-on science to your door every month. Join Today!
Frequently asked questions
What type of milk should I use for this science activity?
Whole milk is recommended because of the milk fat, but I have used different types of milk (such as 2% milk) with success.
How can I extend this science experiment?
You can try it using different types of milk, such as skim milk, and see what happens. Give a try with almond milk and see if that alters the results!
Can I use expired milk to make colorful dancing milk.
You certainly can. It is a great way to feel less bad about letting milk expire.
Related posts