I love doing this
Colorful Dancing Milk
activity with preschoolers and young children because they are always totally amazed with the magic that happens. To have some fun with colorful dancing milk, you will be using items you already have at home. If you don't already have these items at home, then you know what to put on your shopping list. But I am betting most of you have this stuff. When you are done with this fun experiment, don't forget to check out our other
science experiments
.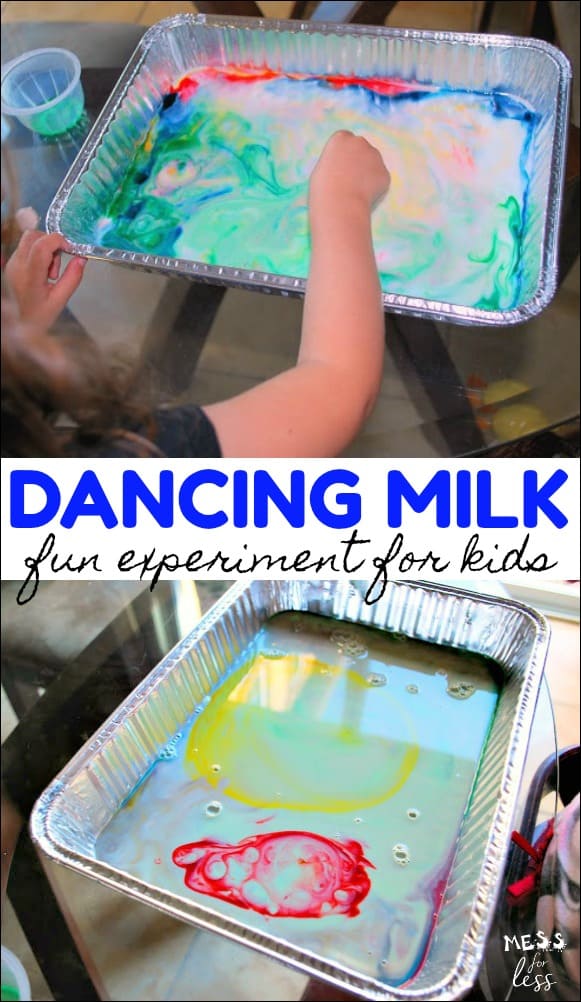 Colorful Dancing Milk
Please supervise children during all activities.
You will need: a tray (can use a pie plate too), milk (I heard whole works better with this but we were pretty happy with the results we got with 2 %), food coloring, tooth picks, dish soap, and small cups (are you saving those applesauce cups yet? They would be perfect for this).
Pour some room temperature milk in the tray. You'll want to make sure the bottom of the tray is fully covered with milk so you can no longer see the bottom. Have your kids help you squeeze drops of food coloring into the milk.
Squeeze a few tablespoons of dish soap into a small cup. Give your child their toothpick and have them dip it in the soap and then dip it into the food coloring and milk. My girls were delighted with this step as the food coloring started moving in all different directions. They squealed with delight as the milk moved. "Look it's dancing!" I didn't have the heart to tell her that it was not really dancing but that the soap had disturbed the surface tension of the milk which caused it to spread apart when the toothpick touched it. I'm kind of a buzz kill that way, but I held back this time.
I admit, even I was impressed by this effect. So impressed, I borrowed my daughter's toothpick and tried it myself. It was so fun! My daughter was not pleased with this, so I stopped playing and gave her back her toothpick. Note to self - must do this when the girls go to sleep.
A really neat thing about this colorful dancing milk activity was that even when the girls were not touching the milk with the toothpick, it would keep on moving the colors around. So it was fun to just sit and watch. I could not really capture this with my camera so you will just have to try it yourself.
When my daughter was done with her toothpick and soap, she discovered that she could also mix the colors by blowing on the milk.
What I really liked about this colorful dancing milk activity, was that it can be used with younger kids or older kids where you can bring in more of the science behind the magic.
If you enjoyed colorful dancing milk, you'll love: