We have been having fun at our house lately with some simple science activities like an ice cube experiment and rising raisins. So I am excited to share these 10 Science Activities for kids. If you are feeling intimidated by teaching science concepts to your kids (it was never my best subject at school) you are not alone. But these science activities are easy to understand and explain so you can feel confident.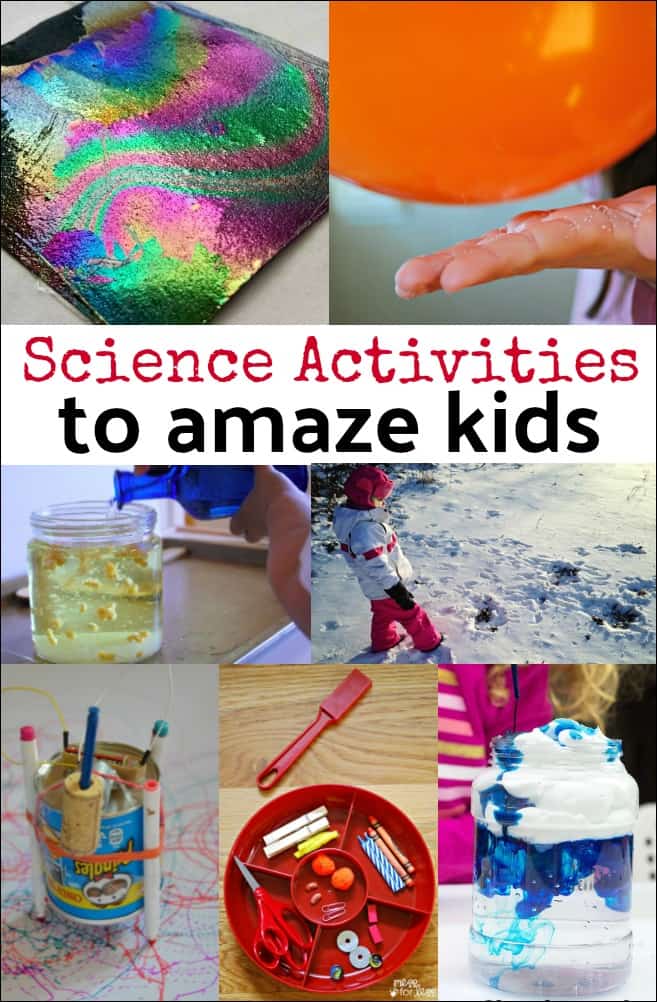 Science Activities for Kids
Static Electricity Experiment from Mess for Less - This static electricity experiment is a fun way to teach kids about basic science concepts using items you already have at home. My kids were amazed!
Fizzy Hearts Science from Little Bins for Little Hands at B-Inspired Mama - Perfect for Valentine's day, this heart filled experiment will delight kids while they learn about reactions.
Preschool Science Magnet Exploration from Mess for Less - This activity aims to discover what items are magnetic and which items are not. This simple science activity teaches kids about magnets and the scientific process.
Animal Tracking with Children from Rain or Shine Mamma - Kids love animals and animal tracking teaches them a useful skill. It is easy to get started with these easy tips.
Rainbow Paper from Science Kiddo - Kids will be so impressed with this rainbow paper that they can make. This experiment only needs a few items that you may already have at home.
How to Make a Scribble Bot from Science Sparks - Kids can make their own bot that draws using a chip can. Such a cool way to see science and technology in action!
Hopping Corn Science Activity from One Time Through - Do you have popping corn in the cupboard? Then you can make this fun hopping corn. Kids will be delighted as they learn about the principles that make this happen.
Pine Cone Science Experiment from Lemon Lime Adventures - This experiment will help kids understand why some pine cones are open and others are closed. Kids will make inquiries and discoveries and test their hypothesis.
Rain Cloud in a Jar from Mom Inspired Life - This experiment is a great way for kids to learn about weather, plus it involves shaving cream and food coloring, making it extra fun for kids.
Hot Ice Experiment from Playdough to Plato - Just some basic ingredients are needed to make this totally cool science experiment. Seriously, you must try this to amaze the kids and adults in your home. You can also find a wonderful explanation of the science behind the magic!
If you liked these science activities for kids, you'll love: