We recently had an over abundance of strawberries. I had bought some on sale and my mom came over with a bunch she got at her local farmer's market. What to do with all these strawberries before they spoiled? In the past we have made a Strawberry Crescents Recipe, but I wanted to try something different. Since I have always enjoyed the dried strawberries you find in some cereals, I thought I would try and make them myself. These Easy Dried Strawberries were so flavorful! The kids and I gobbled them up. Check out how simple they are to make.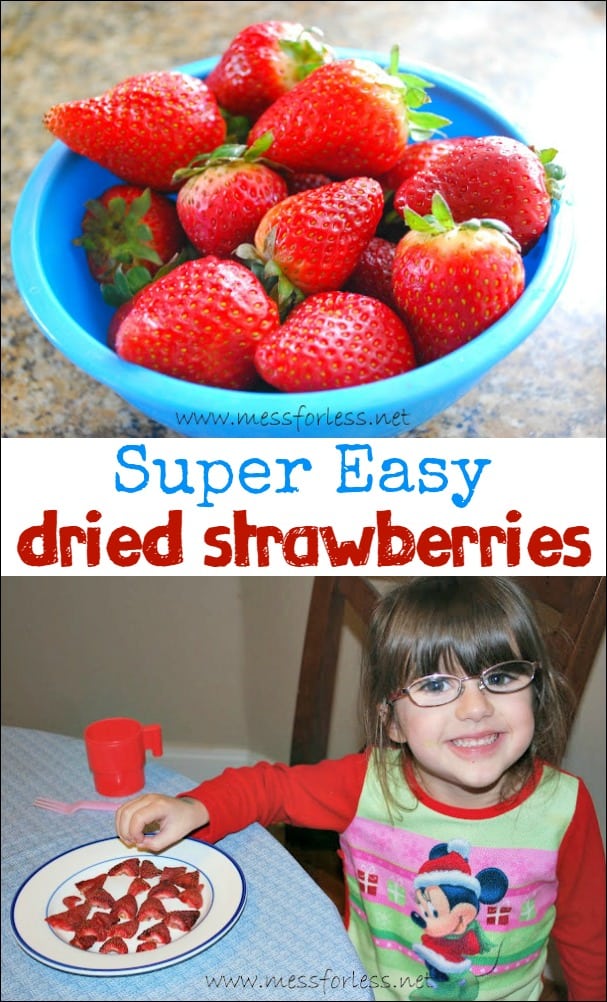 Easy Dried Strawberries
You will need:
Strawberries
Pan
Cooking spray
Toaster oven (optional - you can use a normal oven as well)
If you own a food dehydrator, you can make easy dried strawberries with that. But it is not necessary. We don't have a food dehydrator, so I used the oven, well, the toaster oven to be exact. You can use either.
You'll want to start by washing the strawberries and drying them with a paper towel. Make sure they are thoroughly dried. Now it's time to slice the strawberries. I just cut ours in half since they shrink a lot in cooking, but if you want them thinner and crispier, slice the strawberries thinner.
Spread the strawberries in one layer on a greased pan.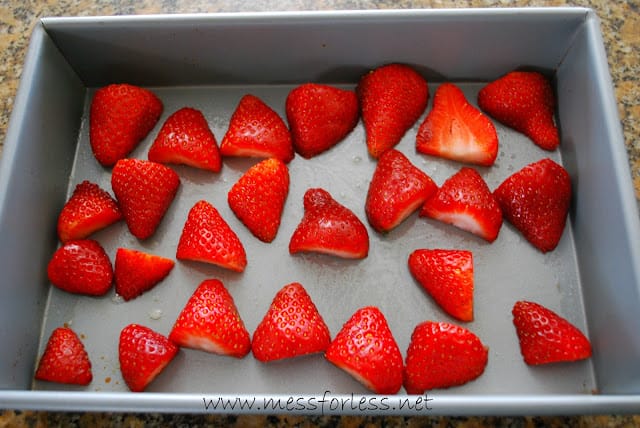 I made our easy dried strawberries in the toaster oven but you can use your oven as well. I set the toaster oven for 150 degrees. If your oven doesn't go this low just set it for the lowest it will go. I left it in the oven for 6 hours. I could have left them in longer, but I wanted them to be a little chewy and not completely shriveled. If you are making these in the oven, you may want to leave the oven door open a bit so air can escape and they can dry out more thoroughly. If you have kids around and decide to do this, please be careful.
The flavor of these easy dried strawberries is so robust. It is really concentrated and tastes almost like candy. The kids gobbled them up. You will want to store these in the refrigerator because they may have some moisture left in them that can make them spoil if left out. My guess is that you will not have any left to store once your kids taste them.
📖 Recipe
Easy Dried Strawberries
Kids will love these Easy Dried Strawberries. Simple to make and good for you!
Print
Pin
Rate
Ingredients
Instructions
Wash and thoroughly dry strawberries.

Slice strawberries into thin slices and spread out on greased pan.

Bake in 150 degree oven for 6 hours.

If you want the strawberries drier, leave them in the oven longer.
Nutrition
Calories:
18
kcal
|
Carbohydrates:
4
g
|
Protein:
0.4
g
|
Fat:
0.2
g
|
Saturated Fat:
0.01
g
|
Polyunsaturated Fat:
0.1
g
|
Monounsaturated Fat:
0.03
g
|
Sodium:
1
mg
|
Potassium:
87
mg
|
Fiber:
1
g
|
Sugar:
3
g
|
Vitamin A:
7
IU
|
Vitamin C:
33
mg
|
Calcium:
9
mg
|
Iron:
0.2
mg
If you liked these easy dried strawberries, you will love: