We have been having lots of spooky fun preparing for Halloween. When October rolls around my kids are ready for Halloween fun. Today we are sharing some Halloween Sensory Play that captured our imaginations. Halloween sensory play ideas are a great complement to this Halloween Gak slime recipe since kids get to dig in with both hands and explore.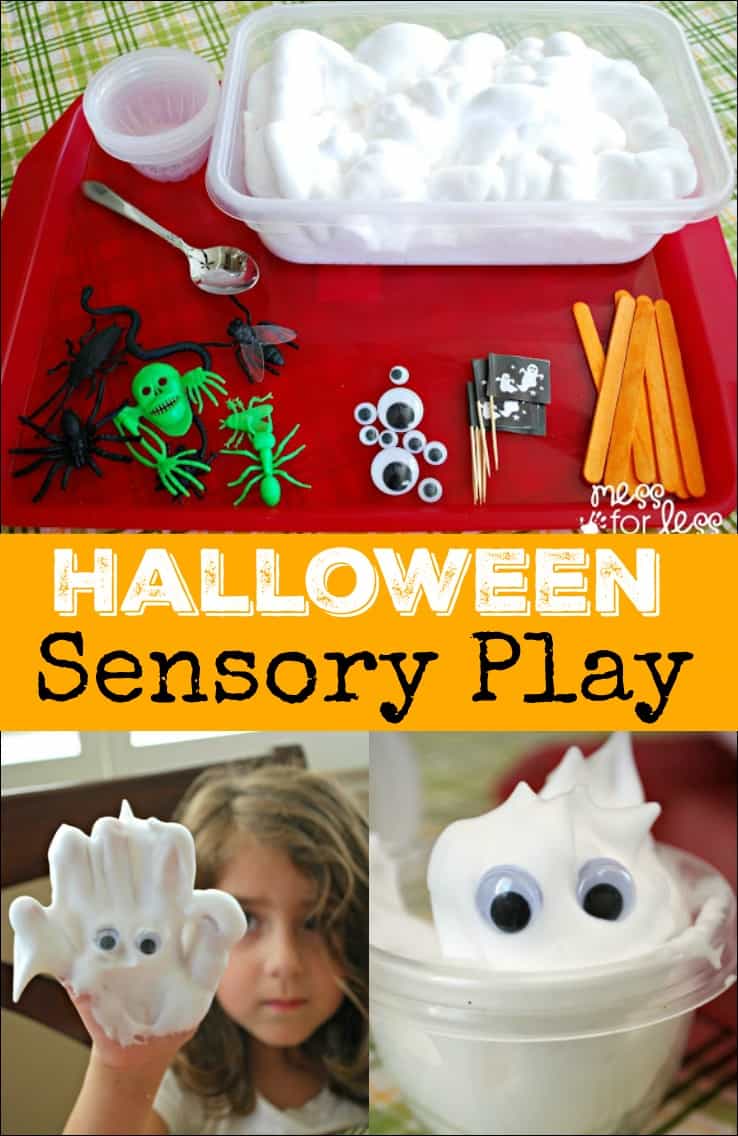 Jump to:
Why kids will love this Halloween Shaving Cream Play
Preschoolers can use their imagination as they create all kind of fun play scenarios
Halloween activities like this one help get kids excited for the holiday
Simple fun for little hands to explore the shaving cream
You will need
Halloween toys - such as plastic spiders, bugs and skeletons (purchased at the dollar store)
Plastic Cups
Spoon
Popsicle sticks
Please supervise you child during all activities. All activities are not suitable for all children.
How to set up this Halloween sensory activity
What I love about Halloween sensory activities is that you can really use Halloween items that you already have at home.
Fill up a plastic bin with shaving cream and provide your child with the toys and supplies.
When my kids saw the googly eyes, they immediately decided to make some ghosts with them. The shaving cream worked perfectly for this.
My daughter discovered that she could use the shaving cream like glue and stick her spooky toys to the bin.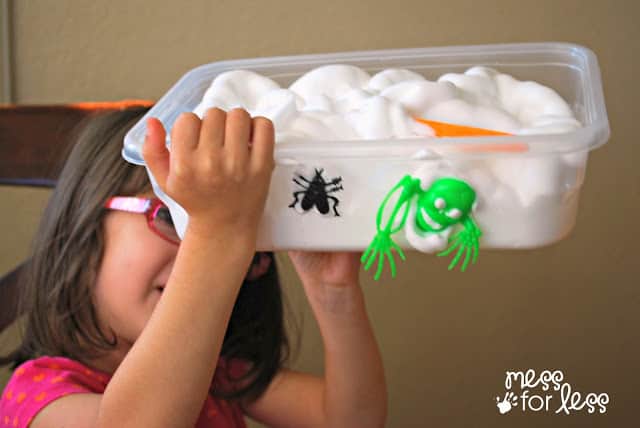 Hand ghost!
I found these cute cupcake toppers in my cupcake decorating bin and I thought they would add some spooky fun to our Halloween sensory play.
It was great seeing what the kids came up with when I simply provided them with some fun supplies. Like this fun spooky Halloween ghost!
This Halloween sensory play was simple to set up and kept the kids engaged. It will make something of a mess so make sure the kids are wearing play clothes.
We hope you enjoy this Halloween sensory bin with your kids. I recommend keeping a bowl of water and a towel nearby so kids can clean up their hands when they need to.
Frequently asked questions
What other items can I add to this sensory bin?
You can add tongs for kids to pick up items in the shaving cream. This will help their fine motor skills. You can also add some water beads which which give this some great texture. Some small plastic pumpkin toys would be fun too.
I don't have shaving cream. What else can I use to fill the bin.
You can use rice or black beans to fill the tub, if for whatever reason you can't use shaving foam.
Fun Halloween Game for Kids
Printable Halloween Would You Rather Cards for your Halloween party. Perfect to help you get in the Halloween spirit. This is a fun would you rather game to play with kids or adults. You can even use them at dinner time to spark dinner conversation. Print as many copies as you want.
Related posts
Halloween Fine Motor Game
Easy Halloween Treats