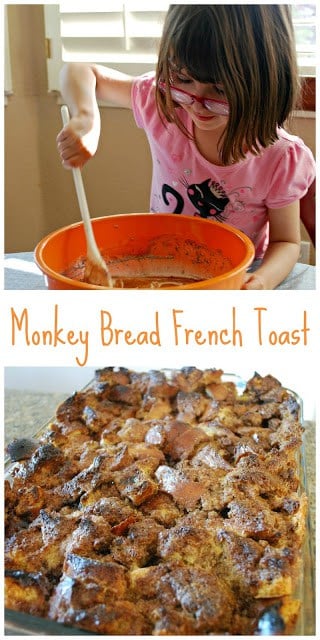 Today I will be sharing a yummy recipe for Monkey Bread French Toast that my kids helped me make. This is a special, once-in-a-while meal to make for breakfast or brunch. It is very rich and decadent and will be my new special occasion go-to meal. You won't be scrambling to make this french toast
in the morning, as you prepare it the night before and simply pop it in the oven in the AM. Does it get any easier than that? If you are looking for more simple french toast recipes, check out
Cinnamon Roll Crock Pot French Toast
.
Recipe and instructions from A Little Bite of Life.
Ingredients:
1 large loaf of French bread
6 eggs
4 tablespoons of melted butter
2 cups of half and half
2 teaspoons of cinnamon
2 teaspoons of vanilla
For the glaze:
1 ½ cups of brown sugar
½ cup of butter
1 teaspoon of cinnamon
9 x 13 casserole dish
I cut the bread into slices and gave them to the kids to tear into smaller pieces. You can also cut the bread into cubes yourself if you don't have kid helpers, but this was so fun for them and they got to practice their fine motors skills as bread isn't always that easy to tear.
When they are done tearing the bread, they can help you place it in a greased 9 x 13 casserole pan.
The bread should fill the pan almost to the top.
In a large bowl mix the eggs, melted butter, half and half, vanilla and cinnamon. This is another great job for kids.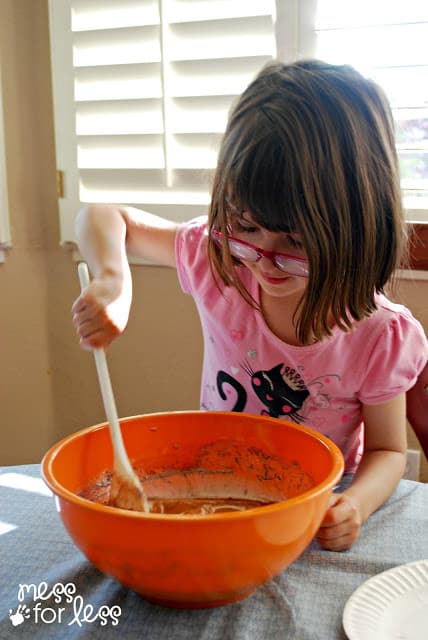 Pour the mixture over the bread, making sure it covers the bread completely. Cover and refrigerate overnight.
In the morning, preheat the oven to 375 degrees. Now it's time to make your glaze. In a saucepan melt the ½ cup of butter on medium heat. Add the brown sugar and cinnamon and stir to combine. Heat the mixture on low heat until it comes to a boil. You will need to keep stirring the mixture as it will thicken. Remove from stove after it boils. Pour evenly over the bread in the casserole dish that you refrigerated the night before.
Bake at 375 degrees for 35 minutes. Oven cook times vary. Ours started browning at this point which made our glaze more caramelized and crunchy. If you prefer yours to be lighter, just remove it before it starts browning.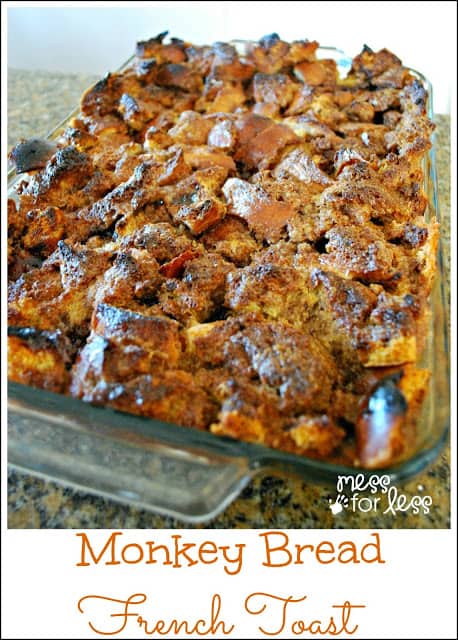 I cannot even describe how good this was, you will just have to make yourself . This Monkey Bread French Toast dish is a keeper. I brought it to an event and it was quickly gobbled up. Try it and let me know what you think!
For more breakfast ideas check out: