There are few things that are as synonymous with summer as ice cream. As a kid, I remember every evening during the summer, the ice cream truck would come down the block with it's music playing. I would beg my mom for some money so I could get ice cream. These days there are no ice cream trucks where we live, so my kids haven't had that experience. They still enjoy cooling off with some ice cream though, and one of our favorite ways to enjoy this frozen treat is to make it ourselves. This may sound intimidating, but it is actually quite easy and kids love to help with the process. You won't believe how quick it is to make Homemade Ice Cream in a Bag.
This is the fourth month that I am participating in the Kids' Kitchen Monthly Blog Hop. Once a month, I am joining some of my favorite kid bloggers, sharing recipes that are perfect to make with kids. This month, we are each sharing our favorite Cool Summer Treats. After you try out this homemade ice cream in a bag, check out the links at the bottom of the post for more cool summer treats from the other participating bloggers.
Homemade Ice Cream in a Bag
All you need are the ingredients below (plus ice of course) to make delicious chocolate chip ice cream. This recipe is actually pretty versatile, which I love. We have made it in different ways including using half and half instead of heavy whipping cream. You can also use table salt for this recipe. When I was in the grocery store recently, I spotted some ice cream salt which is basically rock salt, and I wanted to see if that would yield different results than ordinary salt. The only difference I saw was that the ice cream set in less time.
This homemade ice cream will be made in zip top bags. You will want a gallon sized bag and a quart sized bag. Simply pour your ingredients into the quart sized bag and close. Make sure the bag is tightly sealed.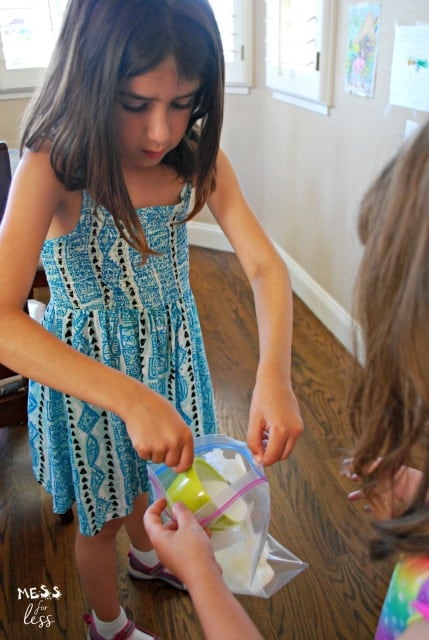 Fill the gallon sized bag with crushed ice and rock salt.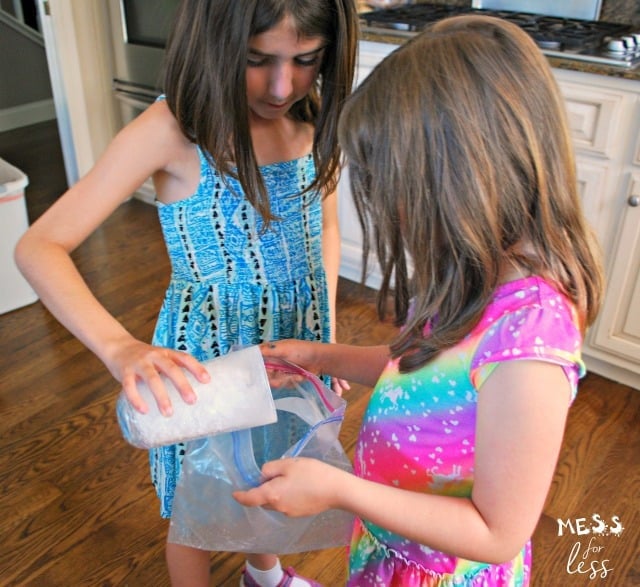 Put the smaller bag with the cream into the ice filled gallon sized bag. Make sure this bag is tightly sealed as well.
Now it's time to shake and squeeze the bag to make ice cream. Our hands got pretty cold doing this step since it takes about 10 minutes for the ice cream to form. We used pot holders and took turns shaking the bag to keep our hands from getting too cold.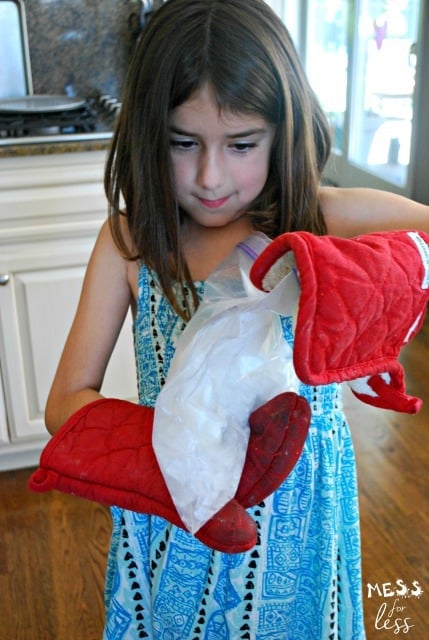 After 10 minutes, your ice cream will be ready to eat! You can just grab a spoon and eat it out of the bag or put it in a bowl and eat as you would traditional ice cream.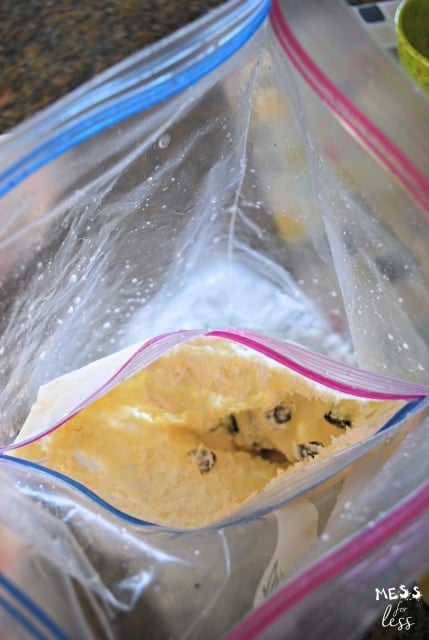 Be sure to eat your homemade ice cream before it melts. I find homemade ice cream like this tends to melt quicker than store bought ice cream. It has never been an issue for us, because we eat it so quickly.
If you have made too much ice cream (is there even such thing?) you can freeze the leftovers. We have frozen leftover ice cream to have at a later point. It will be pretty hard when it comes out of the freezer, so just let it thaw for a minute or two.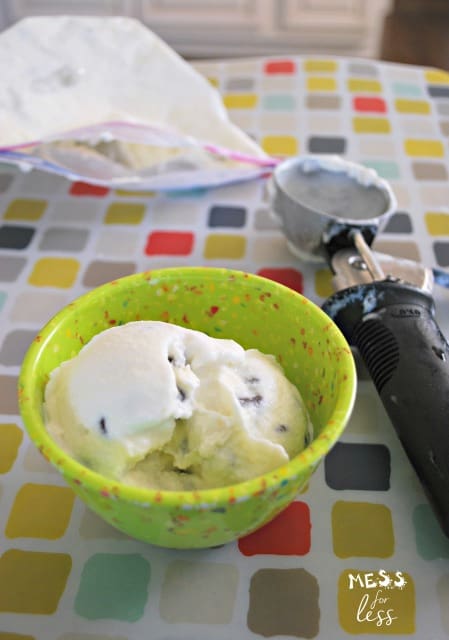 Homemade Ice Cream in a Bag
This homemade ice cream is perfect to make with kids. It is easy and delicious!
Instructions
In a quart sized zip top bag, add cream, sugar, vanilla and chocolate chips. Seal bag.

In a gallon sized zip top bag, add crushed ice and rock salt.

Place the small bag with the cream into the larger bag with the ice and seal the larger bag.

Shake and squeeze for 10 minutes or until the cream has started to harden and turn into ice cream.

Remove from the bag and serve.
Nutrition Facts
Homemade Ice Cream in a Bag
Amount Per Serving
Calories 570
Calories from Fat 441
% Daily Value*
Fat 49g75%
Cholesterol 166mg55%
Sodium 90mg4%
Potassium 89mg3%
Carbohydrates 30g10%
Protein 3g6%
Vitamin A 1800IU36%
Vitamin C 0.7mg1%
Calcium 121mg12%
Iron 0.3mg2%
* Percent Daily Values are based on a 2000 calorie diet.
For more cool summer treats check out these recipes from the Kids' Kitchen bloggers:
Watermelon Ices | Royal Little Lambs
Strawberry-Peach Ice Cream Float| The Gifted Gabber
Kids' Kitchen: Berry Yummy and Healthy Protein-Rich Popsicles | Living Montessori Now
Strawberry Creamsicles | Kitchen Counter Chronicles
Simple Watermelon Popsicles | Royal Baloo
DO YOUR KIDS LOVE COOKING
I have long been a proponent of cooking with kids. There are so many things kids learn helping out in the kitchen. Math, reading, chemistry and cooperation and more are used while following a recipe.
​Raddish is a monthly subscription box for kids that is a cooking club, culinary lesson, and mealtime solution all-in-one. Young children get to work with an adult, while older kids and teens independently indulge their culinary curiosity! And it's perfect for picky eaters — kids who cook, eat!
​A new kit is delivered to your doorstep every month​!
Each kit features a new culinary theme! You'll also get a shopping list emailed to you prior to delivery so you will be ready to cook. These kits are a great way for kids to develop new cooking skills and confidence in the kitchen while the entire family builds memories together. Find out more here.
If you enjoyed this Homemade Ice Cream in a Bag you'll love:
Frozen Banana Ice Cream with Blueberries