Making this Homemade Ice Cream in a Bag recipe is fun and easy to do with kids. You just need a few ingredients to make it and the ice cream is ready in less than 30 minutes!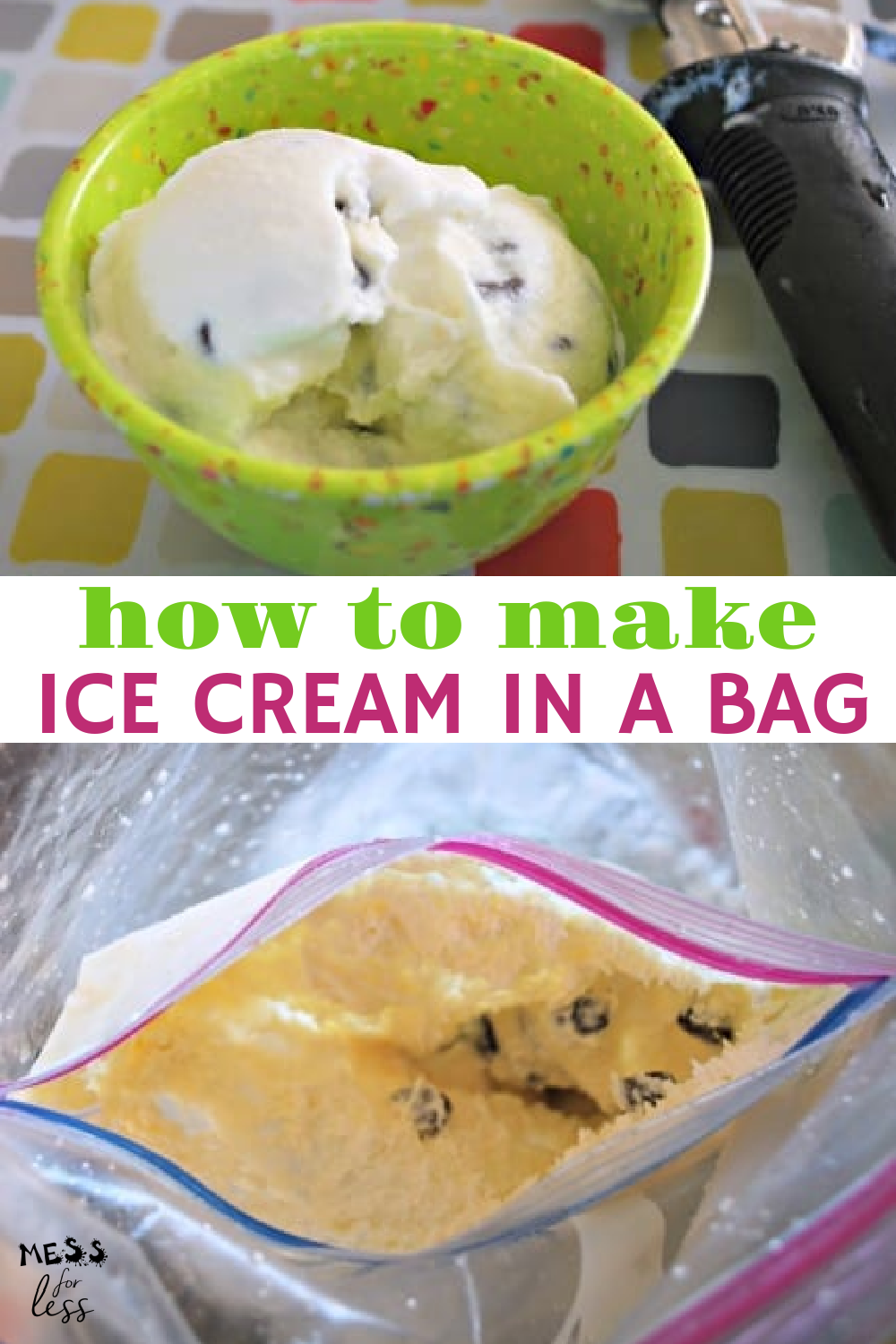 Jump to:
Why this ice cream recipe is awesome
Fun for kids to make
Cool to watch ice cream form before your eyes
Very versatile - you can make a variety of ice cream flavors
Kids will learn as they perform this homemade ice cream in a bag science experiment
Ingredients
All you need are the ingredients below (plus ice of course) to make delicious chocolate chip ice cream.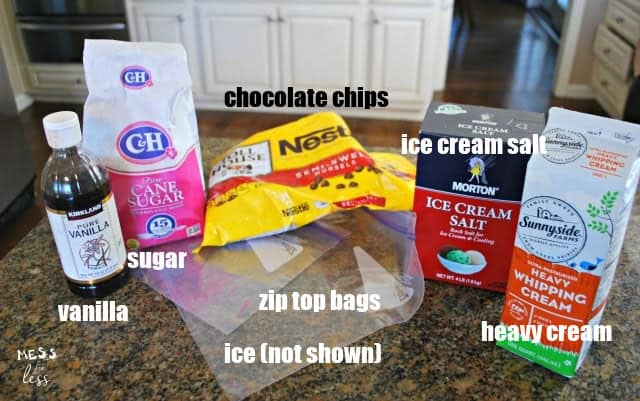 How to make ice cream in a bag
This homemade ice cream will be made in zip top bags. You will want a gallon sized bag and a quart sized bag. Simply pour your ingredients into the quart sized bag and close. Make sure the bag is tightly sealed.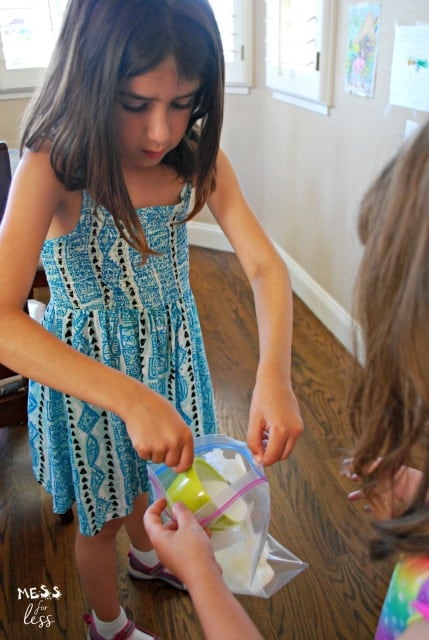 Fill the gallon sized bag with crushed ice and ice cream salt.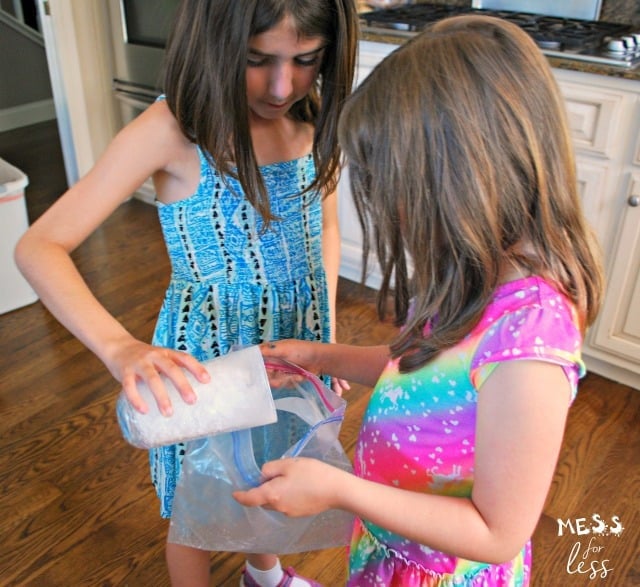 Put the smaller bag with the cream into the ice filled gallon sized bag. Make sure this bag is tightly sealed as well.
Now it's time to shake and squeeze the bag to make ice cream. Our hands got pretty cold doing this step since it takes about 10 minutes for the ice cream to form. We used pot holders and took turns shaking the bag to keep our hands from getting too cold.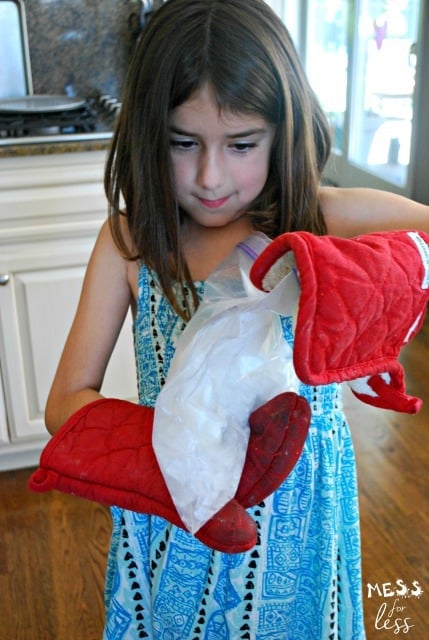 After 10 minutes, your ice cream will be ready to eat! You can just grab a spoon and eat it out of the bag or put it in a bowl and eat as you would traditional ice cream.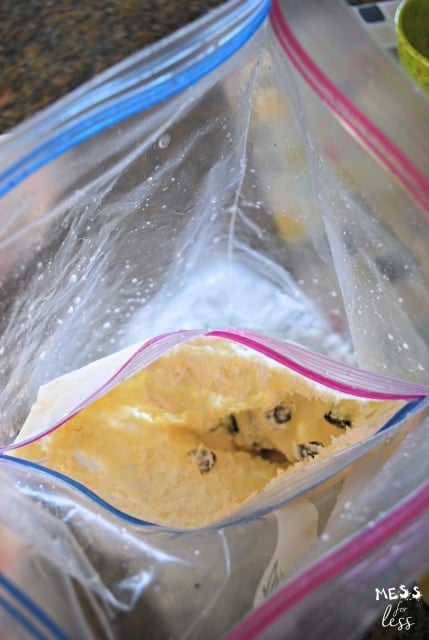 Be sure to eat your homemade ice cream before it melts. I find homemade ice cream like this tends to melt quicker than store bought ice cream. It has never been an issue for us, because we eat it so quickly.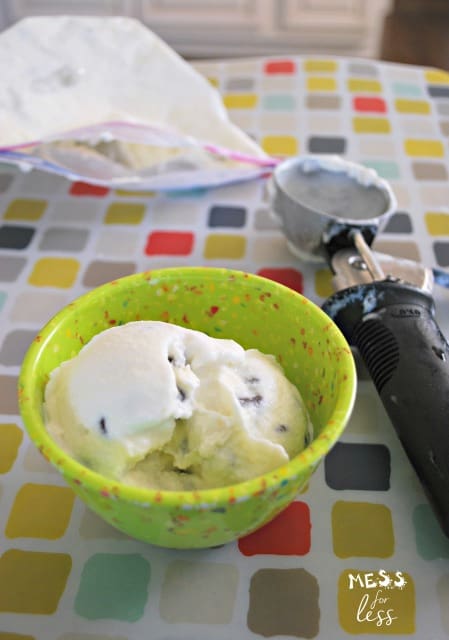 📖 Recipe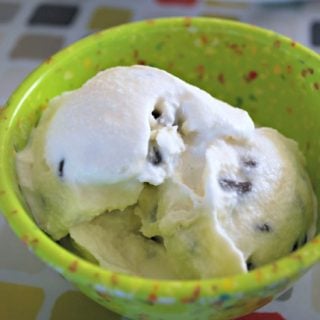 Homemade Ice Cream in a Bag
This homemade ice cream is perfect to make with kids. It is easy and delicious!
Print
Pin
Rate
Instructions
In a quart sized zip top bag, add cream, sugar, vanilla extract and chocolate chips. Seal bag.

In a gallon sized zip top bag, add crushed ice and rock salt.

Place the small bag with the cream into the larger bag with the ice and seal the larger bag.

Shake and squeeze for 10 minutes or until the cream has started to harden and turn into ice cream.

Remove from the bag and serve.
Notes
This ice cream tends to melt faster than traditional ice cream, so keep that in mind when serving.
Nutrition
Calories:
570
kcal
|
Carbohydrates:
30
g
|
Protein:
3
g
|
Fat:
49
g
|
Saturated Fat:
30
g
|
Cholesterol:
166
mg
|
Sodium:
90
mg
|
Potassium:
89
mg
|
Sugar:
26
g
|
Vitamin A:
1800
IU
|
Vitamin C:
0.7
mg
|
Calcium:
121
mg
|
Iron:
0.3
mg
For more cool summer treats check out these recipes from the Kids' Kitchen bloggers:
Kids' Kitchen: Berry Yummy and Healthy Protein-Rich Popsicles | Living Montessori Now
Strawberry Creamsicles | Kitchen Counter Chronicles
Frequently asked questions
I don't have ice cream salt. Can I use table salt instead?
You can use table salt for this recipe. The ice cream will set in a little less time with the ice cream salt, but table salt will be just fine.
What else can I use besides heavy whipping cream?
We have made it in different ways including using half and half instead of heavy whipping cream.
Can I freeze this ice cream?
You can freeze the leftovers. We have frozen leftover ice cream to have at a later point. It will be pretty hard when it comes out of the freezer, so just let it thaw for a minute or two.
How to make homemade ice cream in a bag without half and half?
This recipe uses whole cream instead of half and half. You can also substitute an equal amount of whole milk if you don't have cream or half and half. If you use milk, the ice cream will be less creamy.
I have been cooking with my kids since they were very young. There are so many things kids learn by helping in the kitchen. That's why I love Raddish. It's a subscription box for kids that teaches cooking skills and so much more!
If you enjoyed this homemade ice cream, try these
Frozen Banana Ice Cream with Blueberries
15 Ice Cream Cake Recipes
10 Kids Snack Ideas