When I was teaching Kindergarten we had a dramatic play area that had different themes throughout the year. One of the most popular themes was a vet's office. My students always had so much fun taking care of animals and I was amazed at all learning that took place in this dramatic play area. I decided to create a pretend play vet's office at home for my kids to explore through pretend play. It was super easy to set up and I can't wait to share how you can make one for your kids too! I am even including a free printable for an office visit. For more fun ideas for pretend play check out Camping Pretend Play.


Pretend Play Vet's Office
You will need:
Thermometer
Band aids, bandages, other medical supplies
Baby wipes
Small flashlight
Office visit form (free printable below)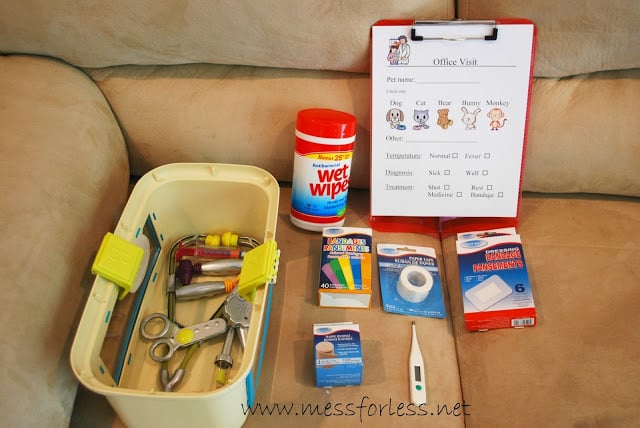 I had most of the supplies already and bought the few I didn't have at the dollar store. They have a great selection of medical supplies - who knew? I found an old thermometer in a drawer and decided to add it to the pretend play area.
Once I had my supplies, I needed some patients. This was the easy part. Our home is drowning in stuffed animals. I found some of our most popular ones and sat them down in some chairs. Instant waiting room!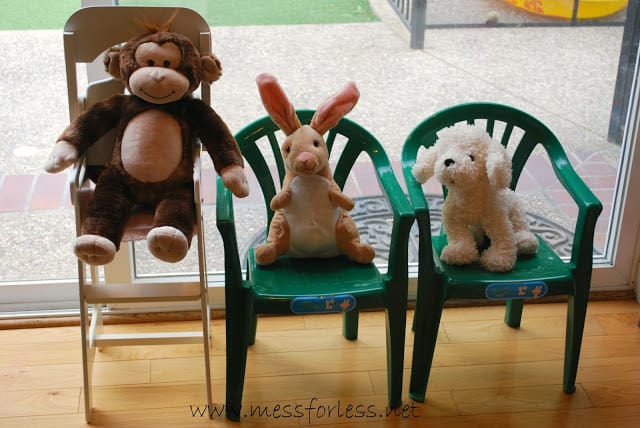 The kids were excited to get started examining patients. I got my youngest a doctor's lab coat for her birthday, and it was the perfect addition to our play area. She starts off by checking the monkey's heartbeat.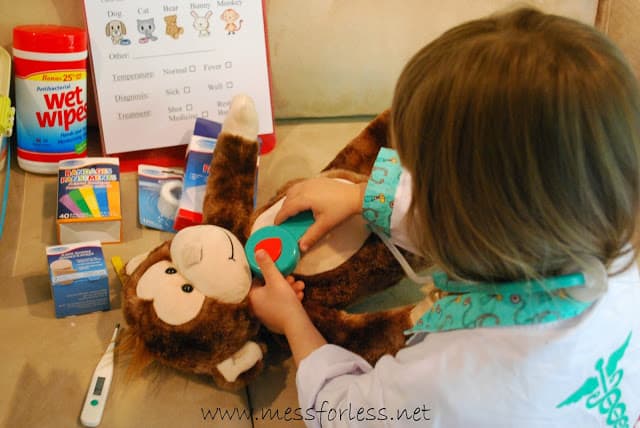 A small flashlight is perfect for checking the monkey's eyes.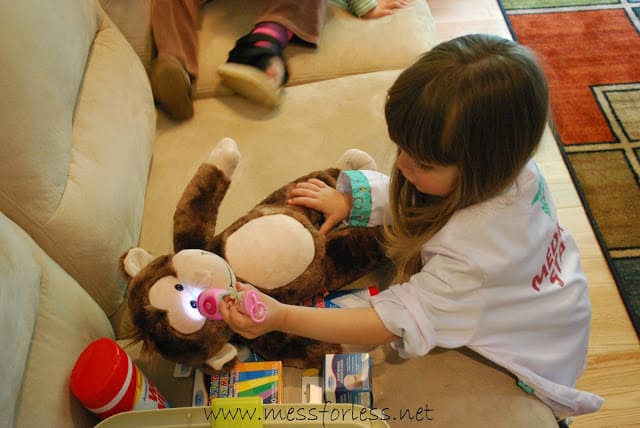 Monkey had a boo-boo, so it was time for a band aid. My daughter got a chance to practice some fine motor skills as she peeled the backing away from the band aid.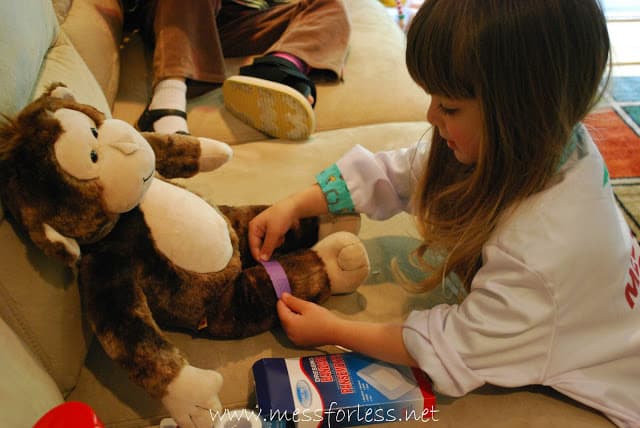 My daughter determined that monkey needed some medicine to feel better. We used a small, empty cup that came with some cough medicine.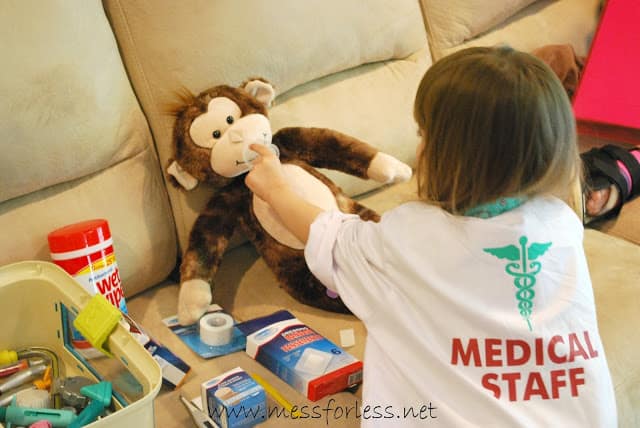 Before monkey left he needed to be groomed and cleaned.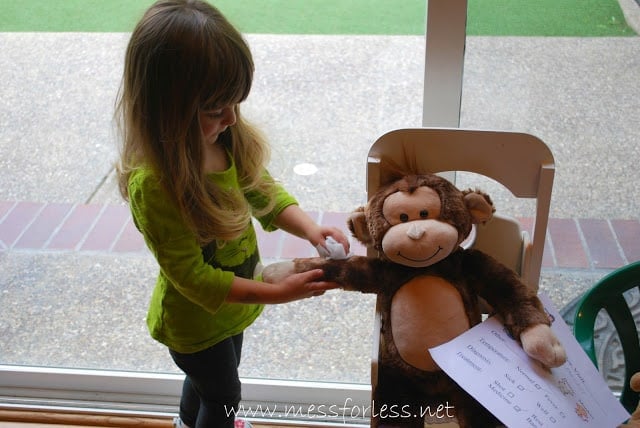 My daughter B's patient was a puppy. I think B looks very official with her glasses. I would take my pet to see her!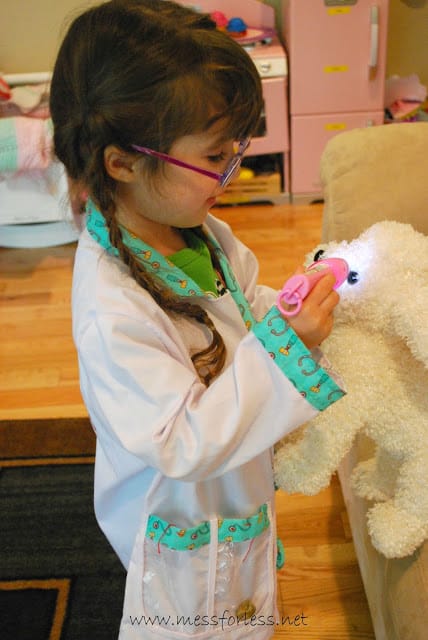 Puppy is a good patient and held still while having his temperature taken.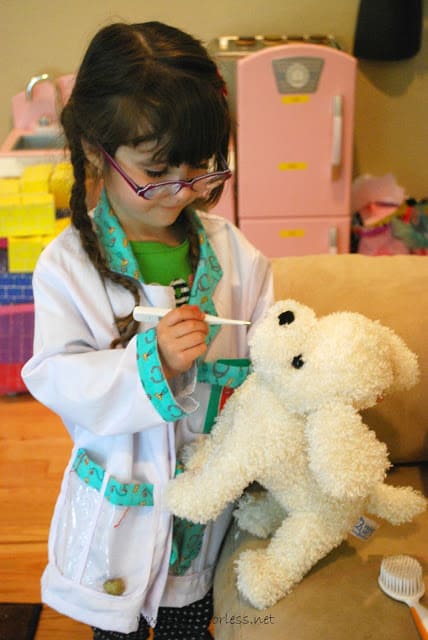 I created a free printable of an office visit form where the kids could write in their patient's information and treatment recommendations. Also check out this Story Box with Free Printables. . This is a great opportunity for kids to practice writing and reading.
Get the free Vet's Office Printable by clicking here.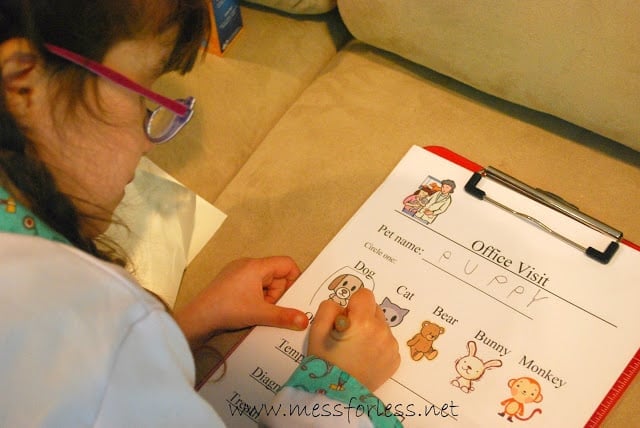 We also had a bunny visit, and sadly, he needed a shot.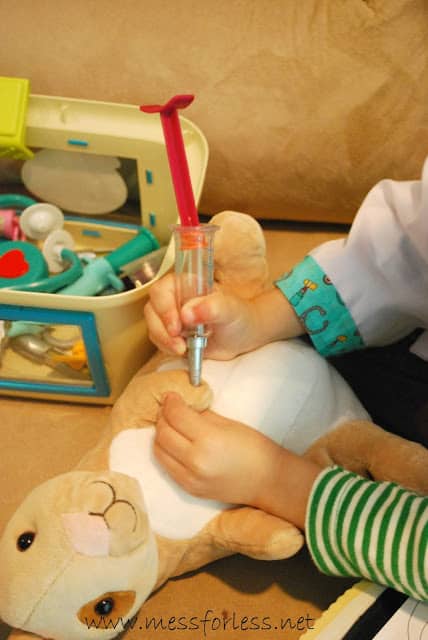 The vet filled out the form with the diagnosis and treatment plan.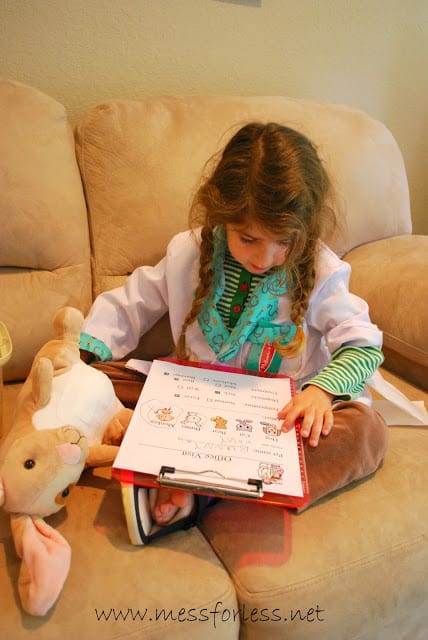 I am pleased to report that all our patients are now feeling better and our vets are still caring for other sick animals.
As you can see, setting up a dramatic play area allows kids to use their imaginations to create play scenarios and act out various roles. Our vet's office was easy to set up and resulted in hours of imaginative play and learning. As an extension you and your child can read some great books about vets such as: Pet Vet, I Want to Be a Vet and A Day in the Life of A Veterinarian.
If you're looking more exciting things to do with kids, take a look at Green Kid Crafts, a monthly craft subscription package for children that fosters creativity while teaching a love and respect for the environment.
If you liked this Pretend Play Vet's Office, you'll love: