Are you looking for quick and easy Christmas crafts for kids that use supplies you already have at home? Then you're going to love this Christmas Paper Chain Craft. Make a happy Santa, a playful Rudolph the reindeer and mischievous elf out of construction paper. Connect them into a chain decoration sure to brighten up your home this holiday season.
Christmas Paper Chain Craft
Supplies you will need:
Instructions
To make this Christmas Paper Chain Craft, start by cutting 2 strips of tan & one strip of brown paper about 2 inches by 8.5 inches. Don't worry about the measurement being exact, as long as all 3 strips are the same.
Add eyes and a nose to the center of your one tan strip which will become Santa. Add eyes, a smile and a big red nose to the brown strip. You guessed it, this one will be Rudolph. Draw eyes, a nose and a mouth on the last tan strip, which will become an elf.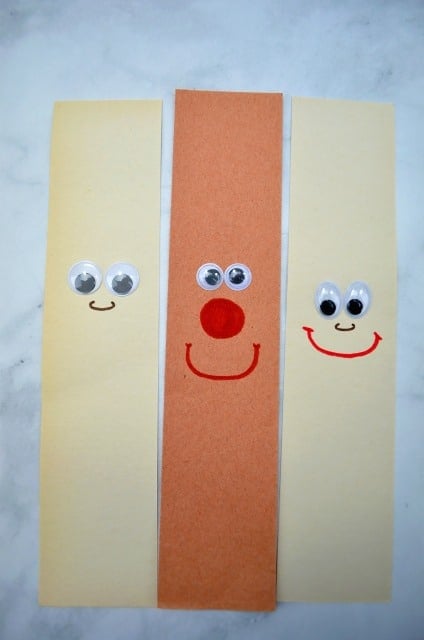 To finish making the Santa, cut a beard out of the white paper and a hat out of red paper. To embellish the red hat, cut a little white paper for the bottom and top. Make the shapes of these squiggly like a cloud. Santa still needs a smile, so draw a smile on the beard with a red marker. Attach the beard to Santa with the glue stick.
Curl the Santa strip around and use tape to secure it into a loop. Now it's time to put Santa's hat on. Attach it with a piece of tape on the back, so that the hat sticks up.
To complete Rudolph, cut two antlers out of brown construction paper. I find it easier to draw some basic antlers onto brown construction paper and cut them out.
Like you did with the Santa, you'll use the tape to secure the strip into a loop then glue the bottoms of the antlers to the strip so they stick up. Now Rudolph is ready to lead that sleigh!
To make your cute little elf, cut out two pointed oval ears and a pointed green hat. Cut out a little white circle pom pom and attach it to the top of the elf's hat for embellishment. Secure the ears to the sides of the strip with the glue stick so they stick out on the sides.
Attach the elf's hat to the back of the strip with tape so that it stands up from the loop. Then, use some tape to secure the strip into a loop.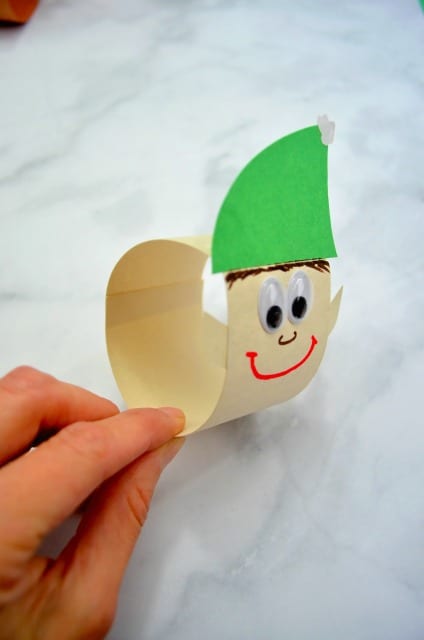 Now your adorable Christmas friends are ready. The next thing to do is to form them into a Christmas Paper Chain Craft.
In order to create the chain to attach all of the characters together, you will cut two more strips of red and green paper, the same size as the ones you made before.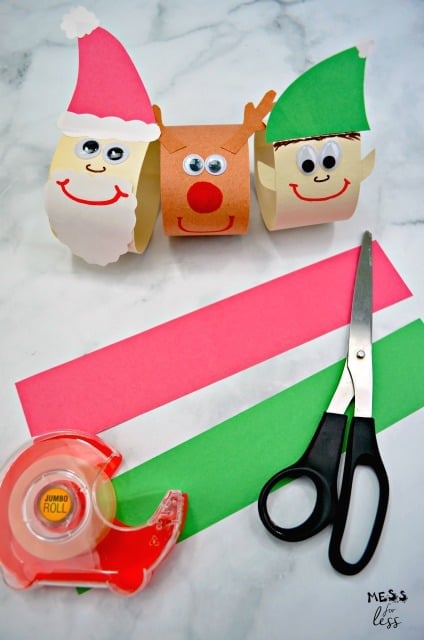 Place the green paper strip through the Santa and reindeer and tape it to secure it into a loop.
Place the red strip through the reindeer and the elf, and tape it to secure into a loop.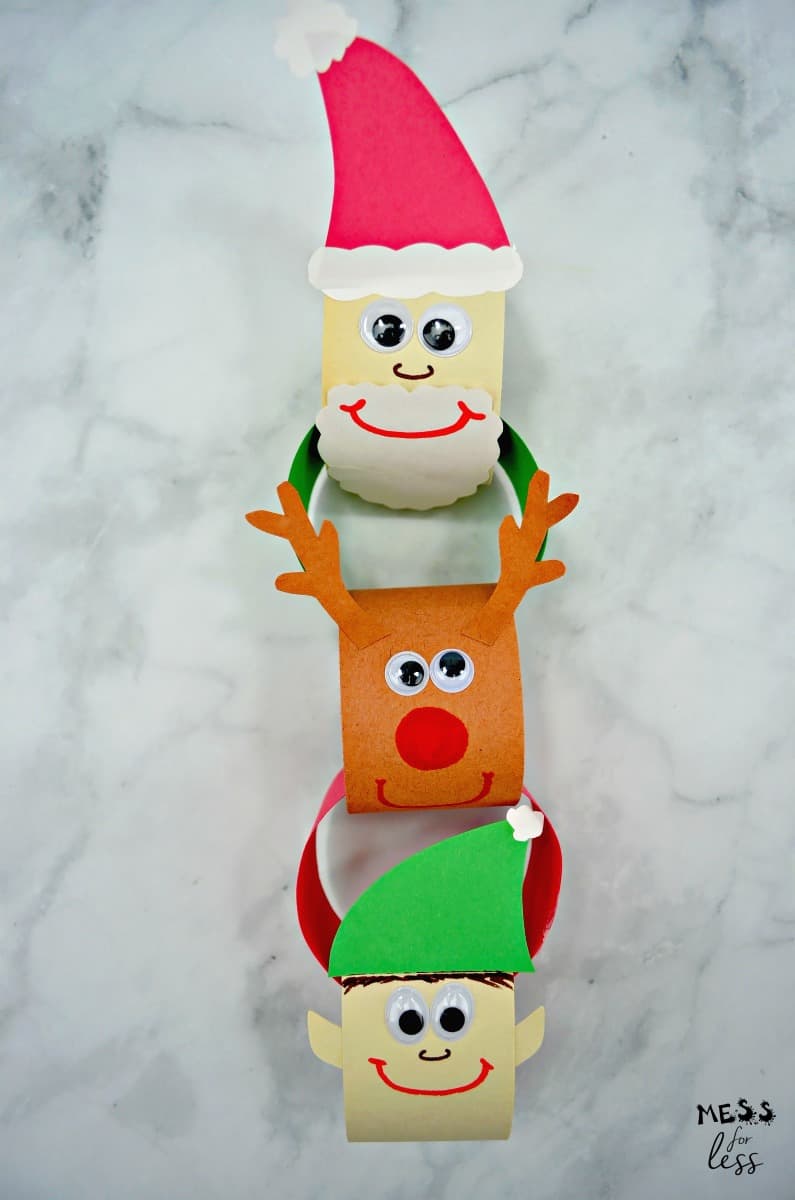 Now your Christmas Paper Chain Craft is complete and ready for hanging! For more fun paper chain ideas check out this paper chain snowman from ABCs to ACTs.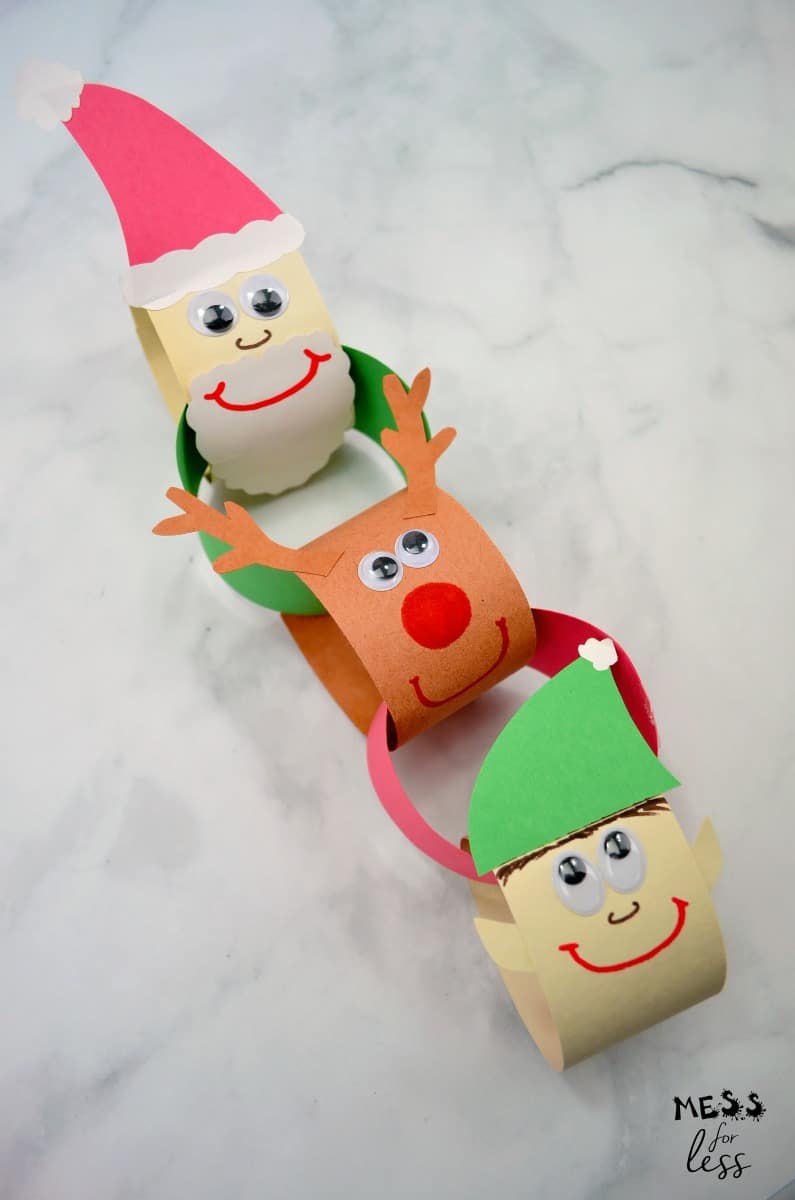 Green Kids Crafts
If you are looking for more fun activities for kids, check out Green Kids Crafts, an earth friendly monthly craft subscription box for kids that sparks creativity while teaching kids a respect and love for the environment. These boxes are themed and each month will be filled with fun projects and creative activities than can be enjoyed by kids from ages 3-10.
Since Green Kid Crafts is an earth friendly company, they use sustainable, safe materials in all of their products. They also give a portion from each sale to environmental non-profits. Learn more about a monthly subscription of fun!
If you liked this Christmas Paper Chain Craft, you'll love:
Christmas Fine Motor Activities