I always make sure to have some contact paper in my supply closet. When I was a new teacher I couldn't afford hardcover books for my classroom. The best I could buy were paperback children's books which were not sturdy or suited to long term classroom use. I discovered I could extend the life of paperback books by covering the covers in contact paper. This made the covers dirt proof and pretty difficult to tear. It was during those early teaching years that my eyes were all opened to all the magical things you can do with clear contact paper. If you are not a contact paper convert yet, then check out 20 Ways to Use Contact Paper with Kids and DIY Shape Stickers to see all the fun kids crafts you can make with it. Today I am excited to share our latest contact paper creation - window stickers that look like Fall Leaves.
Fall Leaves Craft
You will need:
Acrylic paint in Fall colors
Tape
Scissors
Black permanent marker
Paint palette or paper plate
Small paintbrush
Free leaf printable
Get your free leaf template by clicking here.
Cut out all the leaves from the free printable and trace them onto a length of contact paper using a black permanent marker. The easiest way to do this is to tape the contact paper to the table so it doesn't roll up as you are tracing.
Important - Make sure you trace the leaves on the side of contact paper that has no writing on it.
Squirt different Fall colors of acrylic pant onto a palette or paper plate. I use acrylic paint on contact paper because it has a nice sheen when dry and it will not flake off when the contact paper is bent. I did not have brown, but I was able to mix a brown shade using red and green. I taped the contact paper with the traced leaves on my daughter's work space. Before we began, I talked to my kids about what Fall leaves looked like. They had those images in their heads as they began to paint their leaves.
I loved watching as they combined colors to create their leaves.
My kids noticed that they didn't have to clean their brush after using a color because all the colors mixed together to make different shades -- just like you would find on real Fall leaves.
The finished paintings took about an hour to dry. When they are dry, cut along the black outlines. If the black outline is hard to see because it was covered in dark paint, you can hold the contact paper up to the light as you cut.
Now all that is left to do is hang them up. Peel off the backing from the contact paper (kids may need help with this step) and stick them to your window. The contact paper is easy to take off and re-positionable so kids can move the leaves around.
I just love how the sun and light filter through the leaves to create the pretty sun catcher effect you see below!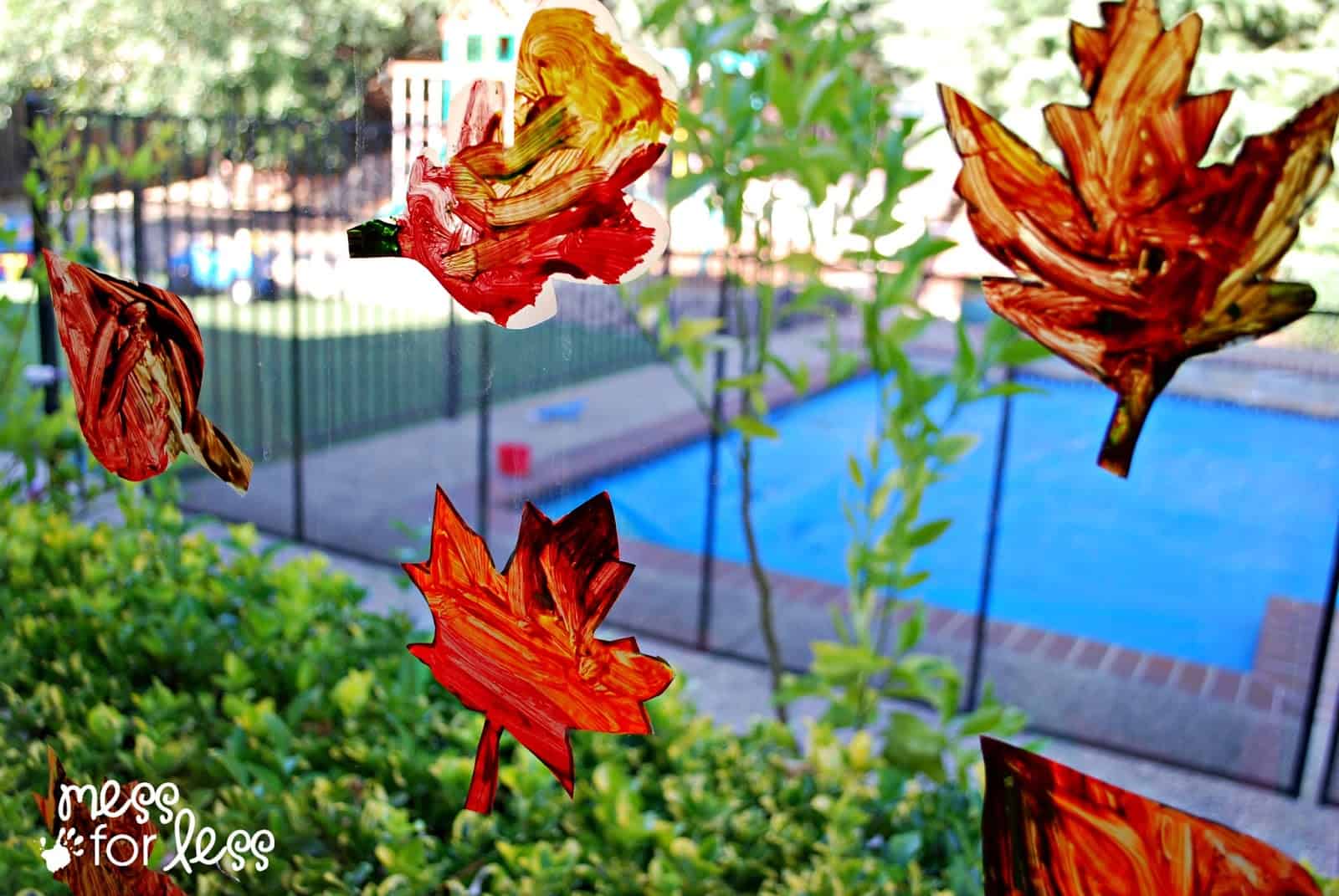 If you like these Fall Leaves stickers check out:
15 Fall Crafts for Kids