We recently did a fun kids art activity that yielded beautiful abstract results. In fact, I love the finished products so much that I am thinking of framing them and using them to decorate. But this
Drip Watercolor Painting
is not so much about the end result as it is about the process involved. Your children will experiment with new techniques as they create their art. There is no wrong way to do this! If you love watercolor painting as much as we did be sure to try
Tape Resist Art with Watercolors
and
Watercolor Circle Art
.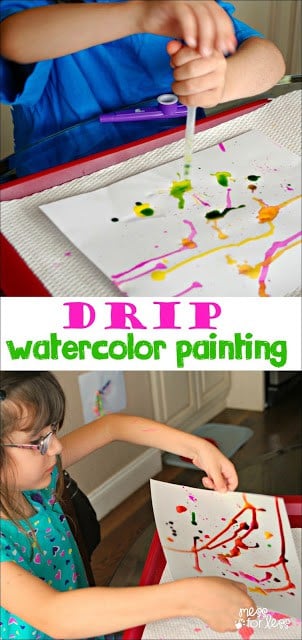 You will need:
You will want to be sure to have the kids wear smocks for this activity as liquid watercolors do stain. We used a tray to contain the mess. I noticed that a good amount of liquid watercolor was getting on the tray and staining the back of the cardstock, so we eventually lined the tray with paper towels.
I had the kids squeeze some liquid watercolor into their eye dropper and then drip it onto the cardstock. Once that was done, the kids would turn the paper so that the paint would start dripping in different directions. There are various ways to do this. One of my daughters liked dropping one color of paint and then making it drip and repeating the process as she added new colors.
My other daughter added all her colors at once and then starting tilting the paper to create her art.
In addition to just being a fun art activity, drip watercolor painting promotes fine motor skills as kids squeeze the eye dropper. They also get to learn about color mixing as the colors change when they blend together.
I just love how these watercolor paintings turned out. My kids spent lots of time making them and they were all so unique and different! If you like painting with watercolors but have never tried
liquid watercolors
before you will love them. They are so versatile and will open up a world of painting possibilities for you!
For more watercolor painting activities check out:
Want more Mess?