About a year ago I got this mini donut pan from Crate and Barrel. We had gotten a gift card and most things there were over the amount we had on the card, so we ended up with the mini donut pan. I had visions of making freshly baked donuts all the time. Well, it's been a year and I am packing up for our move and come across the UNUSED donut pan. So we made some homemade baked donuts. Don't forget to check out our Peanut Butter Recipes to Make with Kids for more tasty kid treats.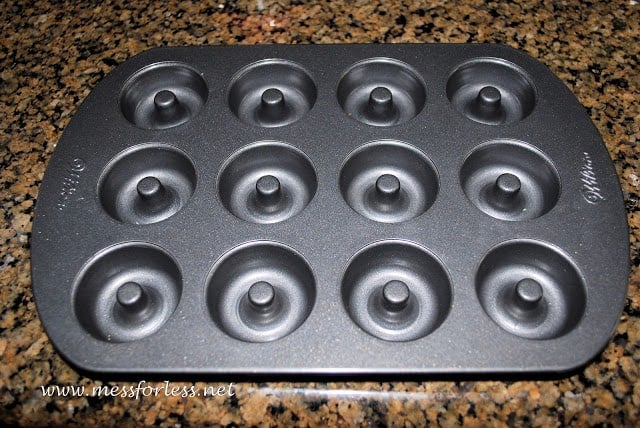 I found a recipe for baked cake donuts on Allrecipes.com. I made a few tweaks and they turned out yummy, especially just out of the oven. This will make approximately 48 mini donuts.
Preheat the oven to 375 degrees. Grease your donut pan. In a large bowl mix flour, sugar, baking powder, nutmeg and salt.
Stir in milk, eggs, vanilla and butter. Beat together until blended well.
Fill each donut hole halfway full. This was the trickiest part for me. Mine ended up being filled more than halfway and they turned out bigger than I would have liked. The batter will be thicker than your normal cake/cupcake batter. Bake at 375 for 12 minutes.
Here they are just out of the oven. I overfilled mine so some of the holes were almost closed.
Pop them out of the pan and they are ready to decorate.
We made three varieties of donuts: cinnamon sugar, powdered sugar, and glazed with sprinkles. I mixed up some white sugar and cinnamon in a bag and coated the donut with a little bit of cooking spray. Next I dropped the donut in the bag and the kids shook it around.
B makes a powdered donut using the same method.
To make the glaze, simply mix the confectioner's sugar with the hot water until it is no longer lumpy. Dip the top of the donut in the glaze and shake on some sprinkles.
The kids were excited to try the donuts they created. They loved them and I loved how they are way healthier than regular donuts.
Our yummy homemade baked donuts!
If you liked these homemade mini baked donuts, you'll love: