Do your kids love peanut butter as much as mine do? If a peanut allergy isn't an issue, then your kids probably subsist on peanut butter and jelly sandwiches. But there are lots more fun ways to use peanut butter. Since my kids love cooking with me, I have collected 20 Peanut Butter Recipes to Make with Kids that are easy and full of peanut butter deliciousness. If you are looking for a more healthy peanut butter option, be sure to check out Peanut Butter No Bake Protein Bars.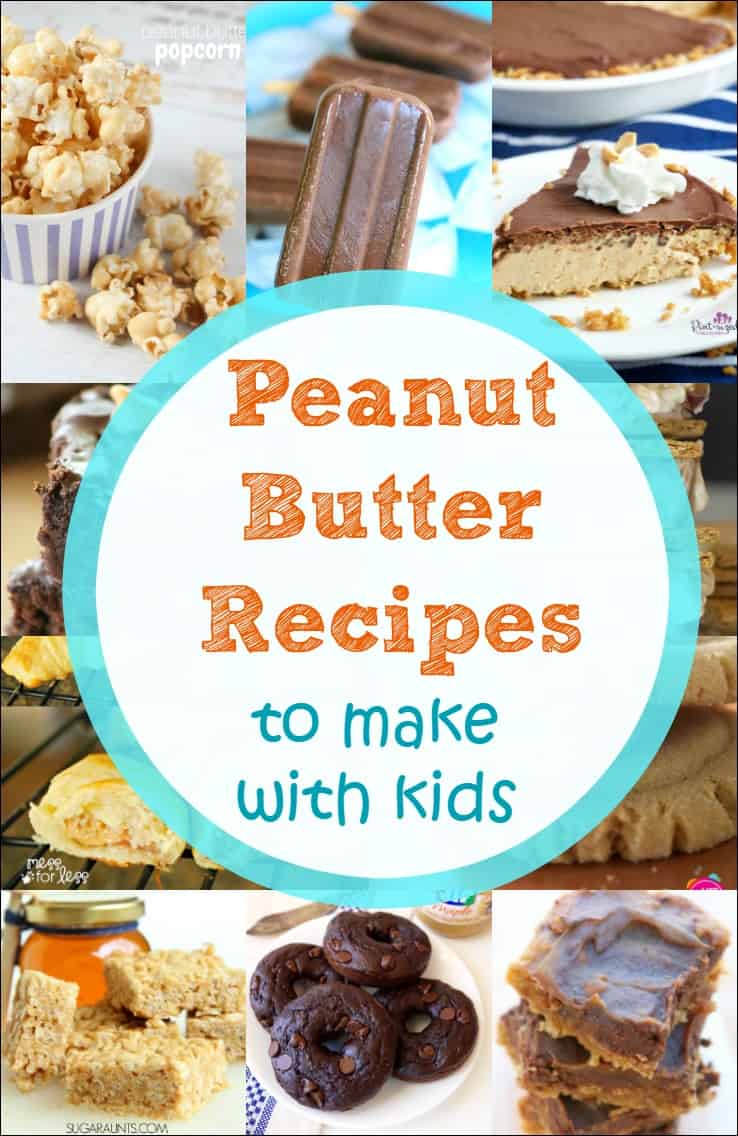 Peanut Butter Recipes to Make with Kids
1.Peanut Butter and Jelly Crescents from Mess for Less - take a lunch time favorite and bake it up in a crescent!
2. Peanut Butter Cookie Recipe from My Life and Kids - these cookies have just three ingredients and no flour!
3. Peanut Butter and Chocolate Cake Mix Donuts from Mess for Less - There is an easy shortcut to making Peanut Butter and Chocolate Cake Mix Donuts. Chocolate cake mix! It replaces the flour and helps make a thick, rich cake-like donut with a hint of peanut butter. With this recipe you can make donuts at home similar to those found in donut shops.
4. Peanut Butter Banana Muffins from Your Modern Family - these protein filled muffins make a great after school snack.
5. Peanut Butter Flourless Cookies from Mess for Less - These Peanut Butter Flourless Cookies are made with no flour, grains or sugar. They taste good while being good for you! Vegan, gluten free and dairy free.
6. Maple Peanut Butter Chocolate Donuts from Happiness is Homemade - what makes donuts even better? Peanut butter of course!
7. No Bake Chocolate Peanut Butter Cakes from The Jenny Evolution - if you are looking for an easy, no fuss dessert that will still impress guests, this is perfect for you.
8. Apple Peanut Butter Salad from Mama, Papa, Bubba - I love the idea of adding the flavor of peanut butter to this healthy salad. If your child is reluctant to try salad, you might want to start with this one.
9. Easy Chocolate Peanut Butter Cheesecake from Pint Sized Treasures - this delicious peanut butter recipe uses a gluten free crust, so it is great for those who are gluten intolerant
10. Homemade Peanut Butter Banana Fudgsicles from Mom Endeavors - These are as yummy as store bought popsicles!
11. Peanut Butter and Chocolate Chip Crescents from Mess for Less - This recipe for Peanut Butter Chocolate Chip Crescents is one that toddlers, preschoolers or older kids can help you create. Added bonus - they are ready in just 15 minutes!
12. Fudgy Peanut Butter Black Bean Brownies from Mom Endeavors - you'll never believe that these brownies are made with black beans!
13. No Bake Energy Bites from Mess for Less - these are one of our favorite peanut butter recipes! They are great for a quick breakfast or as an on-the-go snack.
14. Chocolate Peanut Butter Swirl Brownies from Plain Vanilla Mom - this is an easy to way to jazz up a boxed brownie mix.
15. Healthy Peanut Butter Bliss Bars from The Soccer Mom Blog - these contain less sugar than traditional peanut butter bars and are made with lots of good for you whole food ingredients.
16. Chocolate Peanut Butter Cookies from Sunshine and Hurricanes - if you love Reeses Pieces, then you must try these.
17. Chocolate Peanut Butter Oatmeal Bars from Mom Endeavors - who doesn't love chocolate and peanut butter together? Add some oatmeal and you have these yummy bars.
18. Peanut Butter Popcorn from 3 Boys and a Dog - this popcorn totally satisfies a salty/sweet craving.
19. Peanut Butter Dip from Mess for Less - This yummy peanut butter dip goes perfectly with fruit or crackers. It is easy to make and will be the hit of your next gathering.
20. Peanut Butter Banana Ice Cream from Raising Little Superheroes - peanut butter adds a punch of protein to this easy ice cream recipe.
Get kids to open up
Tired of the same dinner conversations? Trying to get your kids to talk more? These Printable Dinner Conversation Starters! You get 4 pages filled with 36 Family Dinner Conversation Starters. These conversation cards include fun questions for you to share with your family at mealtime to get to know each other better.
Do you want your kids to learn how to cook? Then get a subscription to Raddish, a monthly subscription box for kids that is a cooking club, culinary lesson, and mealtime solution all-in-one.
If you enjoyed these peanut butter recipes to make with kids check out these other easy kids recipes:
15 Toddler Recipes to Make Together