As a kid, I never knew you could make your own donuts. Donuts came from a bakery box and were considered a special treat. Once I grew up and had my own family, I realized that you can make delicious donuts at home. Making them from scratch allows me the chance to skip the frying and bake them instead. If you have never tried baked donuts, you're in for a surprise. Once you try these Baked Cinnamon Donuts, you'll realize that you don't need to fry donuts at all or buy them at a bakery. You'll also love these Baked Mini Donuts. Thanks to Bounty for sponsoring this Baked Cinnamon Donuts post. All opinions are 100% my own.
We are still facing some cold days here, and my favorite cold weather activity is baking up some sweet treats, like these cinnamon sugar donuts. Once my kids heard I was going to be making donuts, they clamored to help me. I was a little apprehensive. If you have ever cooked or baked with kids, then you know it can get messy. In fact, it can get so messy that you start to wonder why you even bothered getting in the kitchen with kids. But take heart, cooking with kids provides lots of opportunities for measuring, counting and improving language skills, not to mention bonding.
It can be easy to lose some of the joy found in the process by worrying about every spill and drip. But I don't want to deny my kids these experiences, so I use Bounty to help with clean up. With Bounty, I can live in the moment, not the mess.
My daughter insisted on helping me measure some flour and cinnamon and this was the result.
Things didn't get any better when she started mixing the baked cinnamon donut batter. While talking to her sister she lifted the whisk out of the bowl and dripped some batter on the floor.
Luckily, she grabbed some Bounty Select-A-Size and cleaned up the mess herself. With Bounty Select-A-Size, my daughter can use just the amount she needs.
After pouring the batter into our donut pan, we noticed that we had made quite a mess.
So, my daughter used a Bounty paper towel to clean up the edges of the pan. Trust me it is much easier to clean it now than after the batter gets cooked on. If you don't already have a donut pan, you'll want to pick one up to make these tasty treats.
When we put our donuts in the oven we were able to quickly clean up our kitchen mess. Bounty absorbs the messes quickly so I can focus on enjoying the moment. Since Bounty is a more absorbent paper towel, the roll lasts longer and I don't need to use as much to tackle the splats, spills, and messy fingerprints that are par for the course when baking with kids.
After baking, our donuts came out light and fluffy. You'll want to coat the donuts in the cinnamon sugar while they are still warm since it helps the sugar to stick on the donut.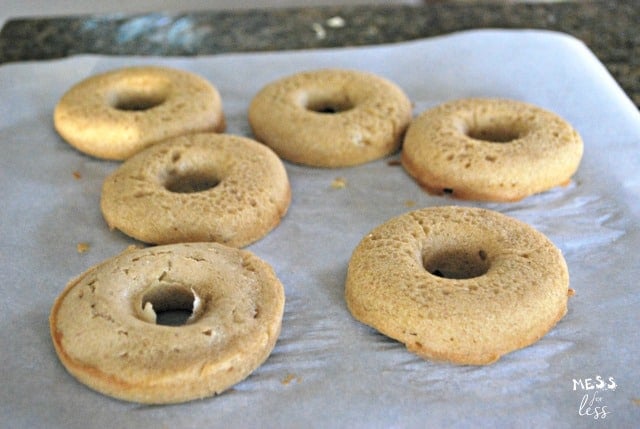 Now it was time for my kids' favorite part - spooning on the cinnamon sugar. I did catch my youngest daughter dipping her finger in the cinnamon sugar and licking it off when she thought I wasn't looking. Let's just say the apple doesn't fall far from the tree.
My favorite way to eat these baked cinnamon donuts is while they are still warm.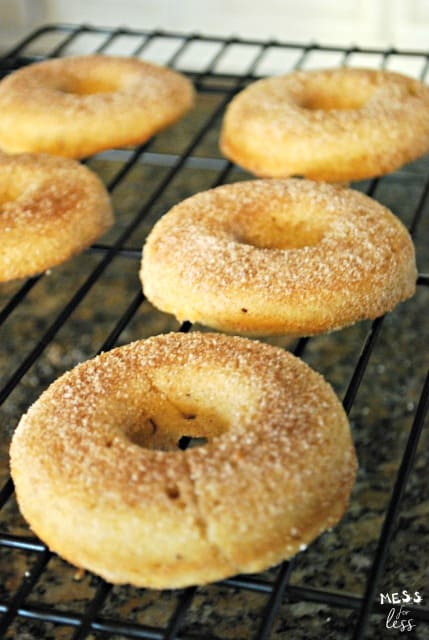 However these donuts will be messy. You will end up with cinnamon sugar on the table, your fingers and your mouth. Especially if you wolf down these donuts as quickly as my daughter did. But as long as you have some absorbent Bounty on hand, you'll be cleaned up in no time.
Baked Cinnamon Donuts
Baked Cinnamon Donuts
These Baked Cinnamon Donuts are light, fluffy and oh so good! You'll love these warm, right out of the oven!
Print
Pin
Rate
Ingredients
⅔

cup

flour

½

teaspoon

baking powder

¼

teaspoon

cinnamon

for batter

⅛

teaspoon

salt

5

tablespoons

softened butter

⅓

cup

brown sugar

1

egg

¼

cup

milk

½

teaspoon

vanilla

For coating

mix in a large bowl or plate

⅓

cup

white sugar

1

teaspoon

cinnamon
Instructions
Preheat oven to 375 degrees.

In a medium bowl, mix flour, baking powder, cinnamon and salt.

In a large bowl, cream softened butter and sugar together and beat in egg.

Add milk and vanilla to large bowl with butter, then add the flour mixture, mixing until batter is thoroughly combined.

Spoon into a greased donut pan.

Bake for 12 minutes and remove from oven.

While donuts are still warm, dip in a mixture of cinnamon and sugar.
Nutrition
Calories:
242
kcal
|
Carbohydrates:
34
g
|
Protein:
2
g
|
Fat:
10
g
|
Saturated Fat:
6
g
|
Cholesterol:
53
mg
|
Sodium:
150
mg
|
Potassium:
88
mg
|
Sugar:
23
g
|
Vitamin A:
350
IU
|
Calcium:
48
mg
|
Iron:
0.9
mg
DO YOUR KIDS LOVE COOKING?
I have long been a proponent of cooking with kids. There are so many things kids learn helping out in the kitchen. Math, reading, chemistry and cooperation and more are used while following a recipe.
​Raddish is a monthly subscription box for kids that is a cooking club, culinary lesson, and mealtime solution all-in-one. Young children get to work with an adult, while older kids and teens independently indulge their culinary curiosity! And it's perfect for picky eaters — kids who cook, eat!
​A new kit is delivered to your doorstep every month​!
Each kit features a new culinary theme! You'll also get a shopping list emailed to you prior to delivery so you will be ready to cook. These kits are a great way for kids to develop new cooking skills and confidence in the kitchen while the entire family builds memories together. Find out more here.
If you liked these baked cinnamon donuts, you love:
Kid Made Chocolate Dipped Strawberries