Fall is my favorite season. I love the crisp weather, fun holidays, and the fact that I can start wearing chunky sweaters again. My thoughts of Fall inevitably turn to foods I enjoy during this season. When I think of Fall food, pumpkin automatically comes to mind. Fall is the season when you can find pumpkin
everything
. Muffins, pancakes, smoothies, and coffee drinks all get a pumpkin kick. I decided to give a pumpkin kick to donuts. When we make donuts at home, I prefer to bake them. It is a healthier and easier way to enjoy donuts. So this
Pumpkin Donut Recipe
is for baked donuts. The donuts have more of a cake like consistency and are full of pumpkin goodness. If you love donuts but are following a gluten free lifestyle, be sure to try our
Gluten Free Donuts
.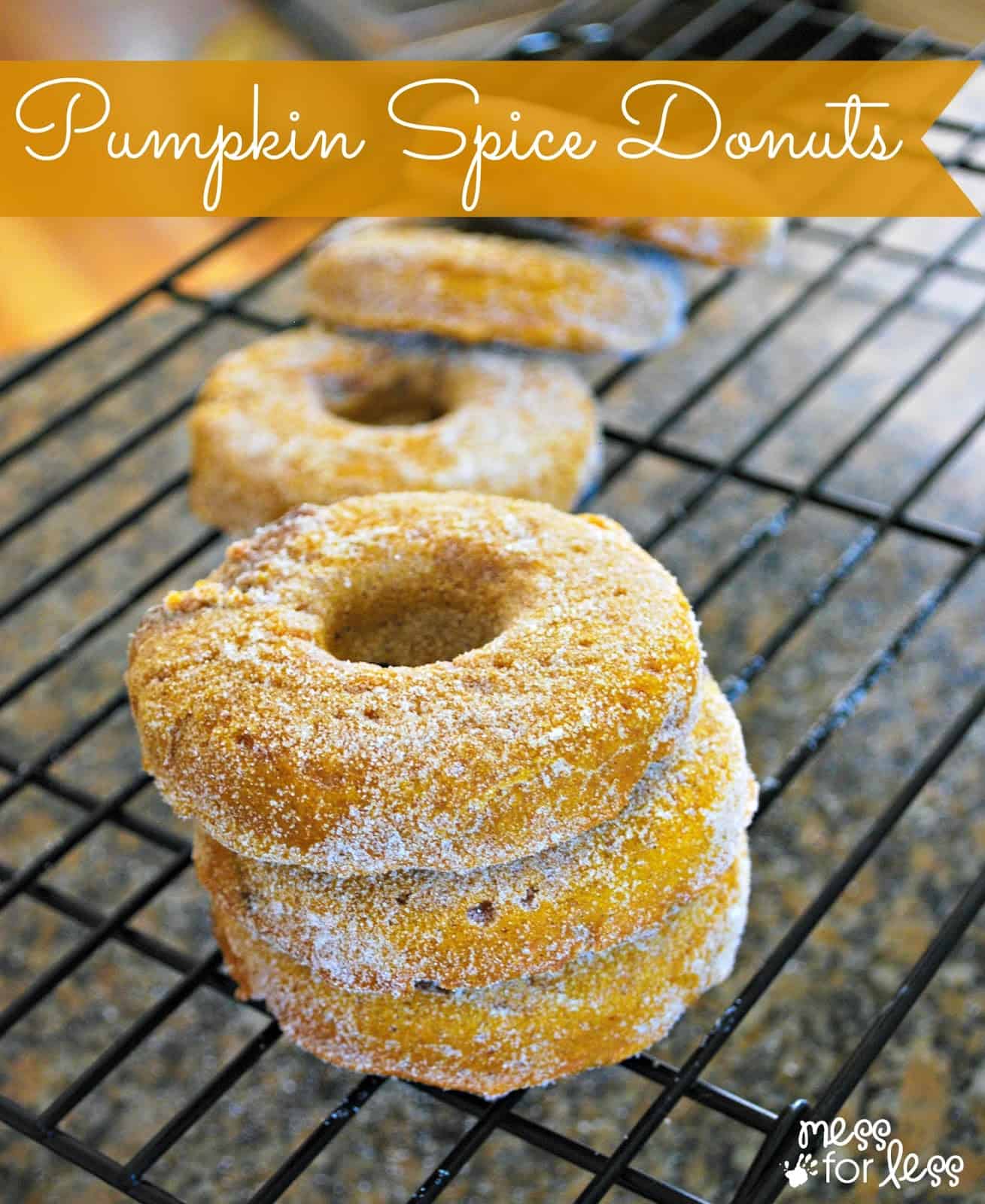 Yield: 18 donuts
Ingredients:
3 eggs
1/4 cup canola or vegetable oil
1/4 cup of applesauce (to cut some fat – you can also skip it and use 1/2 cup of oil instead of 1/4 cup)
1 can of pureed pumpkin
1/2 cup brown sugar
1/2 cup granulated sugar
1 teaspoon salt
1/2 teaspoon vanilla
1 1/2 teaspoon baking powder
1 teaspoon pumpkin pie spice
1 3/4 cups of flour
For topping:
3 tablespoons of granulated sugar
dash of cinnamon
dash of pumpkin pie spice
Preheat oven to 350 degrees.
In a large bowl, mix together eggs, oil, applesauce, pumpkin, brown and granulated sugar, salt, vanilla, baking powder and pumpkin pie spice until well blended.
Add flour and stir until just moistened.
Pour into donut pan, filling about 3/4 of the way.
Bake in a 350 degree oven for 18-20 minutes. Test with a fork or toothpick and remove donuts from oven when fork comes out clean.
Combine 3 tablespoons of granulated sugar with a dash of cinnamon and a dash of pumpkin pie spice in a shallow plate. When the donuts come out of the oven, remove them from the pan and dip both sides in the sugar mixture.
This pumpkin donut recipe is great to make with kids. It is a wonderful afternoon snack on a cool Fall day. Or enjoy them like I do, by a roaring fire with a good book and a cup of tea.
For more pumpkin recipes check out:
Want more Mess?