Since I share so many Instant Pot recipes, I get many questions from readers about what kinds of accessories and items I am using with my pot. So I am telling all! I will share some Must Have Instant Pot Accessories that I use all the time. The great news is that most of the accessories will work in any kind of electric pressure cooker. Just make sure to check the sizes to make sure you get the appropriate accessories for your pot.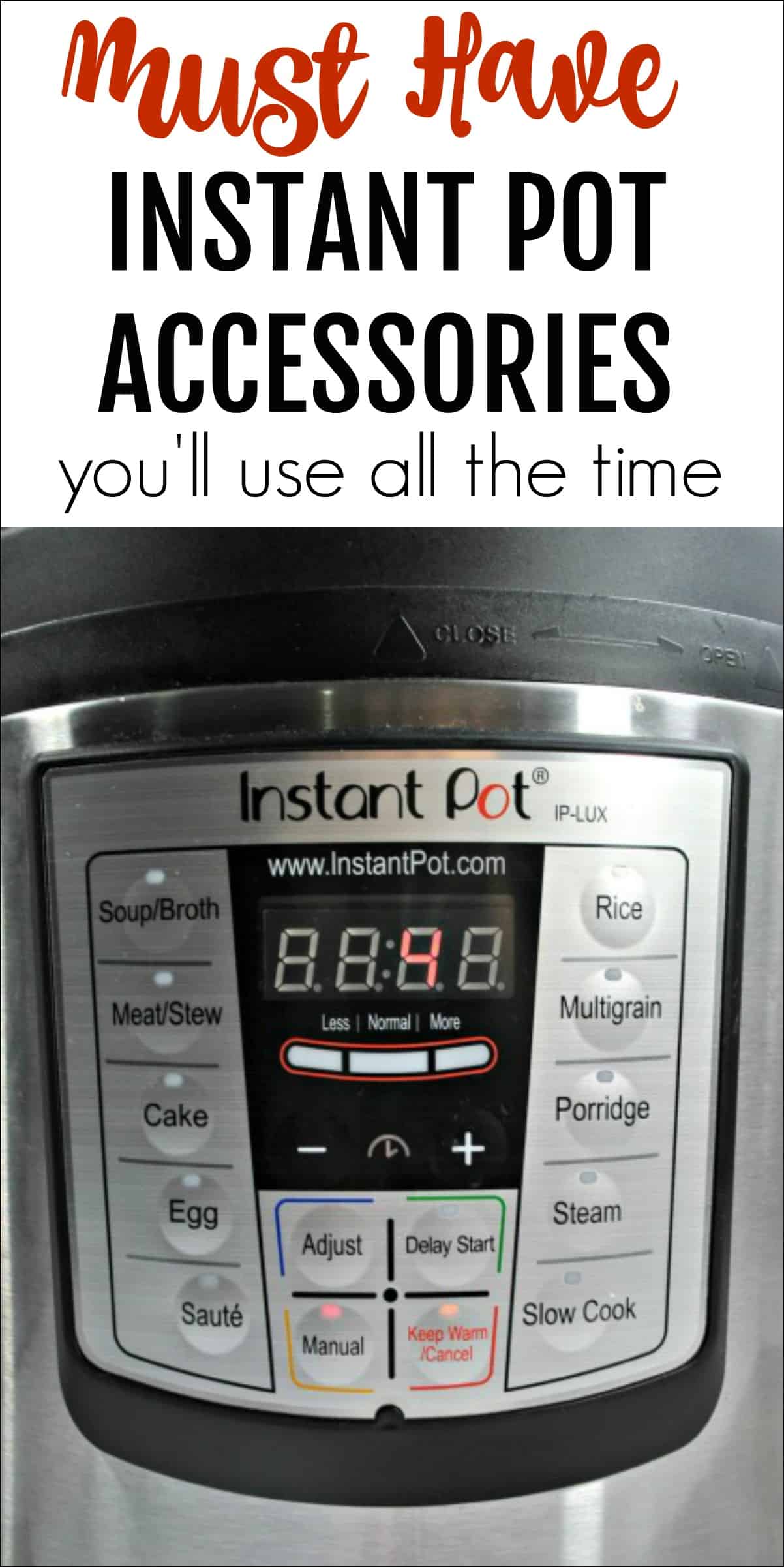 Now before you buy any of these Instant Pot accessories, you'll need an Instant Pot or an equivalent pressure cooker. I love 6 Quart Instant Pot because the size is so versatile. It is big enough for a family, but not so big that your food will be swimming in there. This is the most popular size around.
If you are cooking for an army, this 8 Quart Instant Pot is for you. The larger size makes it perfect for entertaining or for large family meals.
If you have a small family or if counter space is at a premium there is a 3 Quart Mini Instant Pot that will work for you.
Must Have Instant Pot Accessories
Stackable Insert Pans - Do you ever see these great Instant Pot recipes that cook meats and pasta at the same time? Likely the secret is this pan. I enjoy it for making lasagna in one pan. You can also cook meat on the bottom and steam veggies on the top.
Steamer Basket - If you are looking to steam vegetables, this is the basket for you. It has a silicone handle which makes it easy to pick up out of the pot. I love this for boiling eggs. You can also use it as a strainer if you are making Greek yogurt.
Instant Pot Tempered Glass Lid - This is perfect for when you use your pot for sautéing or use it on the slow cooker function.
Egg Bites Mold - If you have ever tried egg bites at a popular coffee shop, then you know they are delicious, but pricey. This mold allows you to make similar egg bites. You can add bacon, ham and veggies, and customize the egg bites any way you wish.
Springform Cake Pan - Have you ever tried baking in your Instant Pot? This pan makes wonderful cheesecakes and the springform release makes for easy removal and clean up. I have seen people make lasagna with this well.
Stackable Egg Steamer - If you like to make lots of hard boiled eggs ahead of time, this steamer can do it. You can hard boil up to 14 eggs in just a few minutes.
Instant Pot Travel Tote Bag - There is nothing I love more than a good potluck. With this tote, I can make a favorite Instant Pot meal like this Caribbean Chicken in the Instant Pot, and take it along with me. This is also great if you take your Instant Pot on the road, such as in a camper.
Instant Pot Mini Mitts - These are thinner than traditional silicone mitts which makes them perfect for lifting the inner pot and other items from the Instant Pot.
Pressure Cooker Pans - This is a great set of pans that includes a cake pan, bundt pan and two bread loaves. I love the loaf pans as they fit perfectly in my Instant Pot and allow me to make my favorite banana bread recipe.
Gripper Clips - This is the easiest way to get items out of the Instant Pot. Whether you are trying to remove the inner pot or a pan, these allow you to clip and lift. I also use these on dishes I remove from the microwave that are super hot.
If you enjoyed learning about these must have Instant Pot Accessories, you'll love:
Chicken Bacon Ranch Pasta in the Instant Pot