We have made our fair share of play dough and today we added a new one to the list - No Cook Lotion Dough. This is a simple sensory recipe that uses just four ingredients. If you have been playing along with us for the past few weeks, then you know we have been having all sorts of fun with crushed cereal. We have created works of Scented Art, made a Crushed Cereal Rainbow Bottle and Crushed Cereal Sand Dough. Well we used crushed cereal again here, this time turning our sand dough into Lotion Dough. Not only the the cereal give the dough its pretty pastel colors, but the lotion makes it super soft and yummy scented.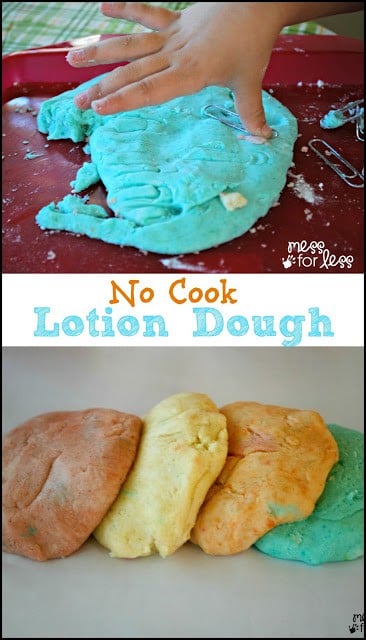 You will need:
Baby lotion
Baking soda
Water
Crushed cereal or food coloring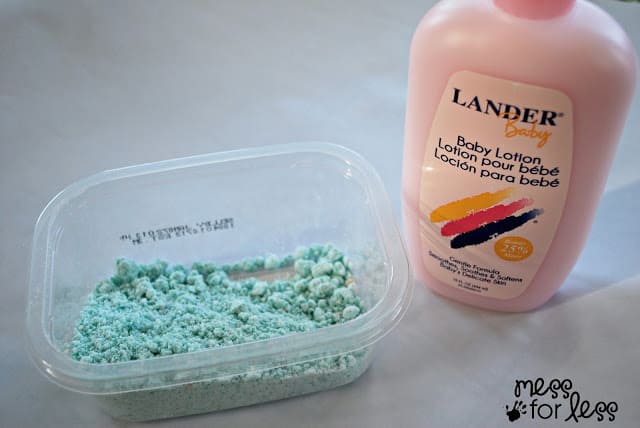 If you have made our sand dough sensory recipe then you simply need to add some baby lotion to it to make this play dough. You may be able to use another kind of lotion but I tried it with baby lotion. Dollar store baby lotion works perfectly for this play recipe.
If you are starting from scratch, fill a small bowl with baking soda and slowly add water to it. You will want to be sure to add a little water at a time and mix it in well. If you are using food coloring to color the dough, add it now and continue mixing. You are going for a texture that is somewhat moist and can be molded, but can also be crumbly.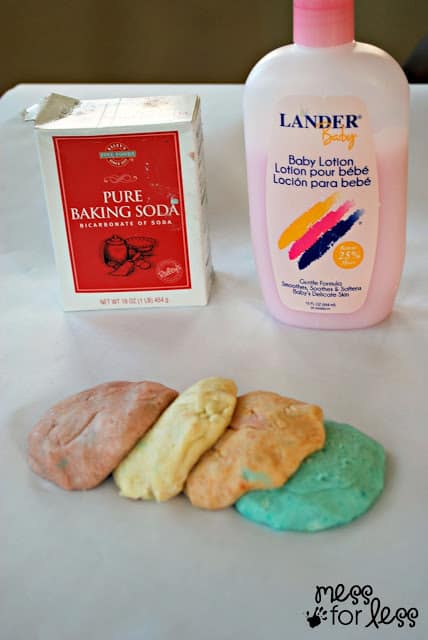 My daughter helped to add the lotion to our sand dough. Be careful with this step. She got a little squeeze happy and added too much lotion making the dough quite wet and sticky. I had to go back and add some more baking soda to get a better consistency.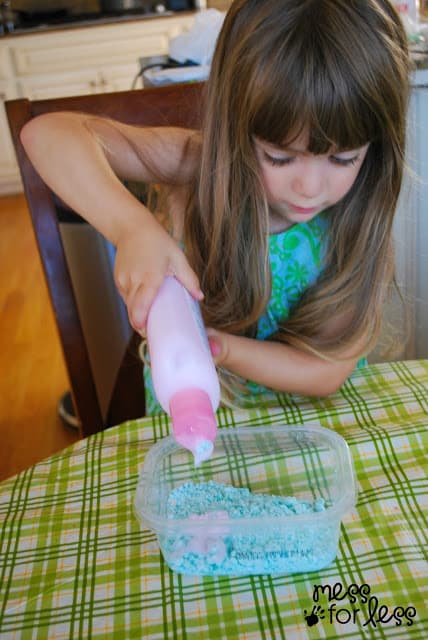 Mix the lotion in with the dough until something resembling play dough forms.
My daughter loved the mixing part.
We added some paper clips to our play dough. They were great for making prints.
My daughter also had fun using cookie cutters in the dough.
This no cook Lotion Dough is a little stickier than normal play dough but that just adds to the messy fun. We played with ours on a tray which made for an easy clean up.
For more crushed cereal ideas check out:
Scented Art