The twins will be starting at a new school in a few weeks. Their current teachers have been so amazing that we wanted to show our appreciation. We got them some gift cards, but I wanted to make them something special to remember the girls. So we made some Shaving Cream Cards and Gift Wrap using shaving cream and food coloring. So let your legs be stubbly for a day and put that shaving cream to good use! When you are done with this activity, you can use the shaving cream for this Fine Motor Practice with Straws.
WHAT DO YOU NEED TO MAKE SHAVING CREAM ART?
HOW DO YOU MAKE CARDS AND GIFT WRAP WITH SHAVING CREAM?
Load up a tray with some shaving cream. Then add some food coloring to the mess and let the kids stir with a Popsicle stick.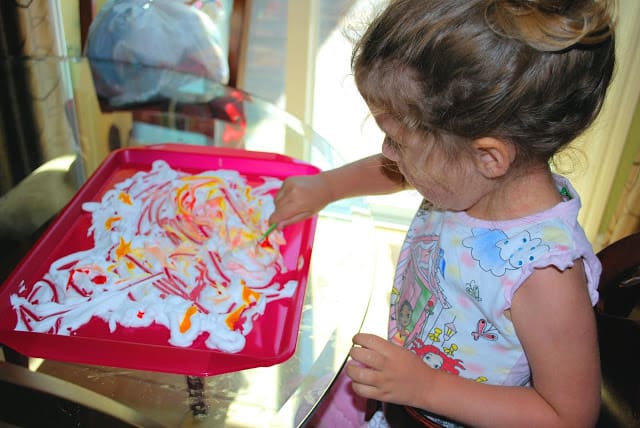 If you mix the food coloring in completely you will just end up with a piece of colored paper and not colorful swirls. The prints are easy peasy to do. I used card stock since I wanted to make greeting cards, but I did the project alone first, and had no problems with copy paper. So whatever floats your boat.
Place the paper over the shaving cream and pat.
When we lifted the prints off, the girls were so excited to see the pretty colors they had created. I let them dry for 10 minutes.
After 10 minutes I used a Popsicle stick to scrape off the excess shaving cream.
When you remove the layer of shaving cream, you are left with these gorgeous marbled prints that feel super soft.
I added some stickers and a photo of the girls to the front and voila, you have an inexpensive, original greeting card.
I mentioned earlier that I tried out the project alone before I did it with the girls. This is something I learned while teaching. You don't know what can go wrong unless you do a test run first. I don't do it for all my projects, but the mess factor was high for this one so I thought it would be wise. What I discovered was that this project is a lot of fun for an adult too. I just used plain copy paper and it came out so pretty I thought I would try wrapping a present with it.
Hope you enjoyed this idea for making Shaving Cream Cards and Gift Wrap!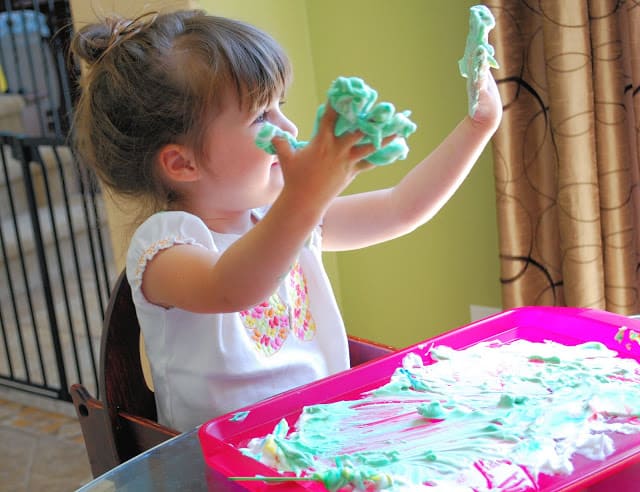 GOT A CRAFTY KID?
The folks at Annie's know crafting, so you know they have put together some amazing kits for your kids.
For girls:
The Creative Girls Club subscription box will get your girl's creative juices flowing. Girls get two kits each month full of crafting fun. Best of all, the crafting can be done with minimal adult supervision. While she is creating, she will be learning valuable skills such as painting, beading, stitching, paper crafting, and much more!
For boys and girls:
These Young Woodworkers Kits have everything your little builder needs to create crafts and toys they can enjoy, while learning important woodworking skills along the way. Your child's first three kits will include 5 kid-sized, high-quality tools they'll use again and again. A new woodworking project is delivered every four weeks, with a new and exciting skill to master. Each project teaches a real world skill that kids will use for years to come.
If you liked this shaving cream cards and gift wrap activity, check out: