The twins will be starting at a new school in a few weeks. Their current teachers have been so amazing that we wanted to show our appreciation. We got them some gift cards, but I wanted to make them something special to remember the girls. So we made some
Shaving Cream Cards and Gift Wrap
using shaving cream and food coloring. So let your legs be stubbly for a day and put that shaving cream to good use! When you are done with this activity, you can use the shaving cream for this
Fine Motor Practice with Straws
.
Shaving Cream Cards and Gift Wrap
If you don't want to use the good stuff, I can tell you that the dollar store sells shaving cream. Food coloring is one thing I have not found at the dollar store, but if you buy the store brand at the grocery store it will save you some money.
I was inspired for this fun project by
Playing House
. I love the shaving cream art she created and I wanted to see if it would work for a greeting card. So I got my nifty trays (purchased at Target for $1.99 and used for EVERYTHING) and loaded them up with some shaving cream. You can also use those metal food trays which they do have at the dollar store.
Then I added some food coloring to the mess and let the kids stir with a Popsicle stick. B does not like to get her hands dirty and even touching the shaving cream with the Popsicle stick was a big step for her. She complained a bit but quickly got over it. A jumped right in and enjoyed watching the colors mix.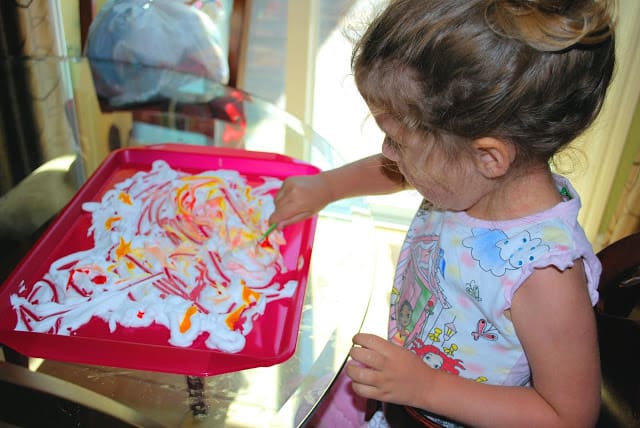 The girls were very enthusiastic about mixing the colors, so I had to slow them down so we could do our prints. If you mix the food coloring in completely you will just end up with a piece of colored paper and not colorful swirls. The prints are easy peasy to do. I used card stock since I wanted to make greeting cards, but I did the project alone first, and had no problems with copy paper. So whatever floats your boat.
Place the paper over the shaving cream and pat. B really enjoyed this part.
When we lifted the prints off, the girls were so excited to see the pretty colors they had created. I let them dry for 10 minutes.
After 10 minutes I used a Popsicle stick to scrape off the excess shaving cream. I also invented the "Scrape Song" (my apologies to KC and the Sunshine Band). "Scrape, scrape, scrape. Scrape, scrape, scrape. Scrape your shaving cream. Scrape your shaving cream." I didn't know what I started with that one. A and B started dancing to it and made me sing it for each picture I scraped. Not my proudest moment.
When you remove the layer of shaving cream you are left with these gorgeous marbled prints that feel super soft.
I added some stickers and a photo of the girls to the front and voila, you have an inexpensive, original greeting card.
I mentioned earlier that I tried out the project alone before I did it with the girls. This is something I learned while teaching. You don't know what can go wrong unless you do a test run first. I don't do it for all my projects, but the mess factor was high for this one so I thought it would be wise. What I discovered was that this project is a lot of fun for an adult too. I just used plain copy paper and it came out so pretty I thought I would try wrapping a present with it.
As an added bonus, when we were done making our prints A started touching the shaving cream with her hands. When B saw that her sister didn't melt, she thought she would give it a try too. They played with the colored shaving cream for another 15 minutes and let mommy clean up! Here is B, who if you can believe it, hates getting her hands dirty. So proud of her for overcoming this sensitivity! Of course she was not pleased to discover upon washing her hands that they still had a tinge of green. Oh well, it's a start. Hope you enjoyed this idea for making Shaving Cream Cards and Gift Wrap!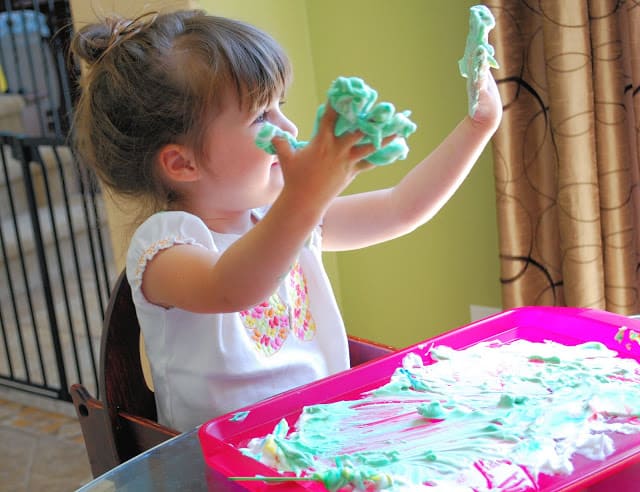 If you are looking for more fun ways to engage your kids, I highly recommend
KiwiCo
. As a former teacher, I was really impressed with the quality of materials found in KiwiCo. Some moms have told me that they want to do activities like I do on Mess For Less with their kids, but they just don't have to the time to go buy all the supplies and prepare them for the activity. KiwiCo is the perfect solution. Every month your
KiwiCo
will focus on a particular theme like Colors, Dinosaurs or Gardening. KiwiCo offer a variety of projects ranging from crafts, imaginative play, science experiments and more.
If you liked this shaving cream cards and gift wrap activity, check out: