My husband thinks I am a culinary genius after the delicious and easy dinner I served this weekend. I made a
Southwestern Chicken Casserole
, and while I did accept all of his compliments, I know what really bumped this dish up a notch was the four cheeses used in the chicken breading.
If you love dinner casseroles be sure to check out our
Cheesy Chicken and Broccoli Casserole
 and our
Stuffed Shells Recipe
.
This post contains affiliate links. 
Southwestern Chicken Casserole
I made this in a
8 inch casserole dish
 since this was just for my husband and I and our young kids who don't eat very much. You can easily double the recipe and make it in a larger casserole dish.
Get your brown rice cooking and get to work on preparing the chicken. For this recipe, you'll be using nugget sized pieces of chicken.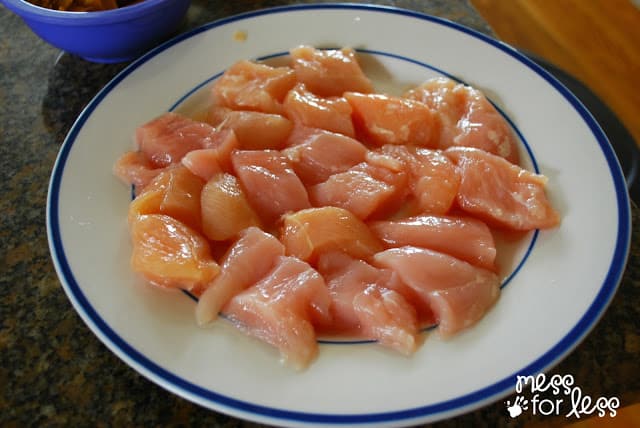 Then it is simply a matter of combining the four cheeses with the Shake and bake seasoned panko bread crumbs and coating the chicken pieces. The chicken will get cooked separately.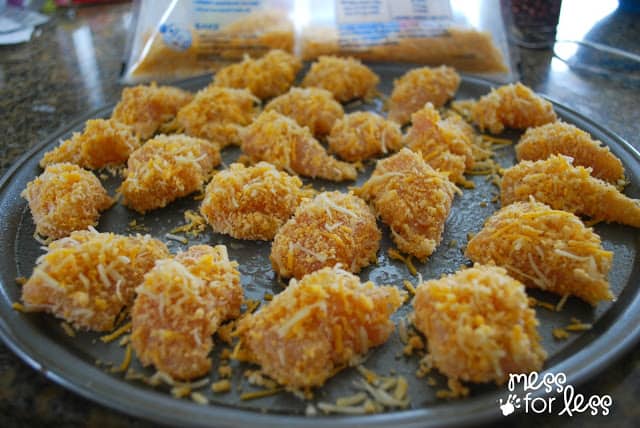 While the chicken is baking, you can assemble the rest of your chicken casserole.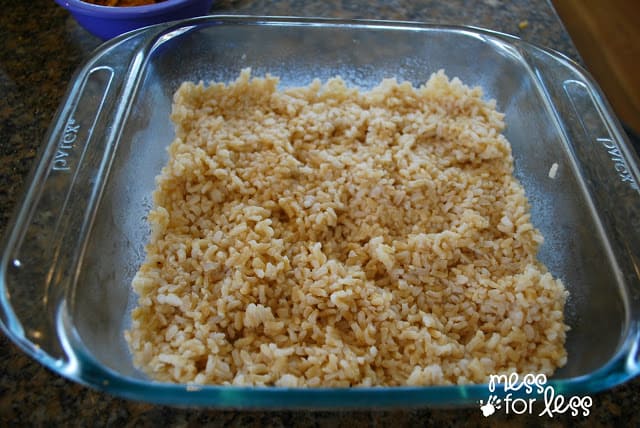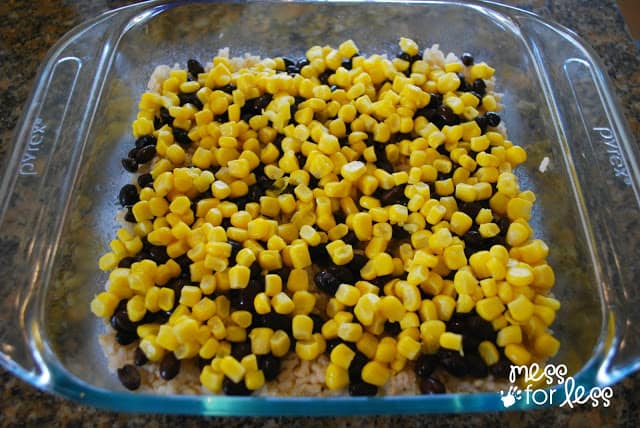 Then just add the chicken. Look how crispy the chicken is after being breaded in the cheesy panko bread crumbs. You could just serve this and your family would be happy!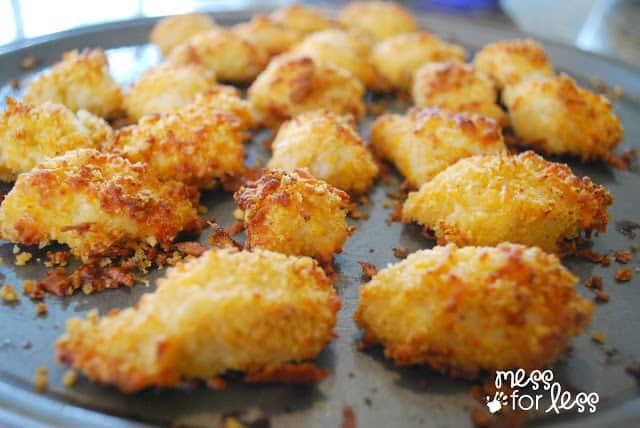 Simply add the cooked chicken to the casserole, top with some yummy cheese and pop in the oven.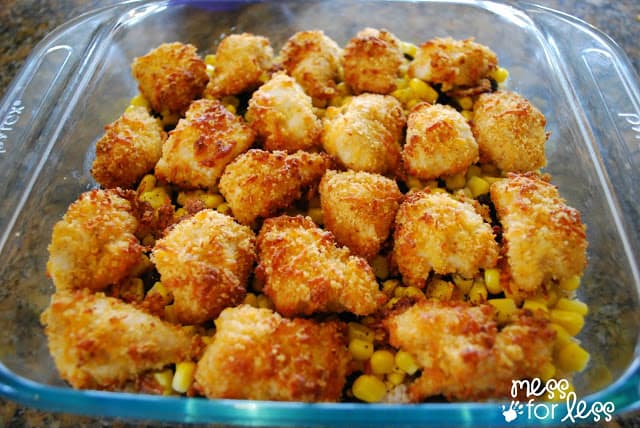 Bake and top with ranch dressing and tortilla strips for a little extra crunch.
The Southwestern Chicken Casserole got rave reviews. Even my kids liked it. Well, after they picked out the beans and corn. They are pretty picky. My husband had no idea how I prepared the meal, but he kept asking what I did to the chicken. He could tell this was no ordinary breading. I just told him that I am a wizard in the kitchen and he believed me.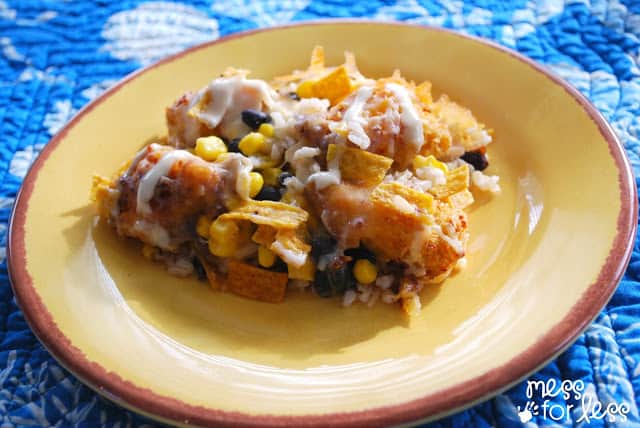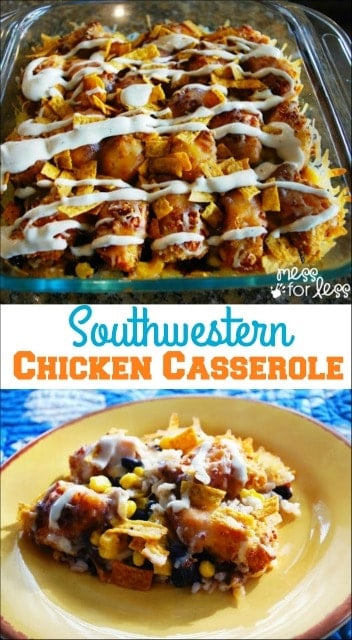 Southwestern Casserole
Ingredients
1 pack of Shake and Bake seasoned panko mix
1 cup Mexican four cheese blend
½ teaspoon chili powder
¼ teaspoon cumin
¼ teaspoon garlic powder
¼ teaspoon onion powder
2 cups of brown rice
6 frozen chicken breasts (small to medium sized)
½ can of black beans
½ can of corn
1 cup of shredded cheese – can use cheddar or a cheddar and jack mix
Tortilla strips salad toppers
Ranch dressing
Instructions
Preheat oven to 375 degrees.
Cook brown rice according to package directions.
Cut chicken breasts into nugget size pieces.
In a large zip top bag, combine the cheese and breadcrumb mixture with the chili powder, cumin, garlic powder and onion powder .
Drop in your chicken pieces and shake to coat.
Place on a greased tray and bake at 375 for 25-30 minutes until the internal temperature reaches 165 degrees.
Spread the cooked brown rice on a greased 8 inch baking dish.
Next, spread ½ a can of black beans and ½ a can of corn on top of the rice.
Top with the cooked, breaded chicken.
Sprinkle 1½ cups of shredded cheese on top of chicken pieces.
Lower oven temperature to 325 and bake for 25 minutes.
Drizzle some ranch dressing on top and sprinkle tortilla strips on top..
If you liked this Southwestern Chicken Casserole, you'll love: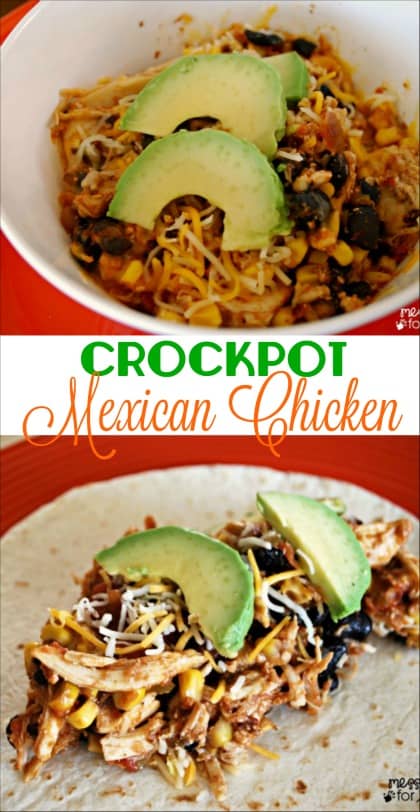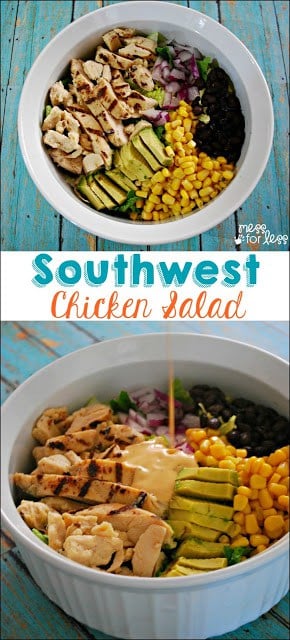 If you are looking to feed a family with some fresh, delicious meals, Blue Apron offers a better way to cook. You get fresh ingredients and great recipes delivered weekly to your home. Blue Apron has no commitment or fees, so you can prepare delicious, inventive meals at home. So try Blue Apron. Take Back Dinner. Get $30 Off!