Halloween is almost upon us, but your kids can enjoy this Zombie Craft for Kids any time of year. If your kids love gross things they will flip for this paper plate craft featuring yarn brains and springy eye ball!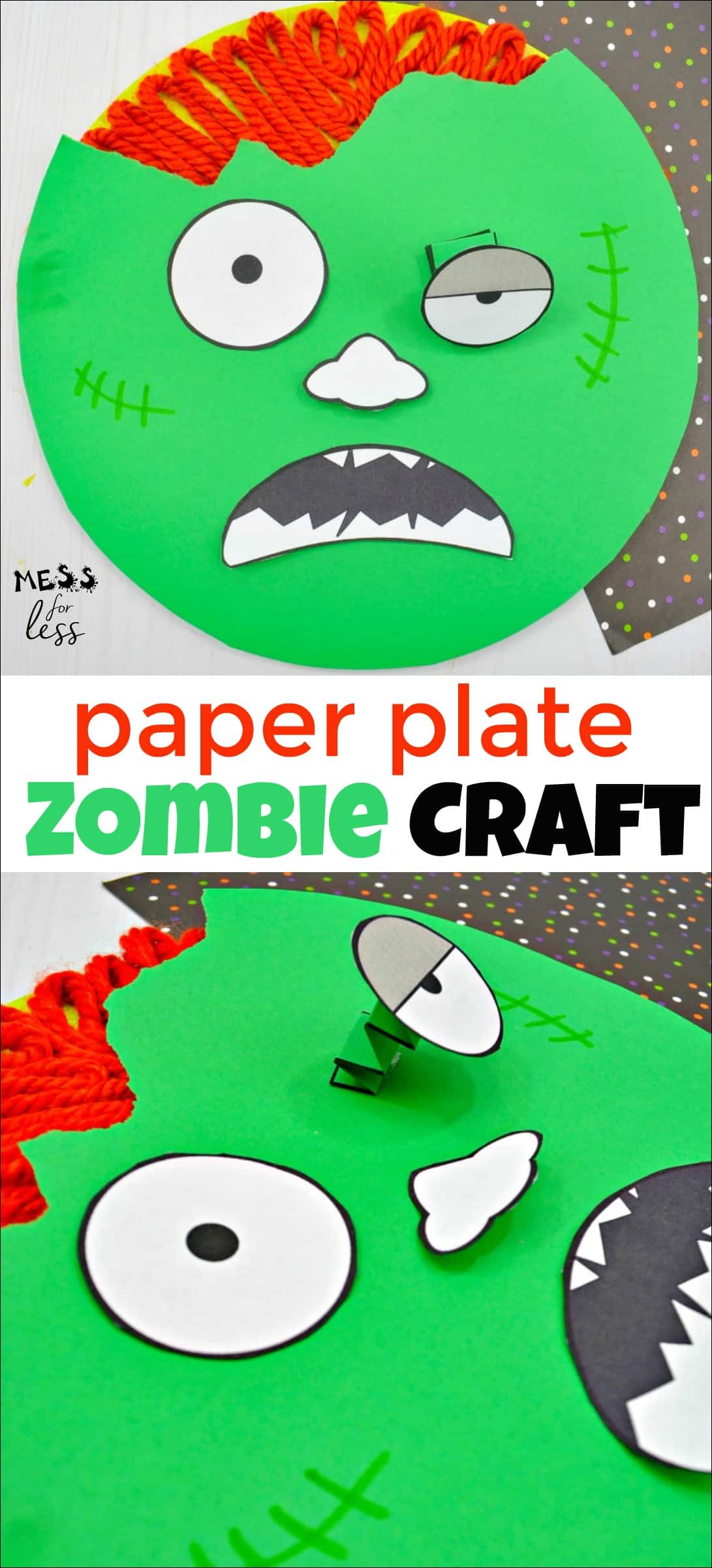 Zombie Craft for Kids
You will need:
PDF template of Zombie face (download below)
1 pc white paper
1 pc colored paper
Paper Plate
Brain colored yarn
Marker
School glue
Glue Stick or double sided tape
Scissors
DOWNLOAD YOUR TEMPLATE BY CLICKING HERE.
After you download the zombie face and head pattern, print out the zombie face on white paper and the head and eye template on green paper.
Next, you will color the corner of the paper plate with the marker. It doesn't matter if this is neat, because it will be mostly covered up. You can use the same color marker as your yarn, or a contrasting color like we did.
Then squeeze a generous amount of glue on the marker part of the plate. Take the yarn and form a twisting pattern to create the zombie brains.
Next, cut out the pattern for the springy eye ball & head from the colored paper. Note on the template that you cut about 3/4th of the plate and rip the other side.
Glue this head piece to the paper plate, positioning the open, ripped edge to expose the zombie yarn brain. A glue stick will work best to stick the paper to the plate, but more white glue will is necessary for the parts where the paper is over the yarn.
Fold the springy eye piece in an accordion style, going back and forth.
Using a scissor, cut the face pieces out of the template.
Tape the accordion paper piece to the eye ball with the half closed eye.
Glue the pieces of the face to the plate. You can add some character to the plate by drawing scars using the marker.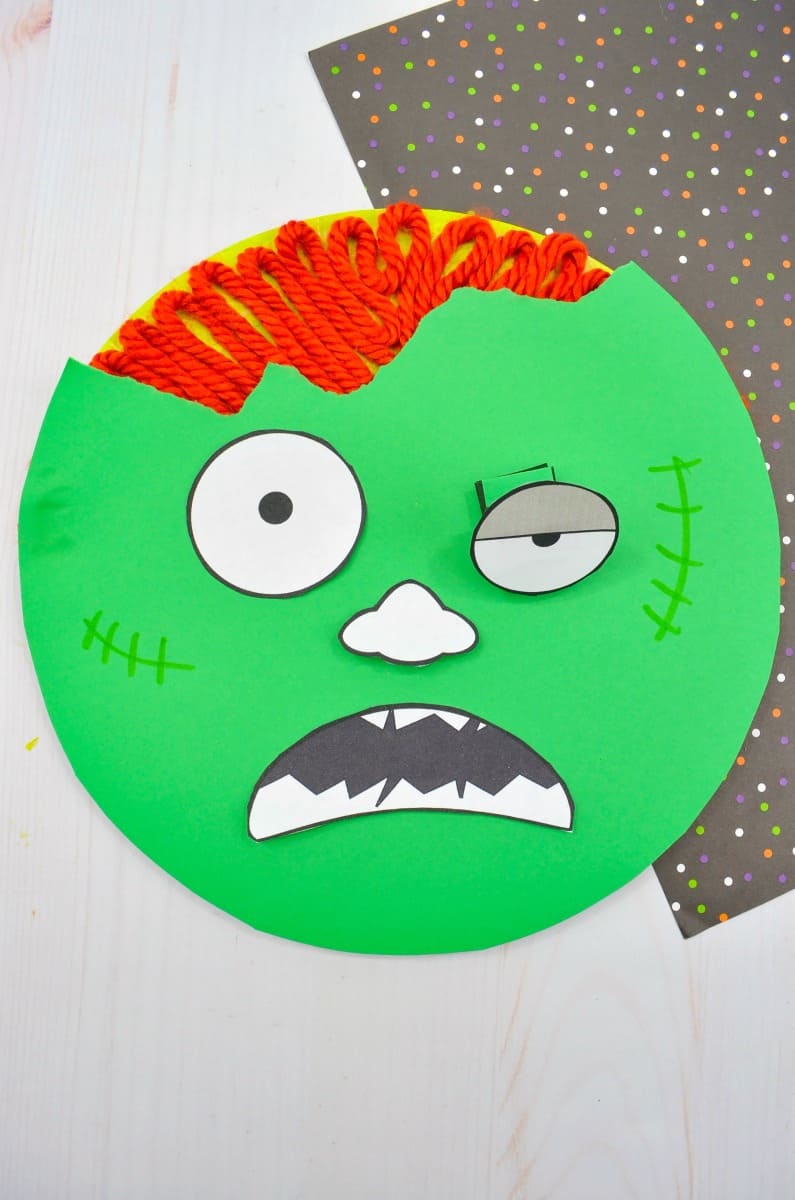 Your spooky zombie is ready!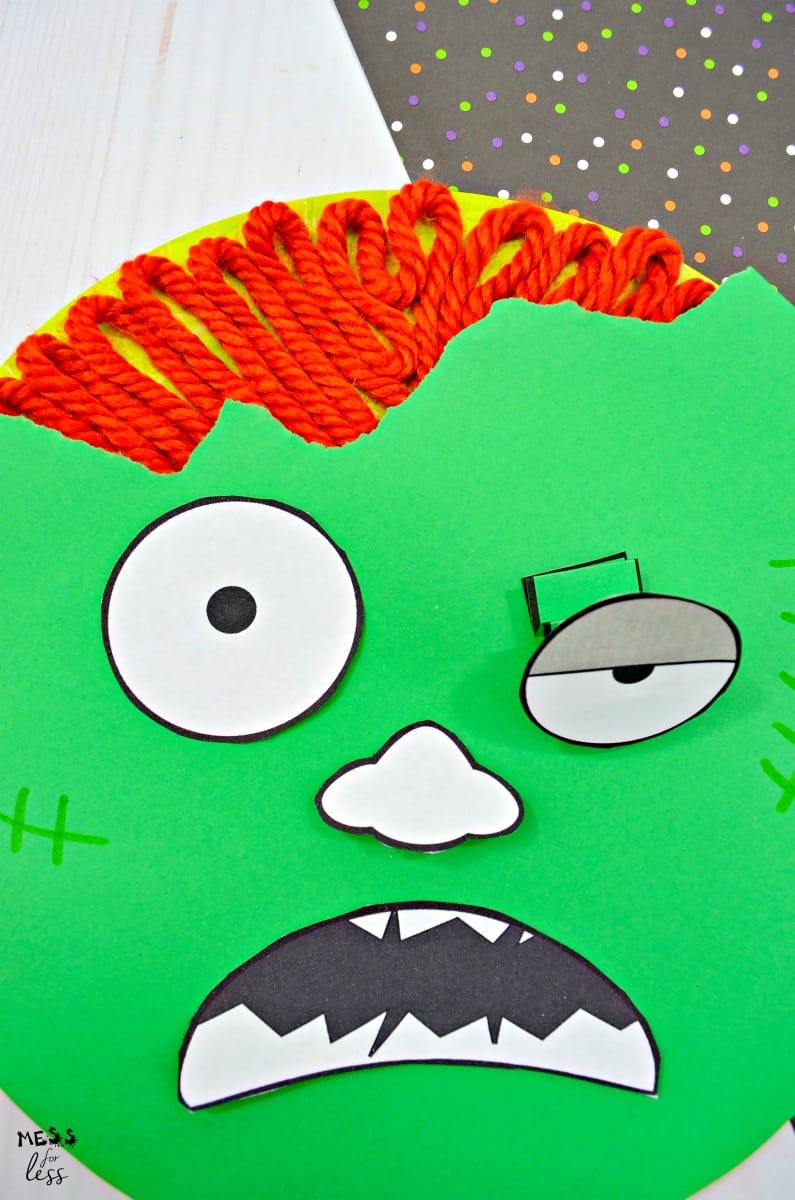 The springy eye really adds a fun creep factor. It would fun to make a number of these using different colored paper and yarn. They would make a fun Halloween decoration!
Looking for more fun activities to do with your kids? I highly recommend KiwiCo, which you can enjoy no matter the weather. As a former teacher, I was really impressed with the quality of materials found in KiwiCo. Some moms have told me that they want to do activities like I do on Mess For Less with their kids, but they just don't have to the time to go buy all the supplies and prepare them for the activity. KiwiCo is the perfect solution. Every month your KiwiCo will focus on a particular theme like Colors, Dinosaurs or Gardening. KiwiCo offer a variety of projects ranging from crafts, imaginative play, science experiments and more.
If you liked this zombie craft for kids, then you'll love the other Halloween activities: