Halloween is almost upon us, but your kids can enjoy this Zombie Craft for Kids any time of year. If your kids love gross things they will flip for this paper plate craft featuring yarn brains and springy eye ball! This easy craft is perfect for a halloween party or a classroom.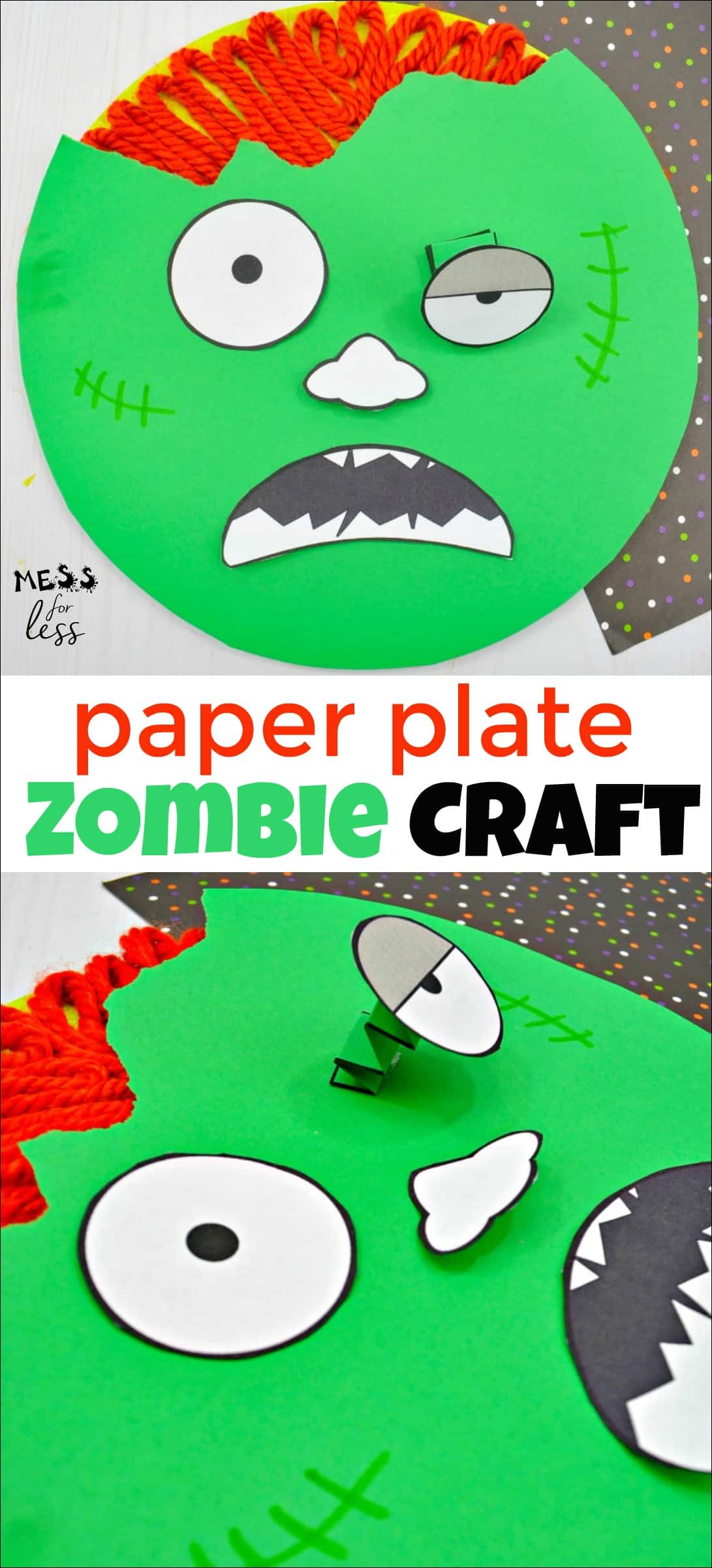 Jump to:
Why kids will love this 3-D zombie craft
High gross factor that kids find fun
Makes a great Halloween decoration
Kid-friendly zombie is perfect for getting into the Halloween spirit
The cutting in this craft helps little hands with fine motor skills
Craft supplies needed:
PDF zombie template
1 pc white paper
1 pc colored paper
Paper Plate
Brain colored yarn
Marker
School glue
Glue Stick or double sided tape
Scissors
GET YOUR TEMPLATE BY CLICKING HERE.
How to make a Zombie Craft for Kids
After you get the zombie face and head pattern, print out the zombie face on white paper and the head and eye template on green paper.
Next, you will color the corner of the paper plate with the marker. It doesn't matter if this is neat, because it will be mostly covered up. You can use the same color marker as your yarn, or a contrasting color like we did.
Then squeeze a generous amount of glue on the marker part of the plate. Take the yarn and form a twisting pattern to create the zombie brains.
Next, cut out the pattern for the springy eye ball & head from the colored paper. Note on the template that you cut about ¾th of the plate and rip the other side.
Glue this head piece to the paper plate, positioning the open, ripped edge to expose the zombie yarn brain. A glue stick will work best to stick the paper to the plate, but more white glue will is necessary for the parts where the paper is over the yarn.
Fold the springy eye piece in an accordion style, going back and forth.
Using a scissor, cut the face pieces out of the template. Don't you just love the mouth with its crooked teeth?
Tape the accordion paper piece to the eye ball with the half closed eye.
Glue the pieces of the face to the plate. You can add some character to the plate by drawing scars using the marker.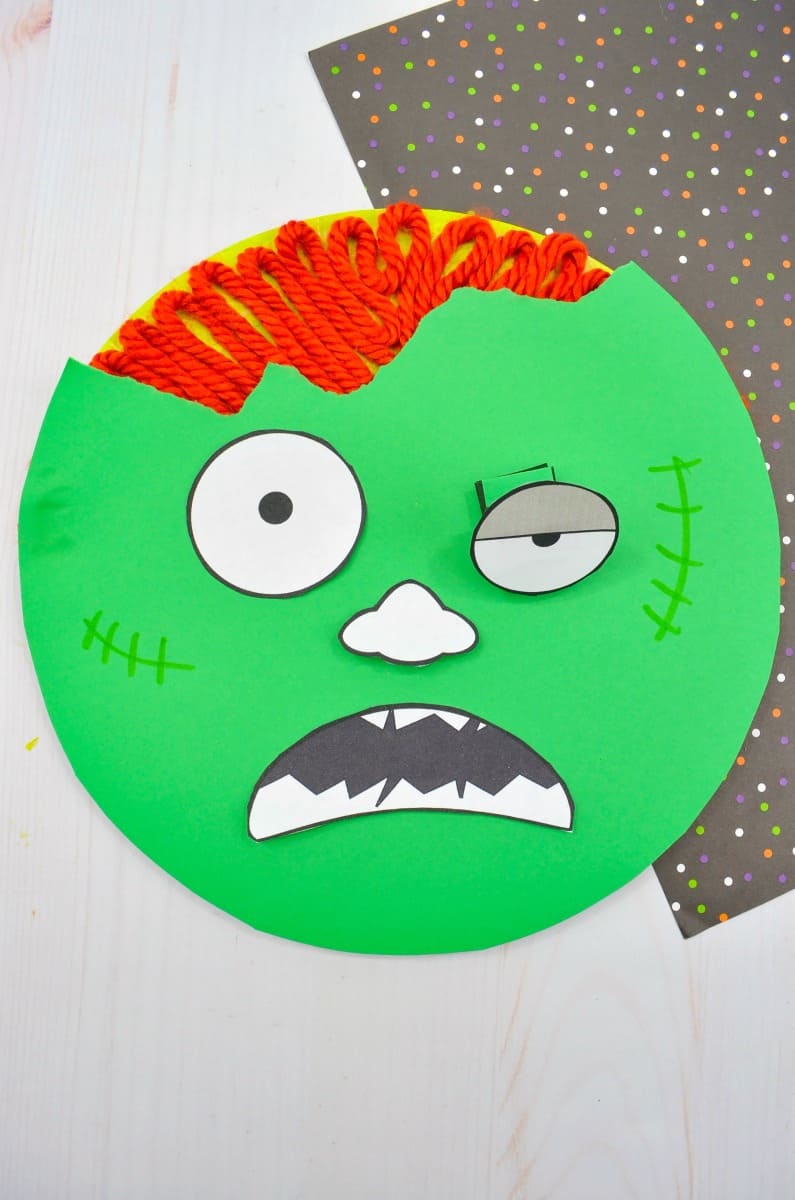 Your spooky zombie Halloween decor is ready! Halloween crafts don't have to be complicated. This printable zombie craft is easy peasy to make!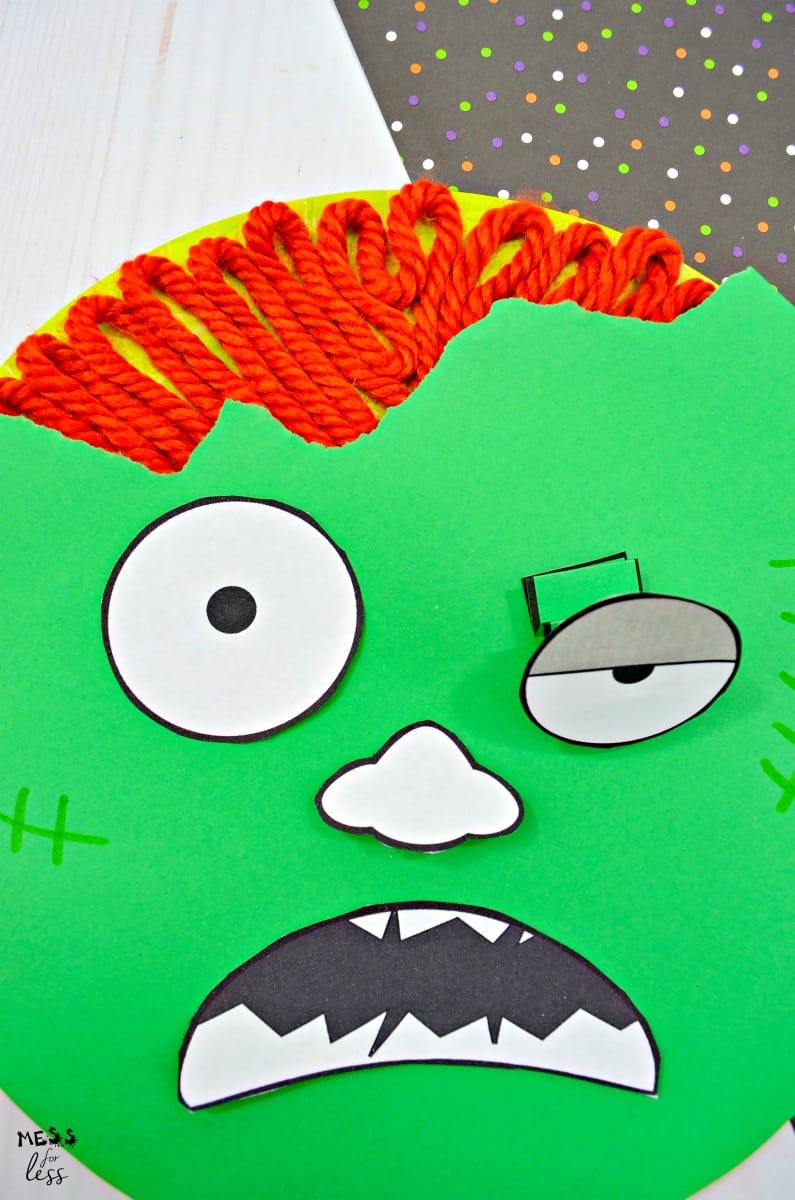 The springy eye really adds a fun creep factor. It would fun to make a number of these fun zombie crafts using different colored paper and yarn. They would make a fun Halloween decoration!
Frequently asked questions
What age is this Halloween idea recommended for?
Young children will need adult help and supervision. Older elementary kids can do most it themselves, but always supervise your child with scissors.
Got a crafty kid?
The folks at Annie's know crafting, so you know they have put together some amazing kits for your kids.
For girls:
The Creative Girls Club subscription box will get your girl's creative juices flowing. Girls get two kits each month full of crafting fun. Best of all, the crafting can be done with minimal adult supervision. While she is creating, she will be learning valuable skills such as painting, beading, stitching, paper crafting, and much more!
For boys and girls:
These Young Woodworkers Kits have everything your little builder needs to create crafts and toys they can enjoy, while learning important woodworking skills along the way. Your child's first three kits will include 5 kid-sized, high-quality tools they'll use again and again. A new woodworking project is delivered every four weeks, with a new and exciting skill to master. Each project teaches a real world skill that kids will use for years to come.
Related posts