Are mornings a stressful time for you? They can be for me. If you have kids, then you know how much there is to do every morning, and how quickly the time passes before they leave for school. Between packing lunches, getting kids ready, and making yourself presentable to face the drop off crowd, sometimes getting a decent breakfast on the table can be a chore. We have cereal for breakfast more days than we should. Now we love cereal and it can be a quick and easy breakfast option. However, being short on time doesn't mean that you can't add a little variety to your breakfast routine. Each of these 20 Make Ahead Breakfast Recipes can be prepared the night before and heated up the next morning. Some of them use a crock pot and just cook through the night, while others can be refrigerated and then baked in the morning for a stress free meal. Be sure to check out our other family friendly recipes.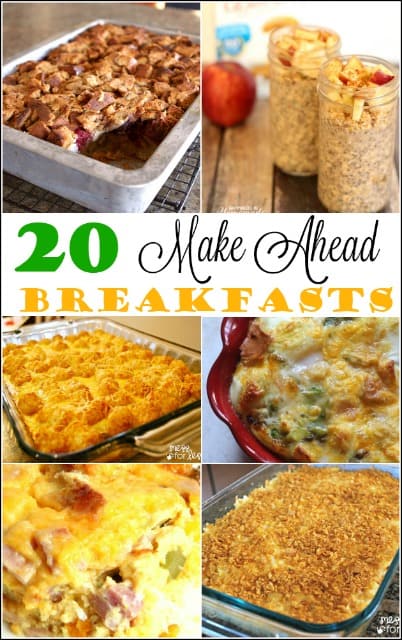 If you don't have a crock pot or casserole dish already, they will make preparation of these meals so much easier!
Each link number corresponds with a number in the photos below so you can see exactly what the recipes look like.
1. Make Ahead Breakfast Sandwich from House of Nash Eats
2. Sausage Egg and Biscuit Breakfast Casserole from Mess for Less
3. Blueberry French Toast from Wonder Mom Wannabe
4. Homemade Freezer Breakfast Sandwiches from Frugality Girl
5. Broccoli and Cheese Egg Muffins from DIY Budget Girl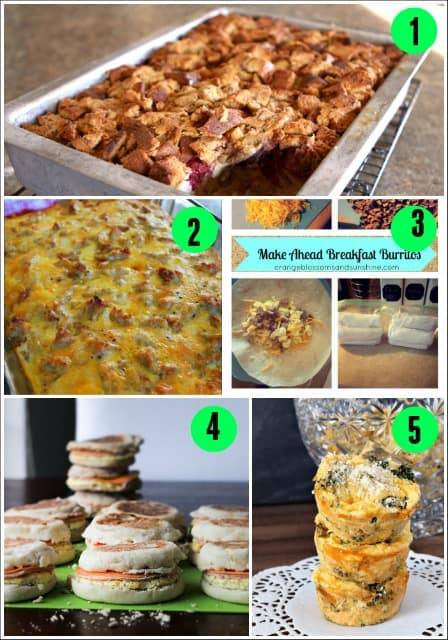 6. Overnight Breakfast Casserole from The Mom Maven
7. Healthy Breakfast Ideas to Make Ahead of Time from Mess for Less
8. Tater Tot Breakfast Casserole from Mess for Less
9. Cheesy Breakfast Casserole from Flour on My Face
10. Cinnamon Roll Crock Pot French Toast from Mess for Less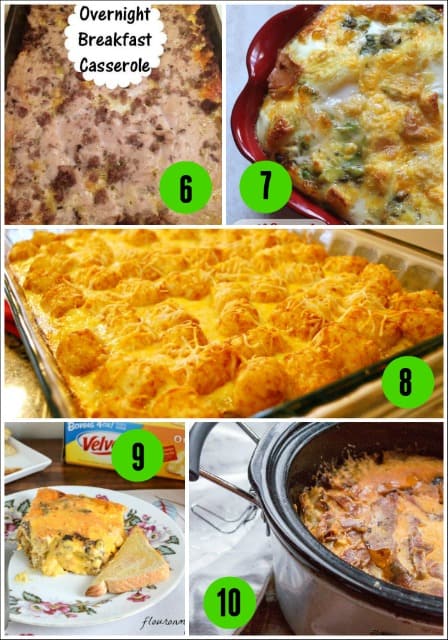 11. Slow Cooker Overnight Breakfast Casserole from Crazy Adventures in Parenting
12. Overnight French Toast Casserole from I Can Teach My Child
13. Overnight Egg Strata Recipe from Sugar Aunts
14. Apple Cinnamon Overnight Chia Oats from Happiness is Homemade
15. Cornflake Topped Hashbrown Casserole from Mess for Less
16. All in One Breakfast Casserole from The Chaos and the Clutter
17. Make Ahead Sausage Breakfast Casserole from Meaningful Mama
18. Raspberry Stuffed French Toast from Mom Endeavors
19. Pizza Breakfast Casserole from Ideas for the home
20. Cheesy Hashbrown Casserole from Mess for Less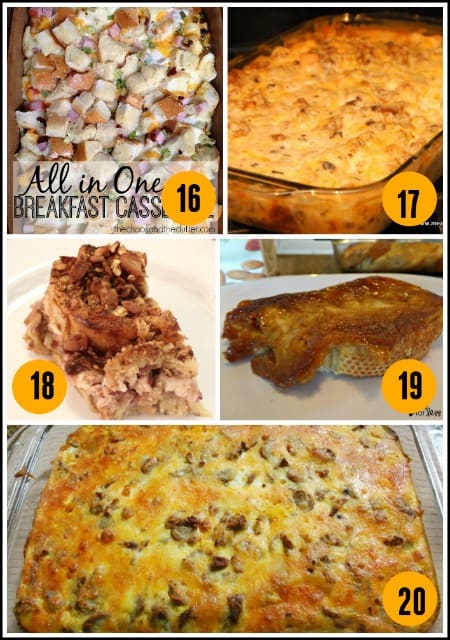 So now you have lots of ideas for hearty, make ahead breakfasts. These not only work great on busy mornings, but they are fabulous when you have overnight guests and you just want to send time focusing on them rather than working away in the kitchen.