If you are anything like me, then your mornings are pretty rushed. The days starts early for moms and we hit the ground running. Often we are so busy taking care of everyone else that we forget to take care of ourselves. Maybe we grab a cold toaster pastry for breakfast or skip it entirely. Mama, that is not how you want to start your day. Try these Healthy Breakfast Ideas to Make Ahead of Time so you can simplify your mornings.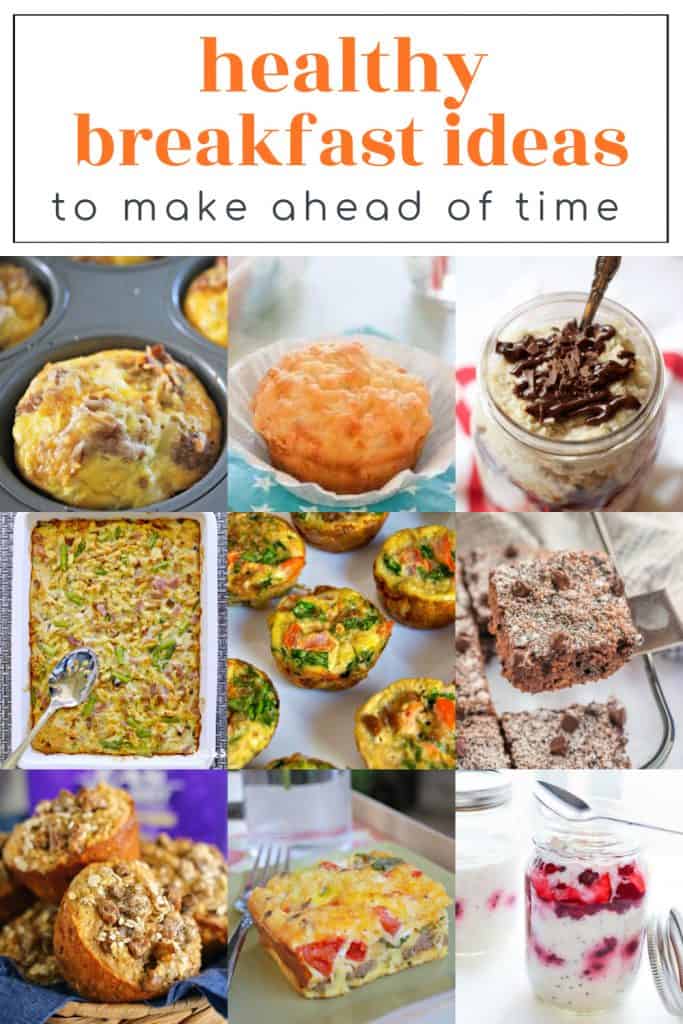 HEALTHY BREAKFAST IDEAS TO MAKE AHEAD OF TIME
MAKE AHEAD MUFFINS
Bake these muffins ahead of time and freeze them. When you are looking for a quick breakfast, simply defrost one and enjoy!
Spinach Muffins from Mess for Less – Made with pureed spinach and apple sauce, these muffins are a great healthy alternative to traditional muffins.
Oatmeal Date Protein Muffins from Kleinworth and Co. These healthy muffins are packed with oats and good-for-you protein powder.
Ham and Cheese Savory Muffins from Eats Amazing – You'll want to make these in bulk. These savory muffins are great when you don't want to start the day with a sweet breakfast. Make them with only 6 ingredients.
BREAKFAST BOWL
You can prep a lot of the ingredients in breakfast bowls ahead of time, making them a popular breakfast choice.
Cauliflower Fiesta Rice Breakfast Bowl from The Foodie and the Fix – Get your veggie fix first thing in the morning. This meal will fill you up as you prepare to take on the day.
SMOOTHIES
Using frozen fruit to make smoothies takes a lot of the prep work out of these recipes.
Very Berry Chocolate Smoothie from Mess for Less – This yummy and nutritious smoothie makes a great breakfast on busy mornings.
Healthy Breakfast Smoothie Recipe from Confessions of an Overworked Mom – This smoothie combines fruits and veggies to get your day started right.
BREAKFAST BURRITO
Make and freeze these for an easy breakfast!
Breakfast Burritos from Messes to Memories – This delicious breakfast burrito is filled with meat and veggies. A great protein filled option to start your day.
HEALTHY BREAKFAST ON THE GO
When I am having a busy morning, sometimes I don't even have time to sit down in the kitchen and eat. These are great options for when you are heading out the door.
Healthy Breakfast Brownies from Living in Happy Place – Brownies for breakfast? You heard right! These flourless brownies have healthy oatmeal to keep you full.
Healthy Breakfast Cookies from Happy Hooligans – These breakfast cookies are packed with healthy ingredients: peanut butter, banana, oats, nuts and seeds. You'll love how these taste great but contain no oil, flour, eggs, or refined sugar.
OVERNIGHT OATS
I love to make overnight oats in small mason jars and enjoy them on busy mornings.
Easy Vegan Coconut Milk Overnight Oats from Beauty Through Imperfection – You can make these ahead of time and warm them up in the microwave in the morning or eat them cold. They are yummy either way!
Raspberry Overnight Oats Recipe from Frugal Mom Eh – These are healthy and full of raspberry flavor!
Chocolate Espresso Overnight Oats from Soccer Mom Blog – These oats will give you a hit of energy to help you power your way through the morning. Plus these take less than 5 minutes to make.
OVERNIGHT BREAKFAST CASSEROLES
I love to make these on the weekend and portion them out and freeze them so I can have a quick breakfast for the week ahead.
Ham and Asparagus Casserole from Mess for Less – This casserole has it all. You get protein and veggies and bread in the form of stuffing in one make ahead breakfast.
Sausage Breakfast Casserole from Mess for Less – You can substitute turkey sausage in this recipe to make it even better for you. This filling meal has eggs and veggies to keep you fuller longer.
EGG MUFFINS
You can use a muffin tin to make an easy, portion controlled breakfast. You can make a dozen ahead of time and then just defrost as needed.
Sausage Egg Muffins from Mess for Less – these muffins are a complete breakfast. You get bread, cheese, eggs and sausage in one muffin. Use turkey sausage for a more healthy option.
Healthy Egg Muffins from Mess for Less – These are easy to make and are super filling. You can make a large batch and freeze them, and then just pop a few in the microwave when you are looking for a quick breakfast.
As you can see, there is no reason to skip breakfast with these Healthy Breakfast Ideas to Make Ahead of Time. Enjoy your breakfast and get a good start to your day!
EAT AT HOME MEAL PLANS
I am a big fan of Eat At Home Meal Plans. Are you stressed about the cost of eating out or trying to decide what to make for dinner each night? Sign up for the plans, and get access to 4 separate meal plans each month (Traditional, Wholesome Traditional, Slow Cooker, and No Flour/No Sugar). Just print the plans, color-coded grocery lists, and recipes you want for the month. Don't worry, there are so many options, even picky eaters will find something they like.
When it is time for dinner, make that night's recipe (choices include make-ahead, freezer meals, slow-cooker recipes, and other time-saving strategies) and you are all set.
I know you have more important things to do than meal planning. Let someone else do it for you with Eat At Home Meal Plans. Monthly, quarterly and annual plans are available.
If you enjoyed these Healthy Breakfast Ideas to Make Ahead of Time, you'll love:
Easy Breakfast Ideas for Busy Moms