If you are a mom, then you know that Mother's Day is right around the corner. Maybe you'll be taken out to dinner or presented with a dozen roses. It's nice to be showered with appreciation and have the kids on their best behavior, even if it is just for a day. To me, nothing says appreciation like having my husband and kids cook up a delicious meal while I put my feet up and relax. At least I relax until I walk into the kitchen and see the mess that resulted from that meal. This year, I want a yummy Mother's Day breakfast like this Sausage Breakfast Casserole and a clean kitchen. Is that too much to ask for? Let's see how my husband and kids do! Be sure to also check out our Overnight Egg Casserole. Thanks to Bounty for sponsoring this post. All opinions are 100% my own.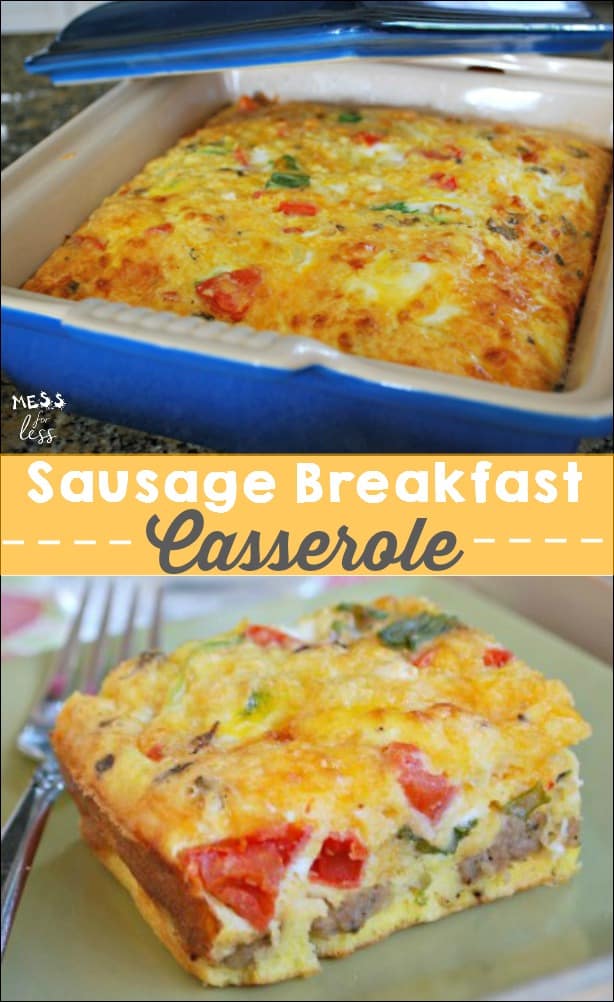 I presented my husband with one of my favorite breakfast casserole recipes that I thought would be perfect for Mother's Day. The only issue with asking my husband and kids to make this for me, is that my husband doesn't eat eggs and my kids don't eat tomatoes or green onions. Oh well, their loss. This is my Mother's Day right? My husband made a half portion of this recipe since it would mostly be eaten by me. The recipe I will share later is for the full recipe in a 9x13 casserole dish.
Before I went to put my feet up, I provided my husband with some of my top tips for cooking with kids:
Don't expect them to do things perfectly
Expect things to take longer than you think they will
Use a step stool so kids can get a good angle and reach the counter
Have Bounty at the ready for prep and clean up because things WILL get messy
Typically, when my kids help with cooking, they stick to measuring, pouring and mixing. My husband taught them some new skills such as cutting and slicing. They found green onions were especially easy to cut.
Tomatoes on the other hand, were another matter entirely. They were tougher to cut and all the juice and seeds just made a big mess.
Luckily, we had Bounty on hand to help clean the mess. Bounty absorbed the mess quickly, so my family could focus on the meal and on making this Mother's Day truly memorable.
This sausage breakfast casserole uses cooked sausage links. They can get quite greasy when cooked, but placing them on some absorbent Bounty paper towels cuts down on the mess.
This sausage breakfast casserole is so colorful thanks to the green onions and tomatoes.
Combine kids and baking mix, and a mess is bound to happen. Don't believe me? Here is my daughter "carefully" measuring out some baking mix. You would think that cracking the eggs for this casserole would be the messy part, but my kids did surprisingly well with that.
When they were done cracking eggs, they placed the egg shells on some Bounty and then transferred them to the trash. Look how strong Bounty is! This one single Select-A-Size sheet was wet with egg remnants and held together while my daughter brought it to the trash. Since Bounty is a more absorbent paper towel, the roll lasts longer and your loved ones won't need to use as much to tackle the messes that come with cooking with the kids on Mother's Day.
My husband and kids made this sausage breakfast casserole in the morning and then baked it. You can also prepare this the night before and refrigerate it, then pop it in the oven in the morning.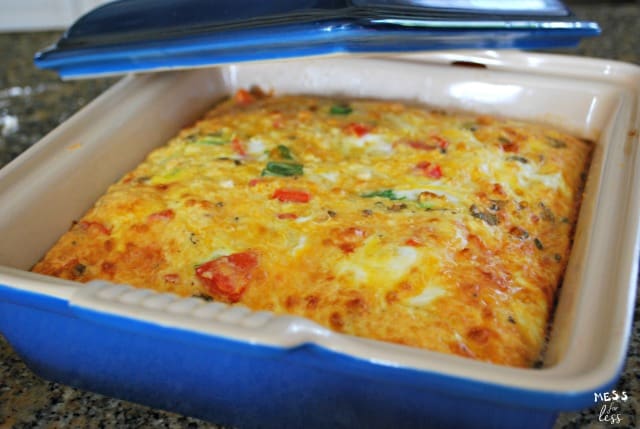 If there are any leftovers, you can refrigerate them and then reheat them in the microwave the next day.
My husband was so excited to present me with this yummy sausage breakfast casserole. He was less excited when he saw the mess that my daughters left behind, but Bounty helped him take care of that while I relaxed with my breakfast.
A girl could get used to this kind of treatment!
Sausage Breakfast Casserole
This Sausage Breakfast Casserole can be made the night before and cooked in the morning. This is the perfect holiday or weekend meal. SO good!
Print
Pin
Rate
Ingredients
24

pork sausage links

cooked and cut into small pieces

2

chopped tomatoes

chopped with the seeds removed

½

cup

cut green onions

2

cups

shredded cheddar cheese

1 ¼

cup

baking mix like Bisquick

1

cup

milk

12

eggs

1

teaspoon

salt

1

teaspoon

dried oregano

Pepper to taste
Instructions
Preheat oven to 350°F. Grease a 9x13 casserole dish.

Sprinkle the cut sausage in the bottom of the casserole dish.

Add the chopped tomatoes, green onions and cheddar cheese, making sure to evenly distribute them among the pan.

In a medium bowl, mix baking mix, milk, eggs, salt, pepper and oregano.

Pour over ingredients in casserole dish.

You can cover and refrigerate overnight or bake immediately in a 350 degree oven for 35-40 minutes until firm when a fork is placed in the middle.

If the top gets too dark, you can cover with foil for the remainder of the cooking time.
Nutrition
Calories:
212
kcal
|
Carbohydrates:
9
g
|
Protein:
12
g
|
Fat:
13
g
|
Saturated Fat:
6
g
|
Cholesterol:
187
mg
|
Sodium:
555
mg
|
Potassium:
142
mg
|
Sugar:
2
g
|
Vitamin A:
500
IU
|
Vitamin C:
0.7
mg
|
Calcium:
211
mg
|
Iron:
1.4
mg