Breakfast is one of my favorite meals of the day. I know some people skip it, or do a grab-and-go option, but to me, there is no better way to start the day than with a hearty breakfast. These Slow Cooker Breakfast Recipes are perfect for weekends when you have a little more time or for Christmas morning. They work for breakfast or brunch and are enough to feed a crowd. Pick a day to not worry about calories and make one of these recipes.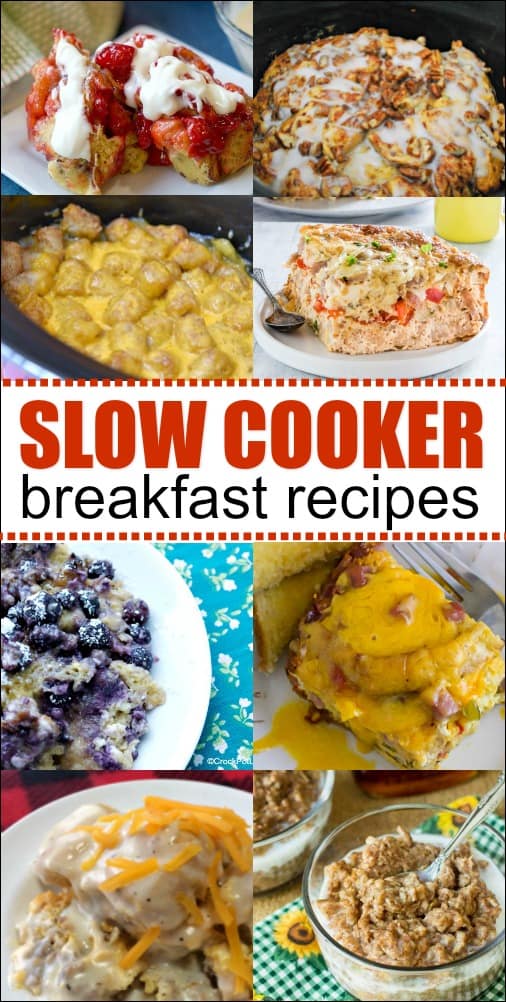 Jump to:
Why Crock Pot breakfast recipes are awesome
For those busy days when getting a healthy breakfast on the table is a challenge, a slow cooker can be your best friend.
Slow Cooker Breakfast Recipes
Cinnamon Roll Crock Pot French Toast from Mess for Less - This cinnamon roll crock pot french toast smells amazing as it is cooking. Whether you are a enjoying it for breakfast or brunch, this is a meal you family will ask for again and again.
Crock Pot Breakfast Casserole from Recipes from a Pantry - This recipe has it all - flavor, convenience and great nutrition. It's gluten-free, Keto friendly and cheesy thanks to cheddar cheese. Layer after layer of flavor for those watching their carbohydrates.
Crock Pot Biscuit Breakfast Casserole from Crock Pot Ladies - Does your family enjoy the comfort food of biscuits for breakfast? This recipe will make it easy for you to satisfy their appetite!
Slow Cooker Maple Cinnamon Oatmeal from Dizzy, Busy and Hungry - Imagine how your house will smell in the morning when this maple cinnamon oatmeal has been cooking all night! Everyone will get up ready to dig in. The spices totally make this dish!
Crock Pot Fully Loaded Breakfast Casserole from Crock Pot Ladies - This casserole has two kinds of meat, plus onions and red peppers, making for lots of flavor and protein!
Biscuits Gravy Crock Pot Breakfast Casserole from B-Inspired Mama - What a hearty breakfast! Your family will start out the day happy and full with this delicious breakfast option!
Crock Pot Tater Tot Casserole from The Typical Mom - If your kids like tater tots and potato, chances are they will love this casserole. You can even sneak in some veggies too!
French Toast Breakfast Casserole from The Gardening Cook - Forget pancakes and frozen waffles and try this dish! French toast is usually considered a special treat for breakfast or brunch since it takes some time to make, but now your family can enjoy it on even the busiest of mornings thanks to the slow cooker which bakes it for you!
Crock Pot English Muffin Breakfast Casserole from Flour on My Face - This slow cooker breakfast casserole would be a perfect option for brunch or breakfast for supper. It only takes 3-4 hours to cook and voila - a yummy meal! You won't have any leftovers!
Overnight Slow Cooker Oatmeal from Women Living Well - With this oatmeal ready in the morning, you could offer a little "oatmeal bar" with different toppings and fixings to add in.
Crock Pot Blueberry Breakfast Casserole from Crock Pot Ladies - The next time you're hosting overnight guests, serve them this sweet and decadent crockpot breakfast casserole full of yummy ingredients. They will think you spent all of this time on it, when the truth is you just let the Crock Pot do the work.
Crock Pot Cinnamon Roll Monkey Bread from The Typical Mom - These are NOT your ordinary cinnamon rolls! Besides being convenient to make in the Crock Pot, they've also got the added flavor of the pie filling of your choice!
Crock Pot Breakfast from Shaken Together Life - Breakfast for dinner with a crowd couldn't be easier with this casserole recipe. I love making this with bacon or ham. It uses a dozen eggs, so bring on the whole hungry family for this dish!
Related posts