Do you often skip breakfast because you are pressed for time? These Sausage Egg Muffins are the perfect solution for you. You can make them ahead of time and refrigerate them and then just warm them up in the morning. Since they are a breakfast in muffin form, they are easy to grab and go. Let me show you how simple it is to make this delicious breakfast for a crowd or just for you. Whatever you do, don't skip breakfast. It really is the most important meal of the day.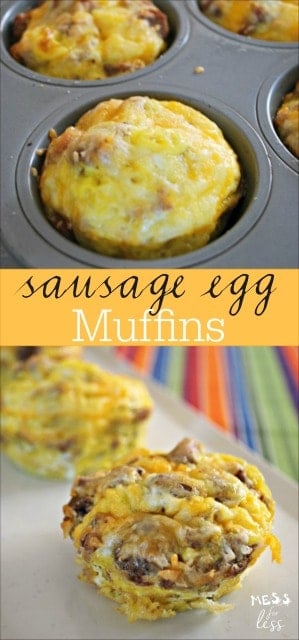 These sausage egg muffins are very versatile. You can use a 12 cup muffin tin and make a lot at a time if you a feeding a big family. You can also use a six cup muffin tin and halve the recipe if you are only cooking for a few. What I love about making a smaller portion is that you can bake them up in a toaster oven. How easy is that?
Sausage Egg Muffins
I use circles of bread at the bottom of these muffins because it really soaks up the egg mixture. To make the bread rounds you can find a cup that will fit in the muffin tin. I used a child's drinking cup. Use the cup like a cookie cutter to cut rounds out of a slice a bread. I got two rounds from each slice of bread. You can also just cut out the circles using a knife. You will need twelve circles of bread.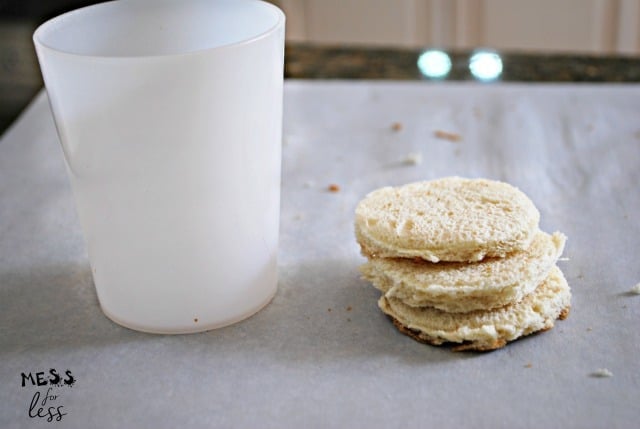 Spray a muffin tin with cooking spray and preheat oven to 350 degrees. Place one circle of bread into each muffin cup.
You'll want to use roughly one sausage link for each egg muffin. Cook the links according to package directions and then chop the sausage into small pieces.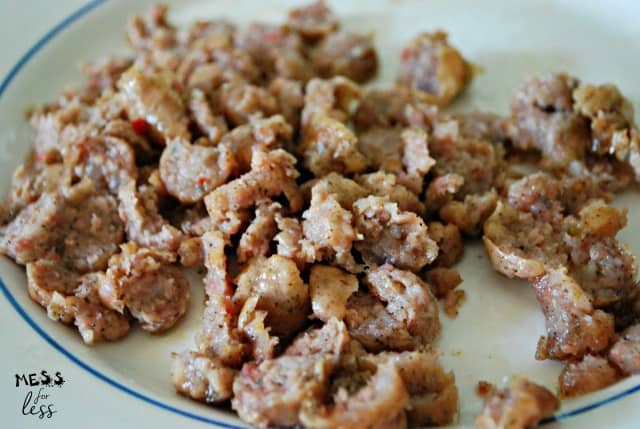 In a large bowl, beat 11 eggs and add in the chopped sausage along with the salt and pepper.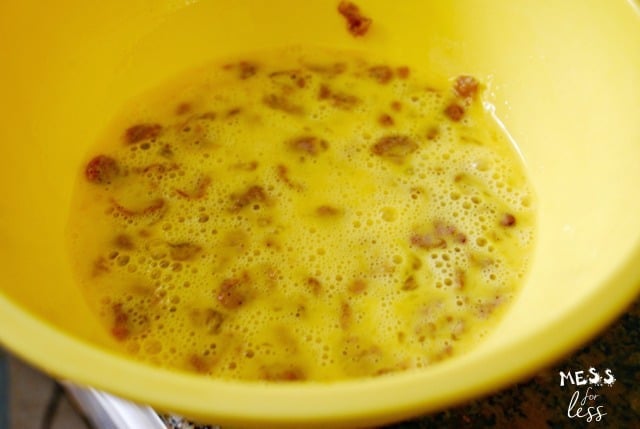 Fill each muffin cup 3/4 full with the egg mixture. If you fill them up anymore then that, the egg mixture might run over the top as it rises.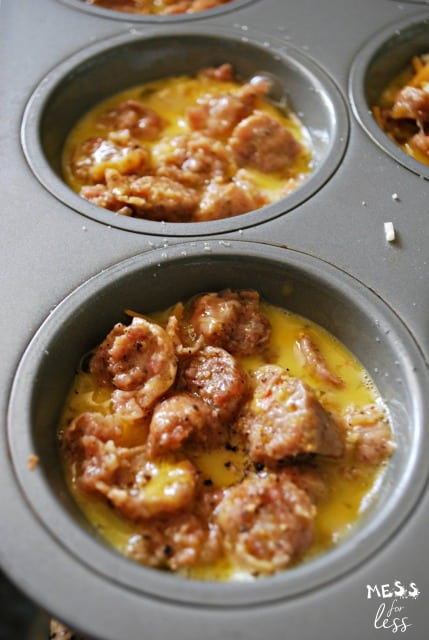 Divide the cheese equally among the cups and sprinkle on top.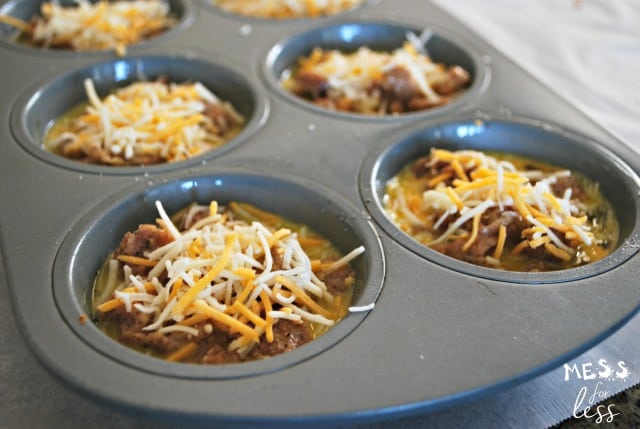 If you are making these in a toaster oven, bake them for 15 minutes at 350 degrees. If you are using a normal oven, then bake at 350 for 20 minutes or until a fork inserted into the center comes out dry.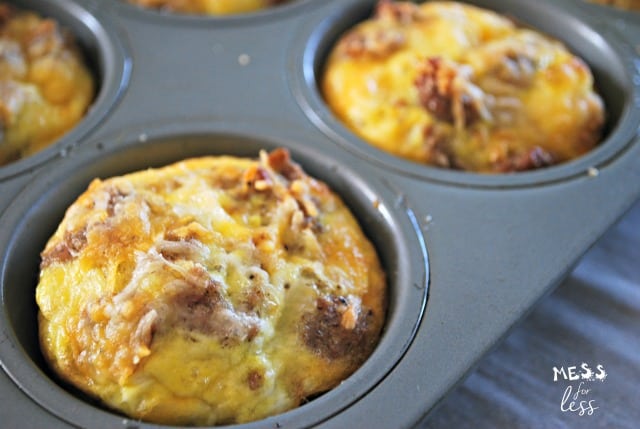 These are best served right out of the oven, but they are good the next day too. I have kept the leftovers in the refrigerator for a few days and then warmed them up for a quick breakfast.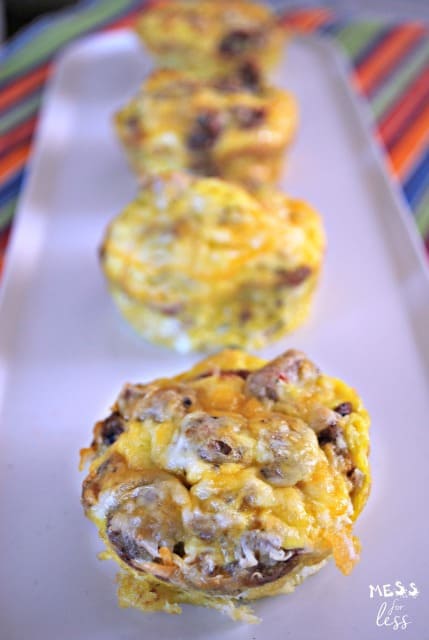 These Sausage Egg Muffins are easy to eat and perfect to take on the go. On those busy, rushed mornings my kids have even eaten them in the car.
Start your day with a delicious serving of protein that will get your engines going.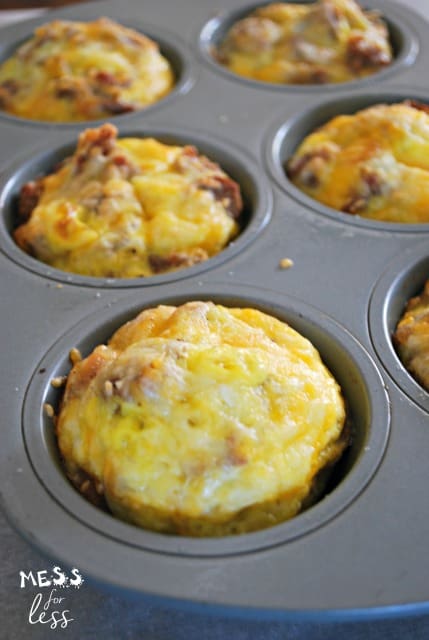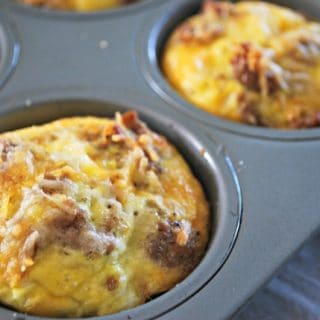 Sausage Egg Muffins
I made these sausage egg muffins and they were a hit with the kids. I will definitely be making this easy breakfast again and again.
Ingredients
12

rounds of bread

12

cooked and chopped sausage links

11

eggs

1/8

teaspoon

salt

1/8

teaspoon

pepper

2/3

cup

shredded cheddar cheese
Instructions
Spray a muffin tin with cooking spray and preheat oven to 350 degrees.

Cut 12 circles out of bread, making sure they are the same size as the bottom of the muffin tin.

Place each bread circle into a muffin cup.

Cook sausage links according to package directions and chop into small pieces.

In a large bowl beat eggs and add in sausage, salt and pepper.

Fill each muffin cup 3/4 full with the egg mixture.

Sprinkle cheese on top of egg cups.

Bake at 350 degrees for 15 minutes if you are cooking in a toaster oven or for 20 minutes if cooking in a normal oven. When muffins are done, they will be firm and a fork inserted in the center will come out dry.
Nutrition Facts
Sausage Egg Muffins
Amount Per Serving
Calories 243
Calories from Fat 126
% Daily Value*
Fat 14g22%
Cholesterol 176mg59%
Sodium 443mg19%
Potassium 182mg5%
Carbohydrates 14g5%
Protein 13g26%
Vitamin A 300IU6%
Vitamin C 0.2mg0%
Calcium 109mg11%
Iron 2.1mg12%
* Percent Daily Values are based on a 2000 calorie diet.
If you enjoyed these sausage egg muffins you will also love:
Turkey Bacon and Egg Breakfast Muffins
Sausage Egg and Biscuit Breakfast Casserole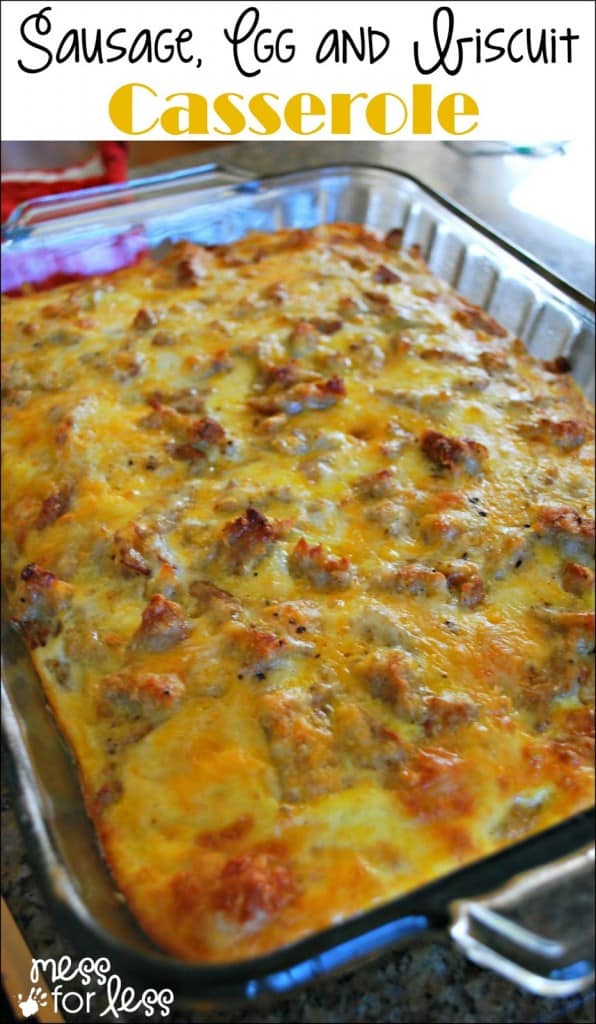 If you are looking to feed a family and save money with make ahead meals, then one of the best resources I have found is MyFreezEasy. You will be able to create your own meal plans so you can make 10 to 12 meals for your freezer in less than one hour. You can choose from gluten free, slow cooker and clean eating options. You'll be able to get 10 meals into your freezer without spending all afternoon in the kitchen.
Want more Mess?