There's a lot of talk these days about skipping breakfast and how breakfast really isn't important. Personally, I think this is just another health fad. I know that for me, starting my day off with a healthy breakfast makes such a difference in the way I think and feel. If you are hungry in the mornings, there's nothing better you can do for your body than start it off with a nutritious breakfast. If you're having a hard time coming up with ideas for a healthy breakfast, I've got you covered. These 16 Healthy Breakfast Options will give you lots of yummy, good-for-you ways to start the day. Be sure to also check out these Healthy Breakfast Ideas to Make Ahead of Time.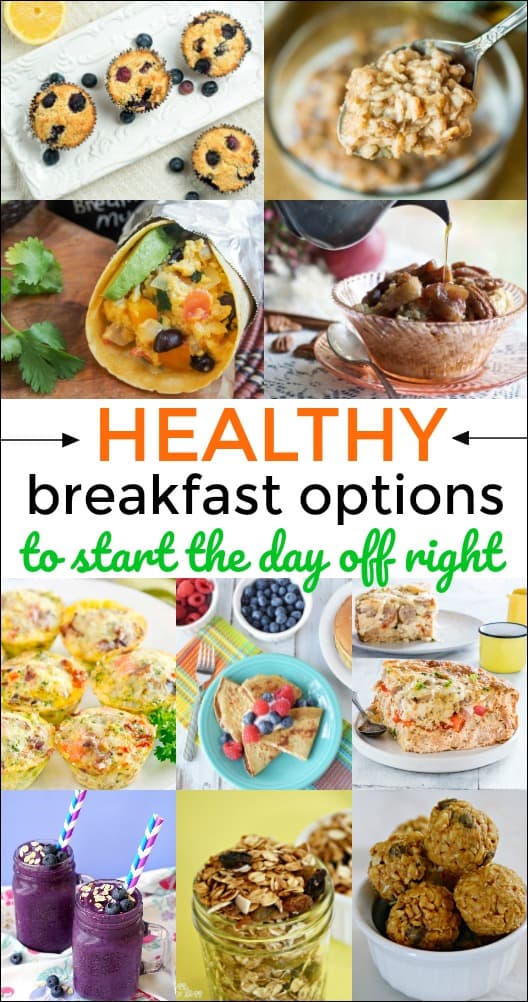 Jump to:
Why these healthy breakfast ideas are awesome
Every morning is not the same. Some days you are feeling more hungry, and other days, not so much. Some days it is a race to get out the door and on weekends you might have time to make a more elaborate breakfast. With that in mind, I have divided these healthy breakfast options into different categories, so you can easily find what you are looking for, regardless of the circumstances.
HEALTHY ON-THE-GO BREAKFAST OPTIONS
No Bake Energy Bites from Mess for Less - These energy bites take just 10 minutes to make, so there is no excuse to say you don't have time for breakfast. They are great for when you are on the go!
Chocolate Coconut Macadamia Nut Breakfast Cookie from Hello Creative Family - Don't let anyone tell you that cookies are not an acceptable choice for breakfast (at least not the healthy ones)! Grab one or two of these healthy cookies with some milk or coffee and you will be good to go!
Healthy Blueberry Muffin Smoothie from Happiness Is Homemade - If smoothies are more your style of breakfast, then you're in luck because this smoothie recipe is amazing! Go ahead and give it a try this week!
Breakfast Berry Smoothie from Just the Woods - If you think that a healthy smoothie is too much work in the mornings, you'll think again after looking at this recipe. Not only a delicious taste but such good nutrition too!
Paleo Lemon Blueberry Muffins from Delicious Meets Healthy - You don't have to be on the Paleo diet to enjoy the bursts of flavors in these blueberry muffins. What a way to wake up your taste buds in the morning - and as an extra bonus there is no wheat flour or white sugar!
HEALTHY OATS AND GRANOLA BREAKFASTS
Peaches and Cream Vegan Overnight Oats from HEN Family - If you are looking for easy, healthy breakfast recipes for your family, definitely do not overlook overnight oats. You can top them with whatever fruit is in season. Make breakfasts easy on yourself by preparing it the night before.
Cherry Almond Granola Recipe from Mess for Less - this healthy granola recipe uses just a touch of honey and is fruity, nutty and delicious! Make it ahead of time and have it on hand for a nutritious breakfast.
Steel Cut Oats Healthy Recipe from Homemade Food Junkie - With this recipe, you can get all the delicious flavors of the steel cut oats you'd get at a nice breakfast restaurant, for a fraction of the price. Topped with apples, pecans and maple syrup, this breakfast is sure to please your sweet tooth!
HEALTHY EGG BREAKFAST OPTIONS
Breakfast Egg Muffins from Delicious Meets Healthy - It doesn't get much easier than these breakfast egg muffins! You can customize them with whatever veggies you have on hand and then grab one or two each morning on your way to work or school.
One Skillet Mexican Baked Eggs from Domestic Superhero - This healthy breakfast dish could easily be an option for breakfast for dinner or take the spot on the menu for Taco Tuesday for your family. The BEST part is that it's all in one skillet!
Breakfast Burrito from Caroline's Cooking - Just take a look at all the colors in these breakfast burritos! A whole lot of protein and nutrition wrapped in a convenient package.
Breakfast Fried Rice from My Crazy Good Life - If your family enjoys fried rice, then you must try this breakfast fried rice. Full of flavors and a filling way to start your day!
Easy Healthy Crepe Recipe from My Crazy Good Life - If you're thinking that healthy breakfasts have to be bland and boring, look no further than this healthy crepe recipe to put that thought to rest. These would be fantastic for a special breakfast or brunch for your family.
HEALTHY CROCK POT AND INSTANT POT BREAKFASTS
Slow Cooker Maple Cinnamon Oatmeal from Dizzy, Busy and Hungry - When looking for healthy breakfast alternatives, be sure to check out this recipe that involves the slow cooker. What that means is easy for you and delicious for your family!
Crockpot Breakfast Casserole from Recipes from a Pantry - If your idea of a healthy breakfast is low carb, then this is definitely the recipe for you! This casserole is filling enough to be served as dinner or breakfast. Either way, you won't be working away in the kitchen to prepare it when you let the slow cooker do the work for you.
Instant Pot Polenta from Recipes from a Pantry - If you have an Instant Pot, put it to good use with this healthy breakfast recipe. Healthy, quick and convenient make this a great breakfast choice for you and your family.
Related posts
Cherry Almond Granola Recipe - Food Fun Friday