One of our favorite supplies to use in kids crafts and activities is contact paper. You can do so many fun activities with contact paper, such as Contact Paper Crafts with Q-tips, and the best part is you can buy it at the dollar store. I always have some on hand and when there's a rainy day or a sick day, I bring it out and add some other items I already have. If you don't have any, go grab some and if you already have it, here are 2o Ways to Use Contact Paper with Kids.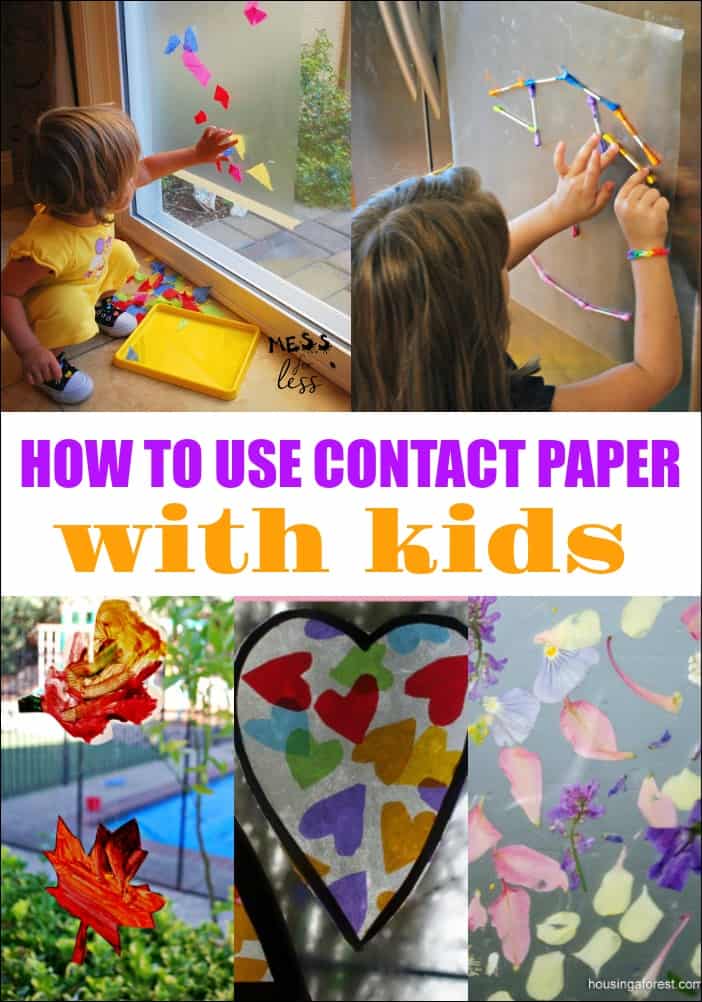 Ways to Use Contact Paper With Kids
Art Activities
Contact Paper Art from Mess For Less - This activity is so simple to set up and is great for toddlers!
Tissue Paper Butterflies from Mama Miss - A beautiful butterfly for Spring!
Planting a Rainbow from Creative Family Fun - This is great with Spring right around the corner.
Hole Punch Art from Nurture Store - These are gorgeous and will make you look at a hole punch in a "hole" new way.
Sand Art Craft from Red Ted Art - Using sand with contact paper to create art.
Contact Paper Crafts with Q Tips from Mess for Less - This is a great activity to keep kids busy while you are getting dinner ready!
Learning with Contact Paper
Alphabet Sticky Wall by Toddler Approved - Simple way for kids to practice their letters while using contact paper.
Sensory Paper for Toddlers by What We Do All Day - Here you can use some different textured materials to create a sticky sensory experience.
The Sense of Touch Using Contact Paper from Crayon Freckles - Feathers and contact paper help teach the senses.
Making Clouds and Water Craft from Simple Home Blessing - She used contact paper to help teach the creation story.
Nature Collage from Carrots are Orange - Kids learn about nature through a fun sensory activity.
Contact Paper Shape Art from Mess for Less - Using contact paper, canvas and paint, kids can create this one of a kind art work and learn about shapes at the same time.
Just plain fun
Flower Suncatchers from Housing a Forest - Great activity for a long car ride.
Heart Window Decorations from Here Come the Girls - Perfect for Valentines or any time!
Contact Paper Window Stickers Fall Leaves from Mess for Less - These are so fun to create and look like beautiful sun catchers hanging in your window.