If you have young kids, then I am sure you have some miniature dinosaur toys around. If you also have some balloons, you are well on your way to fun activity that incorporates hands-on learning. These Frozen Dinosaur Eggs are magical for kids, but also include a great opportunity to enjoy some STEM learning. When you are done with these eggs, check out our Ice Play Activities and these Dinosaur Activity Pack Free Worksheets.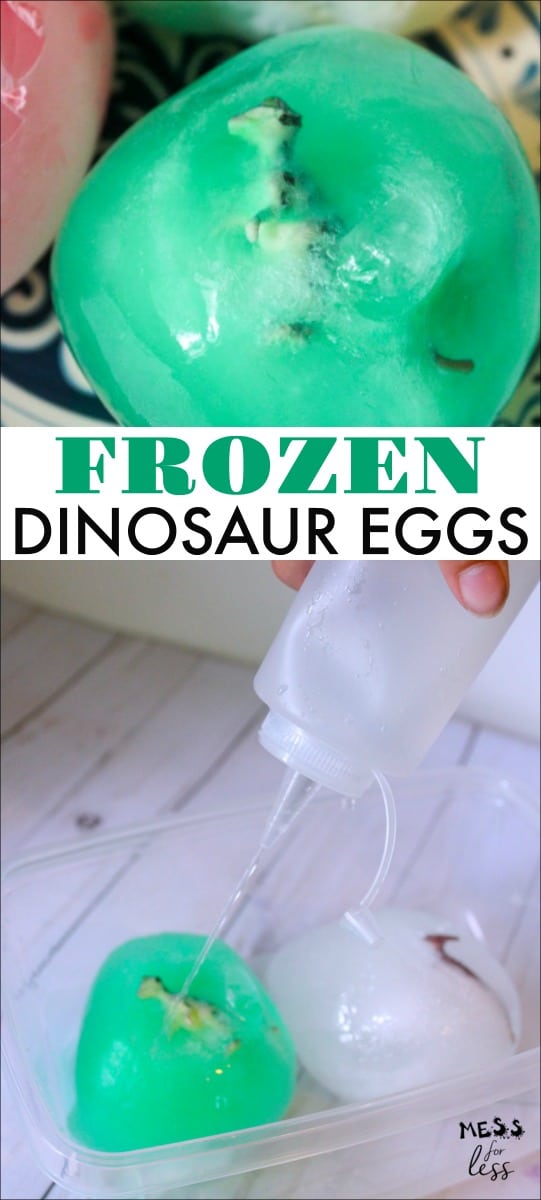 Please supervise your child while playing.
Frozen Dinosaur Eggs
You will need:
Food Coloring (Optional)

Water

Salt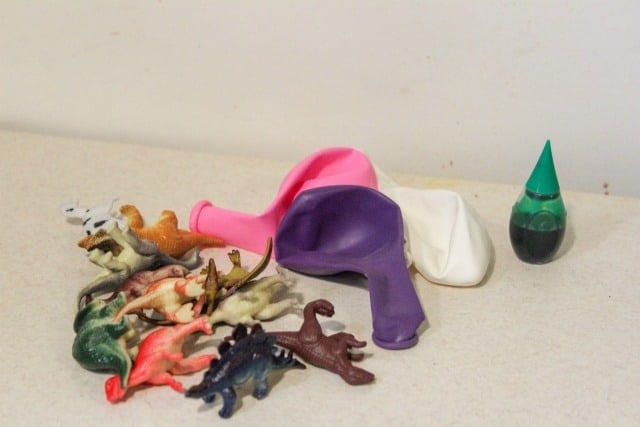 To make the frozen dinosaur eggs, start out by opening the end of a balloon SUPER wide and pushing a plastic dinosaur figurine inside.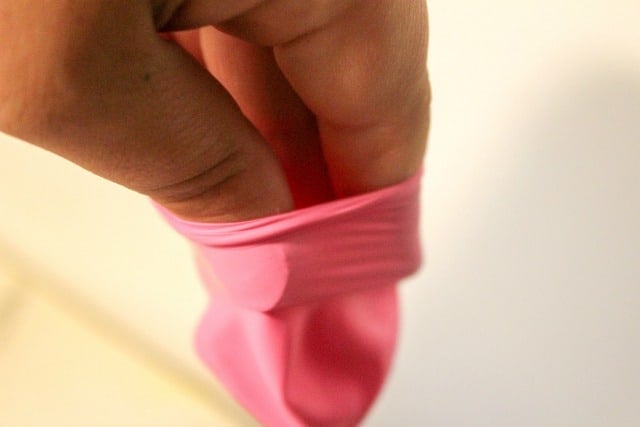 You can make these frozen dinosaur eggs colored or clear. If you decide to color them, you will be adding a few drops of food coloring into the open end of the balloon.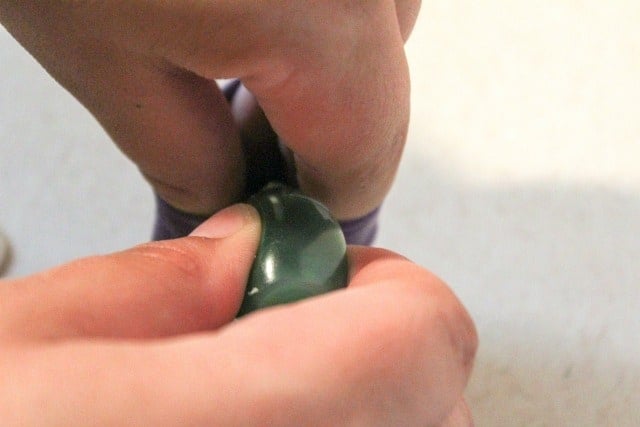 Then, fill the balloon with water and tie the end. Make sure you don't fill the balloon with too much water. You are going for a large egg size.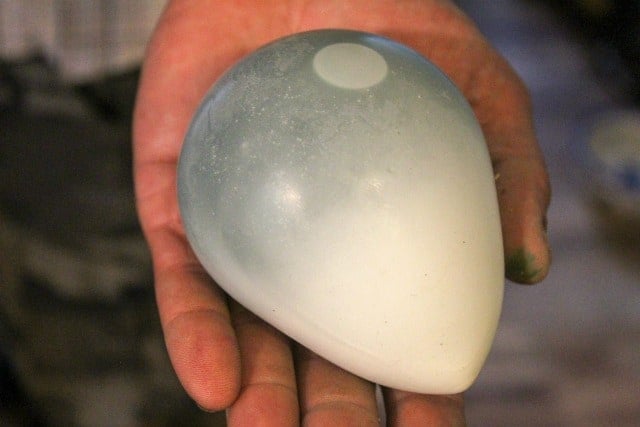 Place the filled balloons in the freezer overnight.
Once the balloons are frozen, it is time for the kids to investigate the dinosaur eggs. They can cut open the balloons to reveal the frozen dinosaur eggs.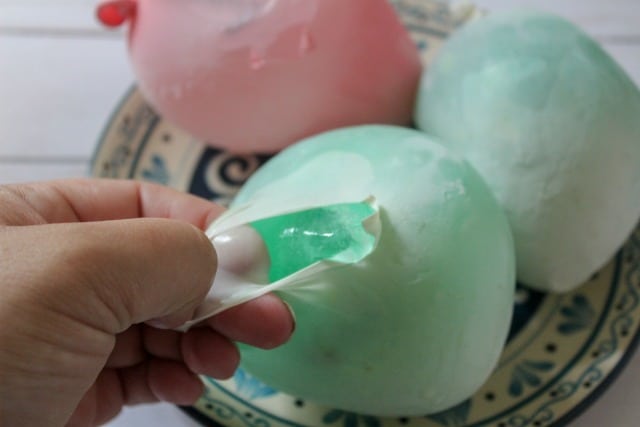 There's that dinosaur! How can we get him out?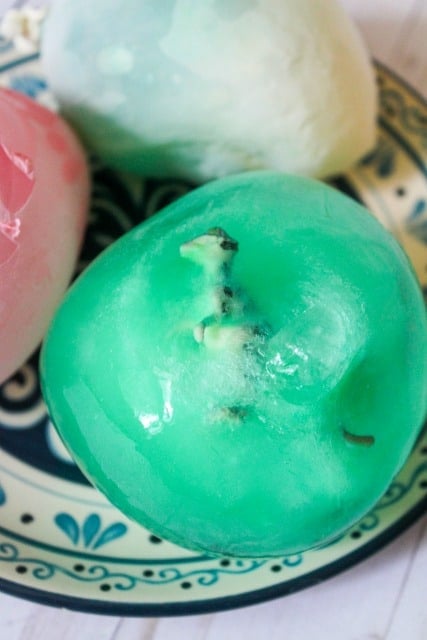 Kids can become excavators as they try to release the dinosaur from the egg. They can use different tools such as a toothpick or a spray bottle to get the dinosaur out.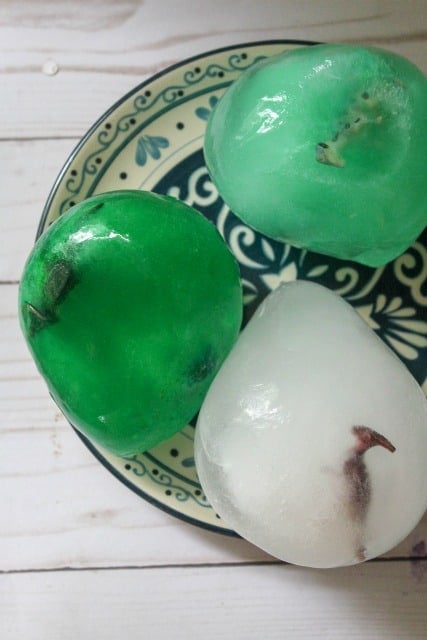 You can sprinkle salt on the egg and watch as it begins to melt.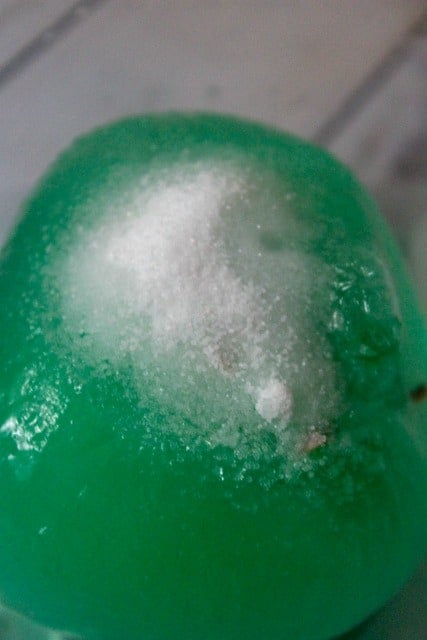 Kids will have a ball squeezing a spray bottle filled with water onto the egg.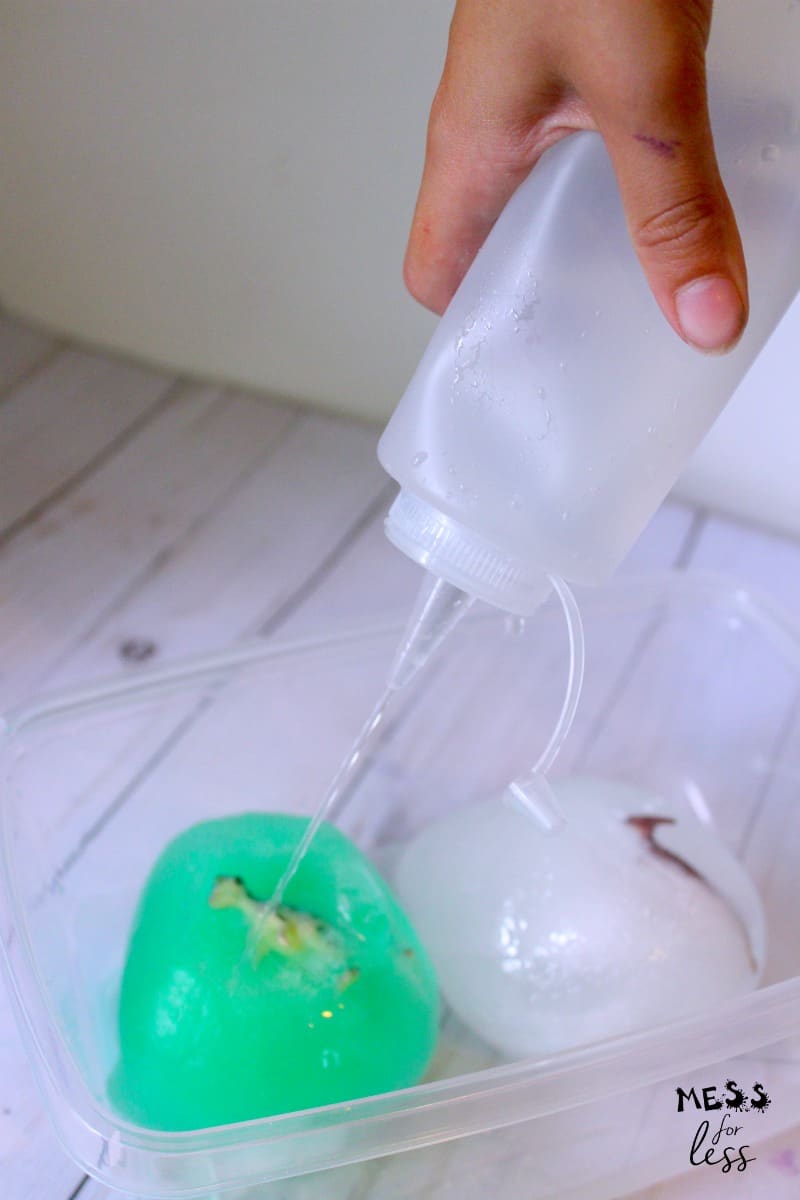 You can even do an experiment where kids can try cold water and warm water in a spray bottle, and see which one melts the ice quicker.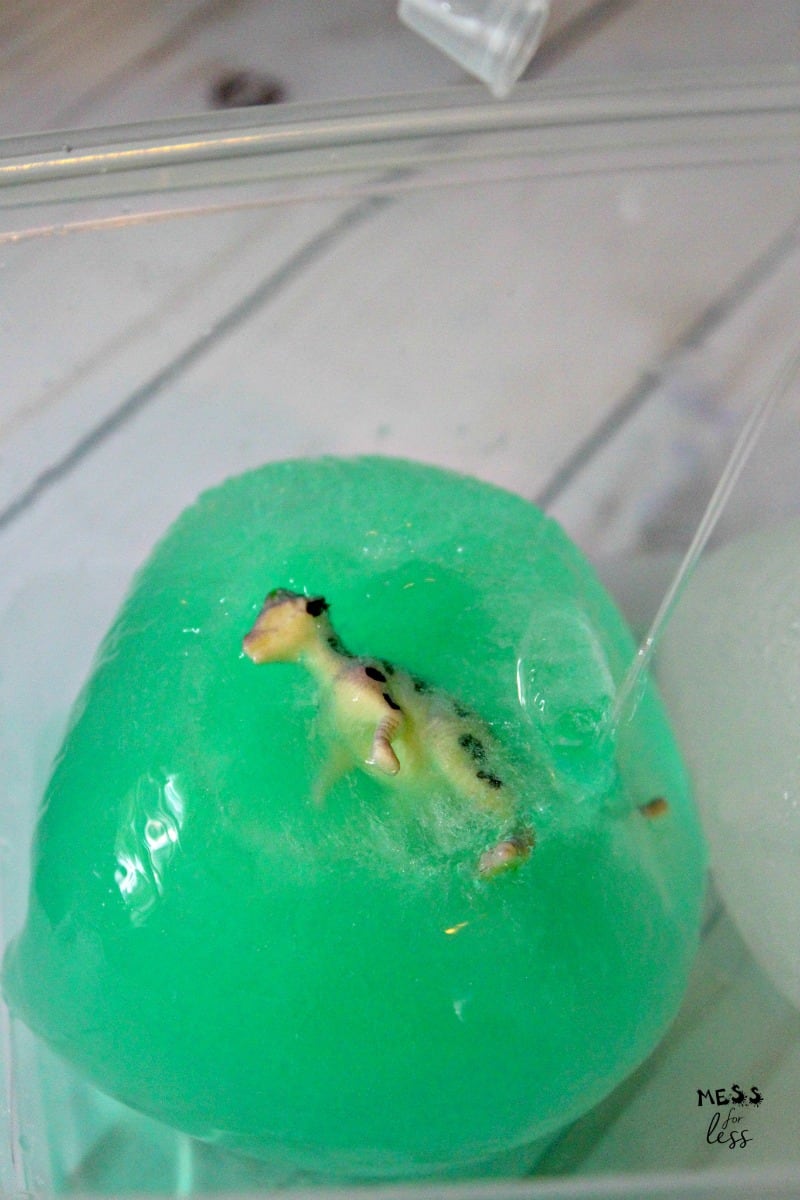 If you have multiple kids, it would be fun to give them each an egg and have a race to see which method is quicker for releasing the dinosaur.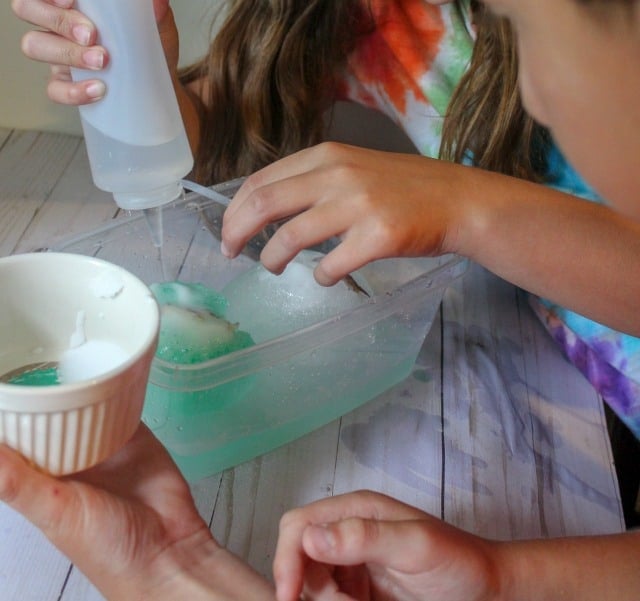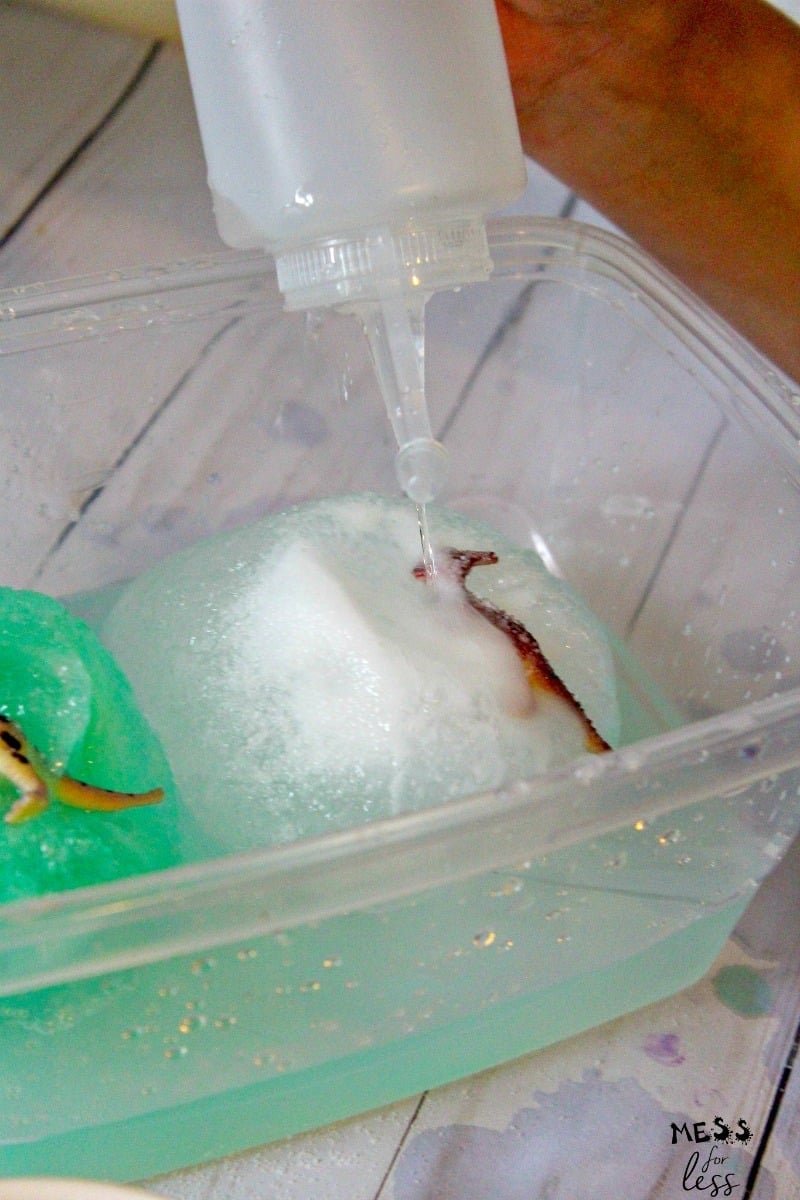 This activity creates a perfect opportunity to talk about excavation and dinosaurs. You can also use this activity for a science experiment to talk about how you can use ice to melt salt.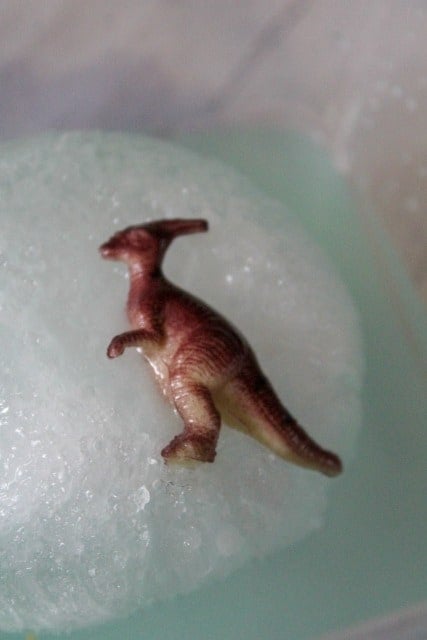 Finally, after all that work, the dinosaur is free! I love doing this activity outside when the weather is warm, but we have done it inside as well. If you have a child who is a dinosaur lover, this is an activity they will want to do again again!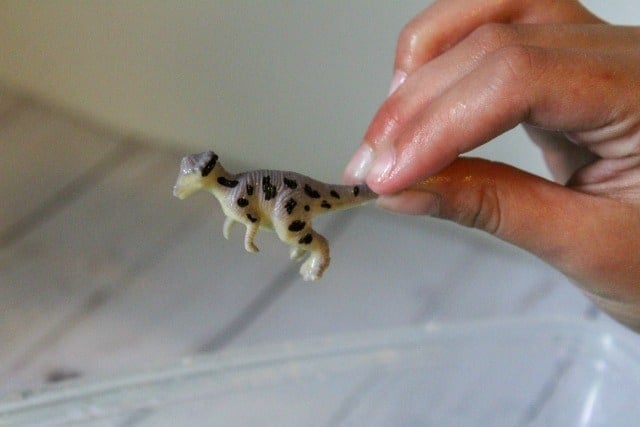 If you are looking for more fun ways to engage your kids, I highly recommend KiwiCo. As a former teacher, I was really impressed with the quality of materials found in KiwiCo. Some moms have told me that they want to do activities like I do on Mess For Less with their kids, but they just don't have to the time to go buy all the supplies and prepare them for the activity. KiwiCo is the perfect solution. Every month your KiwiCo will focus on a particular theme like Colors, Dinosaurs or Gardening. KiwiCo offer a variety of projects ranging from crafts, imaginative play, science experiments and more.
If you liked these frozen dinosaur eggs, you'll love:
Dinosaur Egg Rice Krispie Treats