Who doesn't love a giraffe? My kids have always been fascinated by them ever since they had this popular baby toy. This giraffe craft for kids is perfect for your little giraffe lover. It is also fun for adults to do as well. And if you are not arty, don't worry. I have included a free template, so you easily make this giraffe. I love how you can totally change up the look of the giraffe by using different colored paper. Gather up the kids and let's get crafting!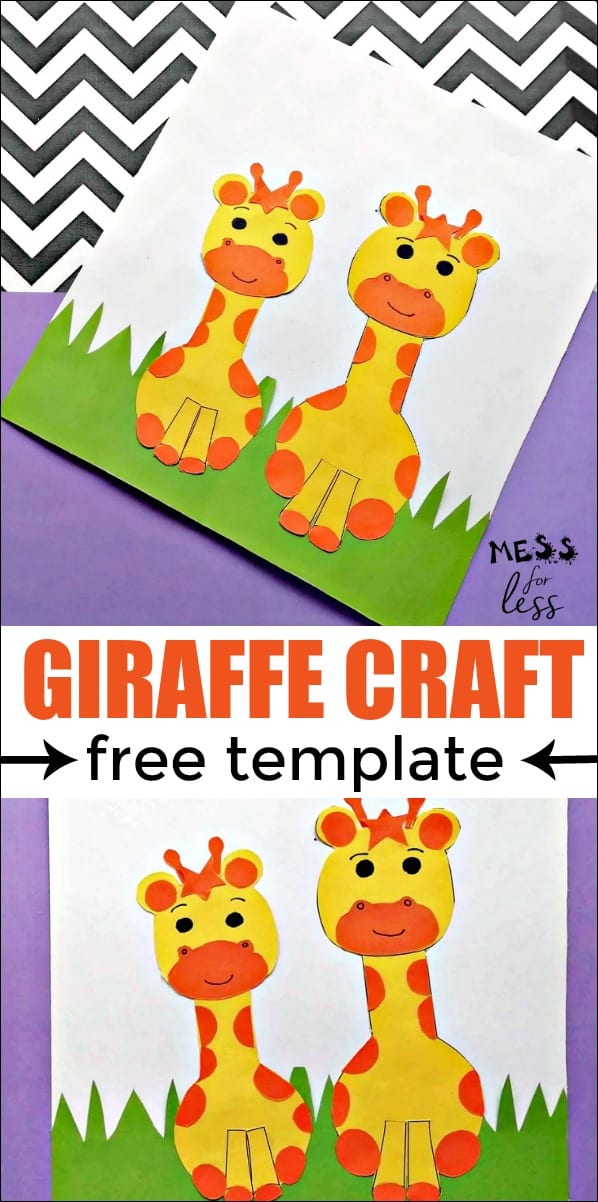 Giraffe Craft for Kids
You will need:
Scissors
White Glue
Pencils
Markers
Giraffe template (download below)
To make this giraffe craft for kids, you will start by printing out the giraffe template that you can download below.
DOWNLOAD YOUR FREE GIRAFFE TEMPLATE BY CLICKING HERE.
Cut out the pieces of the template and use them to trace onto yellow and orange paper. You can use whatever color paper you'd like though. No reason you can't have a funky giraffe!
Cut out the pieces you have traced.
Glue the mouth, inner ear pieces, horn and hair on the giraffe's head.
Take the pieces for the giraffe's legs and glue them on the bottom part of the giraffe.
Now it is time to add some spots to our giraffe friend. Glue the half circle pieces onto the giraffe's body to create spots. At this point, you can also give the giraffe some personality by drawing on a face with a thin black marker.
Now we need to give this giraffe a place to live. Cut out a 2 inch wide and 6 inch long piece of green craft paper.
Cut out and trace the grass template onto the green paper and glue it onto a piece of white paper.
Glue your giraffe to the white paper so it looks like it is just hanging out in the grass.
Feel free to make another giraffe so your little guy can have a friend!
KiwiCo
If you are looking for more fun ways to engage your kids, I highly recommend KiwiCo. As a former teacher, I was really impressed with the quality of materials found in KiwiCo. Some moms have told me that they want to do activities like I do on Mess For Less with their kids, but they just don't have to the time to go buy all the supplies and prepare them for the activity. KiwiCo is the perfect solution. Every month your KiwiCo will focus on a particular theme like Colors, Dinosaurs or Gardening. KiwiCo offer a variety of projects ranging from crafts, imaginative play, science experiments and more.
If you liked this Giraffe Craft for Kids, you'll love: