Who doesn't love a giraffe? My kids have always been fascinated by them ever since they had this popular baby toy. This giraffe craft for kids is perfect for your little giraffe lover. It is also fun for adults to do as well. And if you are not arty, don't worry. I have included a free template, so you easily make this giraffe. I love how you can totally change up the look of the giraffe by using different colored paper. Gather up the kids and let's get crafting!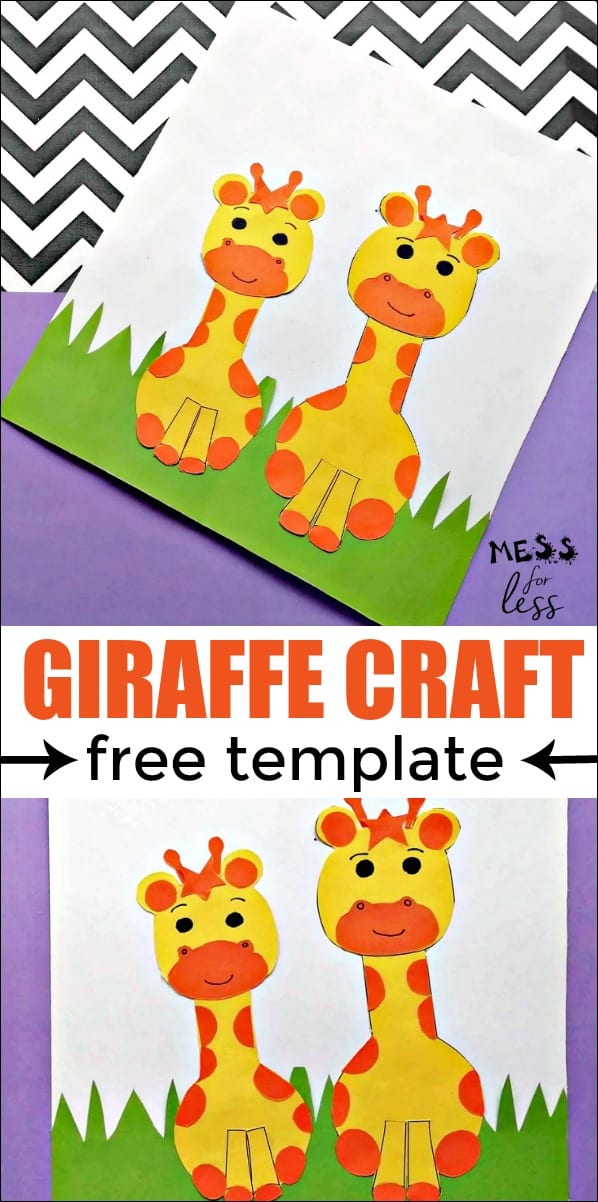 Jump to:
Why kids will love this giraffe craft
Easy to personalize by changing the colors used
Template makes the craft easy
The giraffes are just too cute!
Supplies needed
Scissors
White Glue
Pencils
Markers
Giraffe template
How to make a paper giraffe craft
To make this giraffe craft for kids, you will start by printing out the giraffe template that you can get below.
GET YOUR FREE GIRAFFE CRAFT TEMPLATE BY CLICKING HERE.
Cut out the pieces of the template and use them to trace onto yellow and orange paper. You can use whatever color paper you'd like though. No reason you can't have a funky giraffe!
Cut out the pieces you have traced.
Glue the mouth, inner ear pieces, horn and hair on the giraffe's head.
Take the pieces for the giraffe's legs and glue them on the bottom part of the giraffe.
Now it is time to add some spots to our giraffe friend. Glue the half circle pieces onto the giraffe's body to create spots. At this point, you can also give the giraffe some personality by drawing on a face with a thin black marker.
Now we need to give this giraffe a place to live. Cut out a 2 inch wide and 6 inch long piece of green craft paper.
Cut out and trace the grass template onto the green paper and glue it onto a piece of white paper.
Glue your giraffe to the white paper so it looks like it is just hanging out in the grass.
Feel free to make another giraffe so your little guy can have a friend!
Do you want your kids to learn about the world in a hands-on way?
If your kids love travel or science, then Little Passports the is the perfect subscription box for your child. My kids love to explore, and this subscription box contains so many engaging activities for kids. I think even kids who haven't traveled would enjoy getting the world delivered to their mailbox. Plus, Little Passports also offers science and stem based subscription boxes designed to get kids started on a lifelong journey of learning. Little Passports has boxes for kids as young as 3 to as old as 12. Check out subscription options here.
Related posts