What I love about making slime is that you are truly only limited by your imagination. There are so many items you can add to your slime to make it a whole new sensory experience. Have you ever thought about adding rocks to slime? The results are so much fun! Find out how to make rock slime that your kids will adore. For more fun rock activities check out Panning for Gold Activity.
Kids enjoy simple experiments. The Spangler Science Club offers engaging hands-on science activities each month if you're ready for additional simple experiments. Sign up now!
Please supervise your kids when making slime and have them wash their hands when they are done playing. This is not edible.
How to Make Rock Slime
You will need:
1 airtight container - I love these slime containers!
1 five oz bottle of clear glue
½ cup water
½ teaspoon baking soda
1 tablespoon contact solution
Small Rocks
Small bowl
To make rock slime, start by pouring a 5 oz bottle of clear glue into a large bowl.
Stir in ½ cup of water into the glue.
Now, add in ½ teaspoon baking soda and stir.
Now it is time to add in the rocks. Kids will love pouring the rocks into the bowl.
And finally, it is time for the magic to happen! When you add 1 tablespoon of contact solution to your mixture, the slime will instantly begin to form.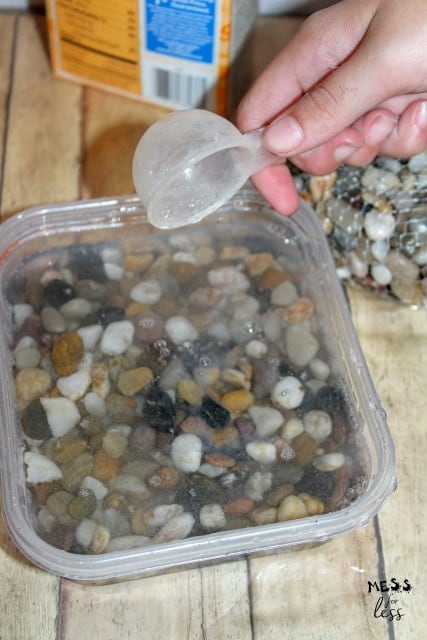 Mix everything together. This mixture will be very sticky, so be patient. Mix the solution in the bowl until it starts to form.
Slime requires way more mixing and kneading that you might think. Keep kneading the slime until it is no longer sticky.
If you want to add additional rocks at this point, go ahead! My girls are huge fans and collectors of rocks, so for them, the more rocks the better.
With all these rocks, this slime is quite heavy. The weight from the rocks will cause the slime to cascade and stretch, but it is fun for molding into shapes too!
When your kids are done playing with the slime, you can store it in an air tight container like this one.
I recommend playing with slime on a table or tray. Do not play with slime near carpet as it can very hard to get out if some falls on the rug.
A fun addition to this rock slime are small toy trucks like these. Kids can pretend like they are working on a construction site!
If you enjoyed learning how to make rock slime, check out these other easy slime recipes: