Have you ever tried painting without a brush? That might sound crazy, but there are plenty of ways to paint without a brush such as kids painting with rolling pins and using q-tips to make q-tip star art. I have always wanted to try painting with feathers since we always have a stash of them in our craft closet. I wasn't sure how the feathers would work with paint or what my kids would think of the idea. Read on to see what happened.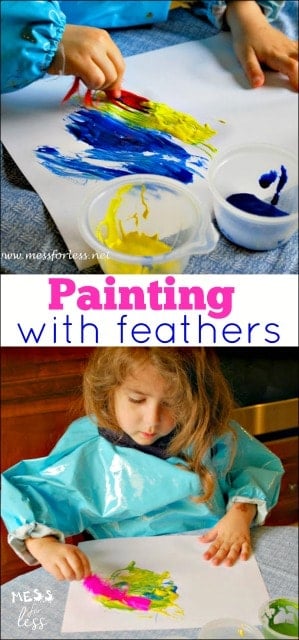 Painting with Feathers
Supplies you will need:
To do this painting with feathers activity, pour a small amount of paint into a cup. We used three colors and I thought that was a good number to give variety and create interesting art. But feel free to use as many colors as you wish.
Provide your child with cups filled with paint, feathers and paper and just let them explore with the paint.
My daughter liked the textured paint effect that the feather provided.
The kids experimented with using the feathers to swirl and mix colors.
They also experimented with using the tip of the feather versus the entire flat side of the feather. Each produced a different effect.
We noticed that we could paint with the pointy side of the feather and it would work like a quill.
Check out our painting with feathers artwork! Who says you need to paint with a brush? Next time you are looking to add some variety to your painting experiences, open up a bag of feathers and have fun!
If you enjoyed painting with feathers, you'll love:
Painting with Rubber Band Paintbrushes
If you are looking for more fun activities for kids, check out an earth friendly monthly craft subscription box for kids that sparks creativity while teaching kids a respect and love for the environment. .
For more crafts, check out Green Kid Crafts, an earth-friendly company that uses sustainable, safe materials in their subscription boxes. These boxes are themed and every month are full of creative activities than can be enjoyed by kids from ages 3-10