In my home, I have a closet of kids art and activity supplies, and when I am looking for ideas, I sometimes just go and look inside and see what inspires me. Today, I noticed some easel paper and bubble wrap. We have had lots of fun with bubble wrap in the past, creating Bubble Wrap Prints and Painting with Rolling Pins and Bubble Wrap. I decided to pair up bubble wrap and paint again, but this time I wanted it to be more of a gross motor experience. And so, Bubble Wrap Stomp Painting was born.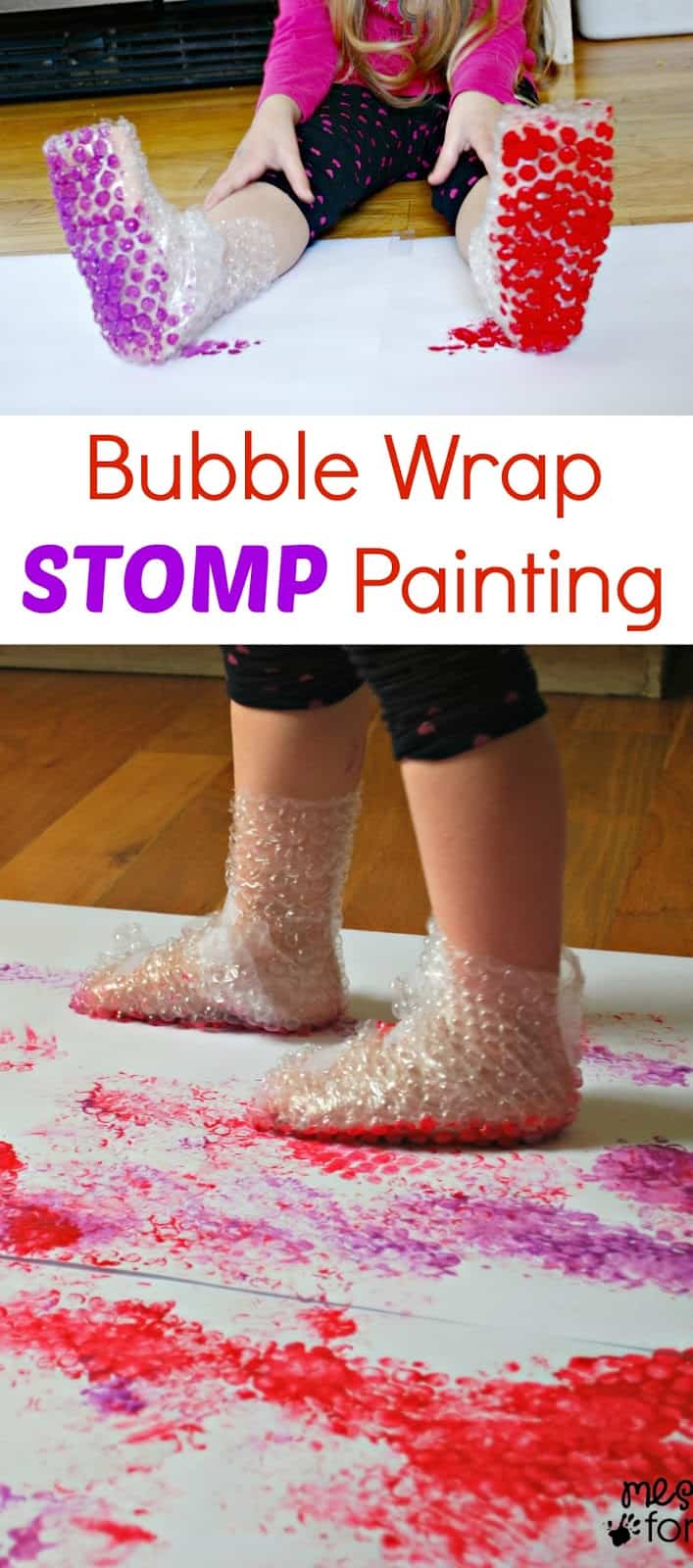 You will need:
Tape
Scissors
Paper plate
Bubble Wrap
To set up the painting surface, you will need to roll out two long lengths of easel paper next to each other. If you have the room, you may want to put down three lengths of easel paper next to each other. My daughter would have liked more room to jump and paint. Cut the easel paper and tape it down to the floor.
We decided to use two colors of paint, but you can use as many as you want. Squirt some paint on a paper plate.
Cut a length of bubble wrap, wide enough to make a little boot on your child's bare foot. Loosely wrap and tape the bubble wrap around your child's foot. If your child is wearing long pants, pull or roll them up.
Dip your paintbrush in the paint and paint the bubble wrap on the bottom of your child's foot. When you are done with this activity, try our Bubble Wrap Sheep Craft..
We painted one foot red and one foot purple. I had my daughter sit near the paper and keep her feet near the paper so she would not get the paint on the floor. Some paint got on the floor anyway, but it was easily wiped away.
Now it's time to paint! Your child can walk across the paper with the painted bubble wrapped feet. My daughter preferred to jump.
There was plenty of stomping and marching. As she moved around, she could hear the bubble wrap popping.
As you can see, she had a ball creating her bubble wrap art.
My daughter had no issues with slipping or sliding as she ran and jumped. I think this was because there was just a small amount of paint placed on her feet. Even so, be sure to carefully supervise your child during this activity.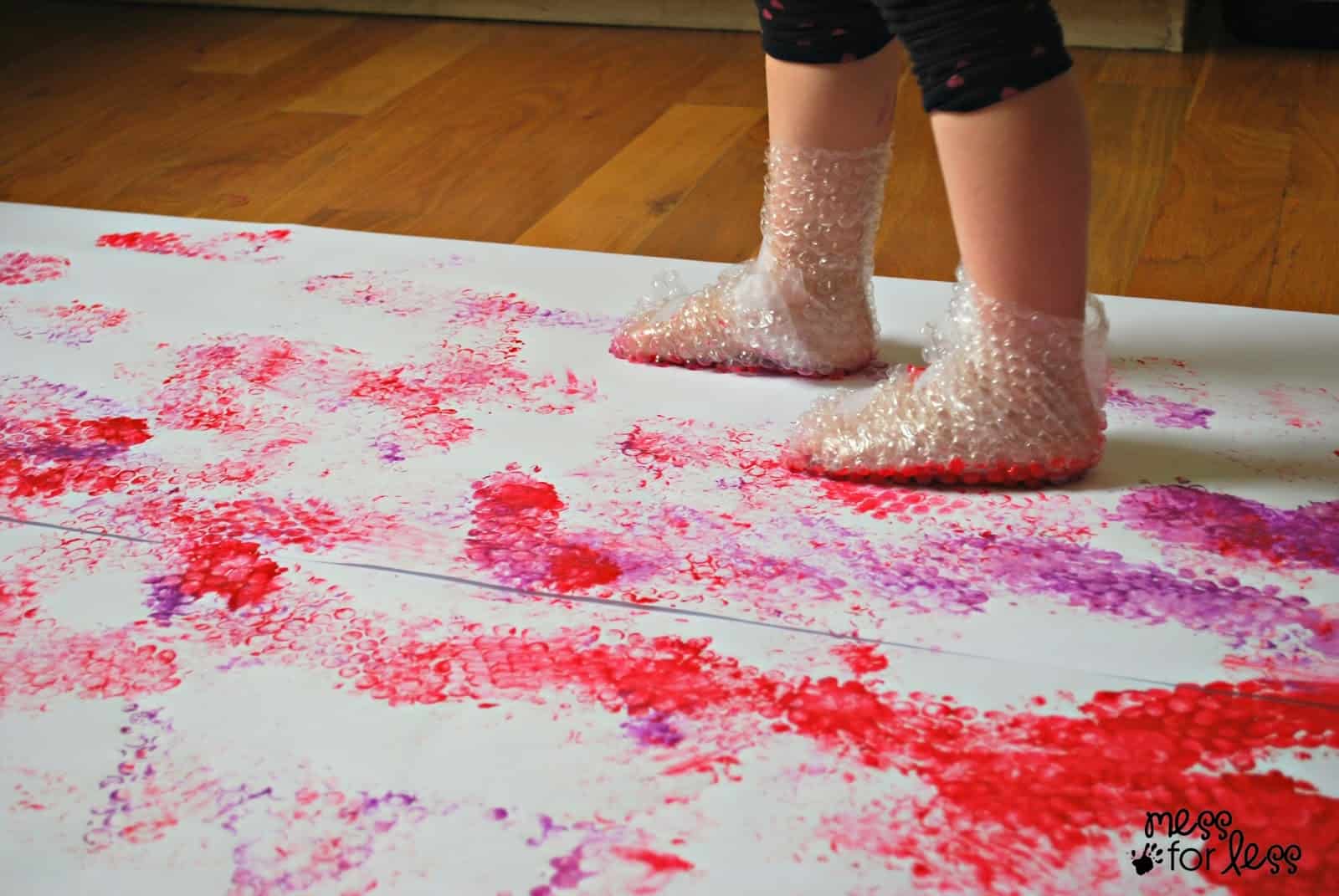 We stopped a few times during the activity to apply more paint to her bubble wrap.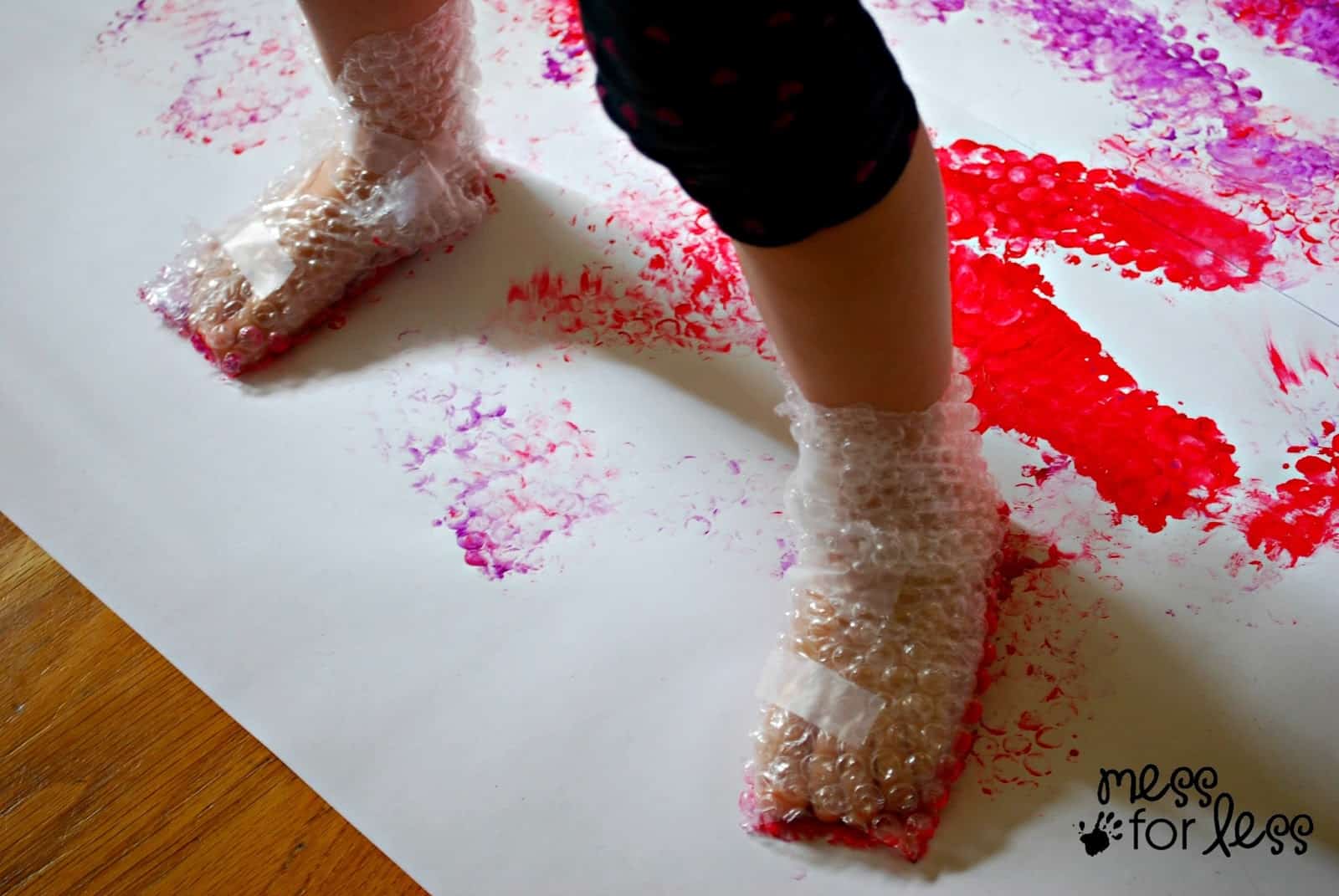 This art activity is more about process than product, but if you are interested in the finished product here it is.
For more fun with easel paper check out: