Today's kid's activity was inspired by a package I recently received. This package came with lots of bubble wrap. My mom had the great idea of giving some to the kids in the car and it kept them busy and quiet for a 20 minute ride! We had lots left over and I remembered how much the kids enjoying making bubble wrap prints and bubble wrap hearts. With that in mind, we decided to try painting with rolling pins and bubble wrap.
Painting with rolling pins and bubble wrap
Supplies you will need:
A while back we bought these cool textured paint rollers at a teacher supply store which got me to thinking how you could add bubble wrap to mini rolling pins and make your own textured paint rollers. We use the mini rolling pins with our play dough so after I cleaned them up I simply measured and cut a length of bubble wrap to fit them.
I taped the bubble wrap to the roller and wrapped it around and then added some tape to the underside before I secured it.
Then I squirted a few colors of paint on a tray. I tried to squirt the colors near each other so that the paint would produce kind of a rainbow look.
The kids are used to using the rolling pins with play dough so they had no problem rolling the pin through the paint and then rolling it on their paper to get a print.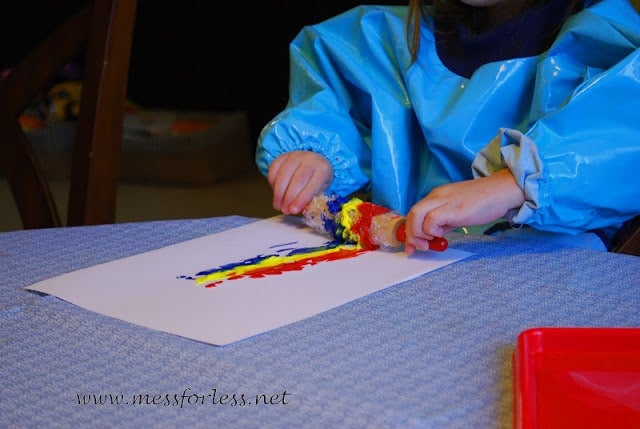 Little C didn't have much interest in making cool textures. She just liked rubbing the rolling pin back and forth on the paper and mixing the colors.
But, "A" was very careful to roll her pin slowly so she could see all the "bubbles."
I just love the results of painting with rolling pins and bubble wrap, don't you?
If you are looking for more fun activities for kids, check out Green Kid Crafts, an earth friendly monthly craft subscription box for kids that sparks creativity while teaching kids a respect and love for the environment. These boxes are themed and each month will be filled with fun projects and creative activities than can be enjoyed by kids from ages 3-10.

If you liked painting with rolling pins and bubble wrap, check out: