If your kids are like mine, they love popping bubble wrap. But there are lots of other great things you and the kids can do with bubble wrap. Have you ever thought of using it to make a work of art? Well you can. Trust me, if 3 year olds can make a work of art, you can too. Check out how easy it is to make Bubble Wrap Art Prints. When you're done be sure to take a look at some other fun bubble wrap art like this Bubble Wrap Sheep Craft and Bubble Wrap Stomp Painting.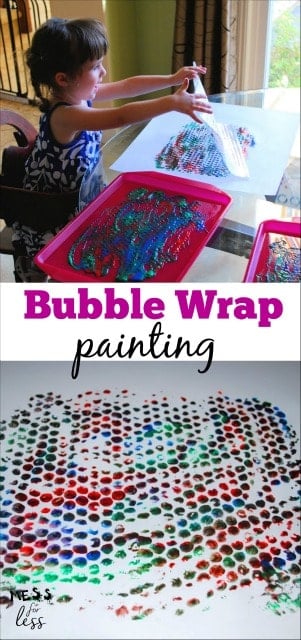 Bubble Wrap Art Prints
You will need:
If you don't have any bubble wrap saved from a package you can always buy the stuff. I was lucky enough to have two kinds of bubble wrap at home. I had your normal run of the mill bubble wrap, but I also happened to have some BIG bubble wrap with giant circles. So it was nice to have that variety. But this will be a fun project no matter what kind of bubble wrap you have. These are the two different types we used.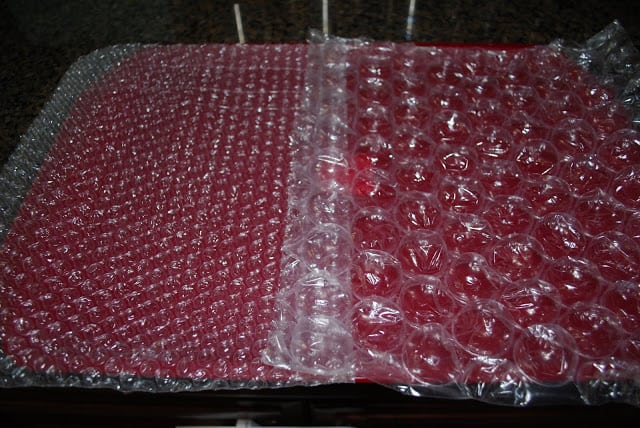 I cut the bubble wrap so that it was a little smaller than the tray we were using. Next, I let the kids squirt a few different colors of paint on the tray. The kids found this fun to do. I mixed the colors with a spoon so I would have more even coverage which you can see on the top tray. It would be interesting to do some prints without spreading it out like on the bottom tray in the photo.
I helped the girls place the bubble wrap on top of the paint on the tray, and had them press down on it to get it fully covered in paint. You'll probably want to help them with the next part, which involves peeling the paint covered bubble wrap off the tray and placing it, paint side down, on a piece of paper. Be careful when you press the bubble wrap on the paper not to move it around too much or the impression will be smudged. However, if you are like me, this isn't such a big deal since 3 year olds are pretty happy even if the impression isn't perfect. I'm more concerned with the process and not the product when it comes to kids art.
Now comes the really fun part! It's time to lift the bubble wrap off the paper and see what you have made. You can see the delight on my daughters face as she unveils her creation.
Check out our art gallery. This was made with the regular bubble wrap.
And this was created with our giant bubble wrap.
Let me tell you how well my girls know me. When we finished with the bubble wrap, A noticed that we still had some paint left in the tray. She asked if we could have some paper to make prints. That is exactly what I was thinking! Love my kids! This time we placed some copy paper on top of the paint on the trays and smashed and moved it around. The girls kept asking for more paper and we did this until we ran out of paint on the tray.
So next time you get a package, save the bubble wrap and create some art with your little ones. Well, that's a wrap! I just had to get that in there.
For more great bubble wrap activities, check out The Honorable Mention Preschool Blog where they have a variation of this activity along with some other fun ideas for using extra bubble wrap.
If you liked these bubble wrap art prints, you'll love: