These days my girls are all about love and hearts. There are no less than 8 hearts currently hanging in our kitchen. I knew that they would love making these Glitter Hearts because in their minds glitter makes everything better. I know some moms are not fans of glitter. I can see why. It makes a mess and gets everywhere, but it also brightens up a project and adds that extra fun factor, at least for the kids. So get out the glitter and glue and create this heart art with the little ones. This technique would be great to use on homemade Valentine's Day cards as well. For more Valentine Ideas for Kids check out our Kids Valentine's Day Ideas and our pretty Heart Votives.
Glitter Hearts
You will need:
White glue
Tray
Glitter (in various colors)
Paper plates
We used 12X18 construction paper so we would have lots of room for our hearts. I gave my child various sized heart cookie cutters and poured some white glue in a tray. She dipped the cookie cutter into the glue, making sure she got the bottom edges covered.
Next, she pressed down the cookie cutter onto the construction paper.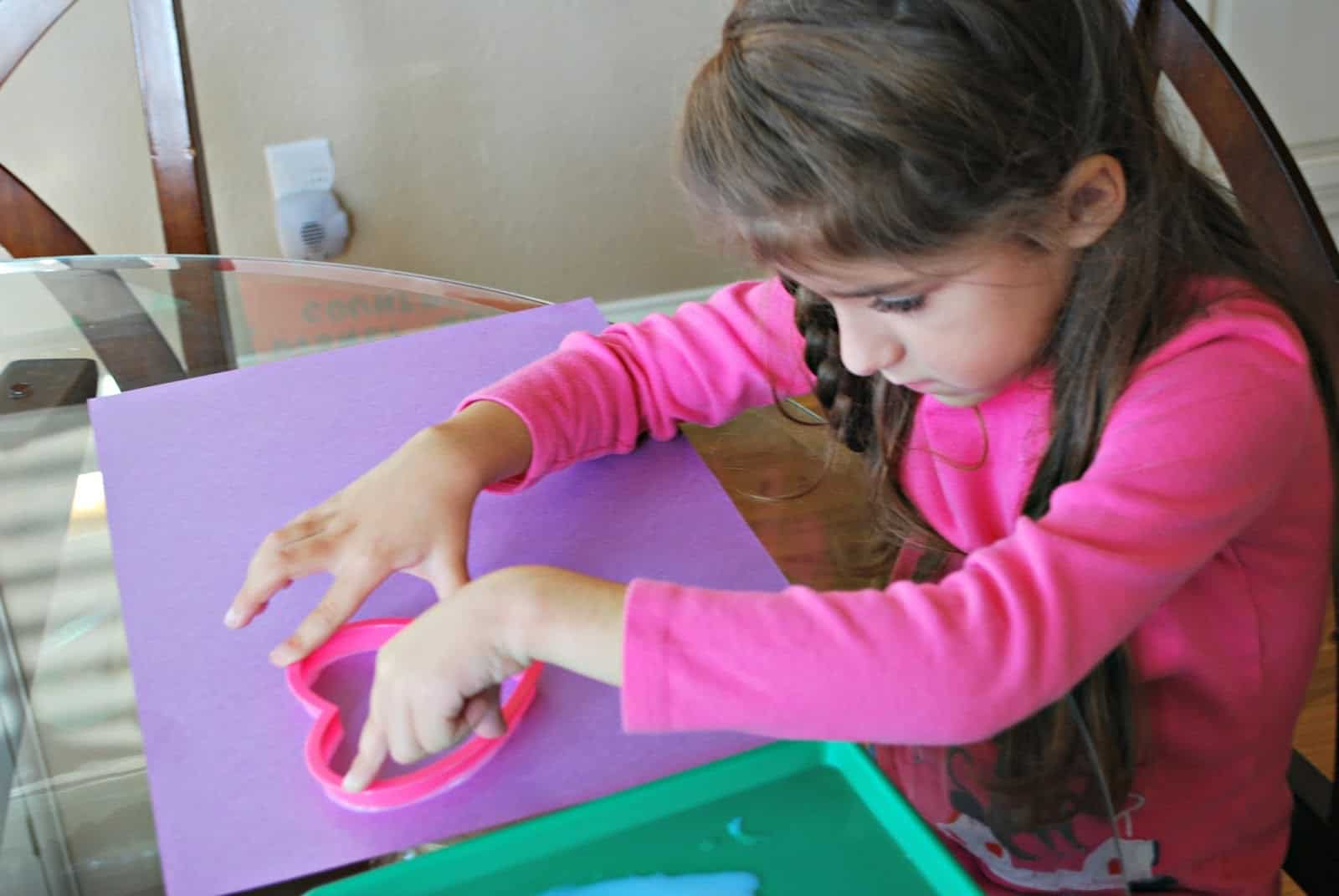 She lifted the heart cookie cutter carefully off the paper so the glue didn't get disturbed. What remains will be an glue heart outline.
Next, she sprinkled glitter on the glue.
Then, she spread the glitter around the paper until the entire glue heart was covered. She shook the excess glitter onto a paper plate. We used a different paper plate for each color of glitter that we used and then we were able to reuse that glitter from the plate over and over again.
The kids had fun using their creativity while making their glitter hearts. One of my daughters thought it would be cool to have one heart inside another. I love the look!
Don't you just adore how the layered and overlapping hearts turned out?
If you are looking for more fun activities for kids, check out Green Kid Crafts, an earth friendly monthly craft subscription box for kids that sparks creativity while teaching kids a respect and love for the environment. These boxes are themed and each month will be filled with fun projects and creative activities than can be enjoyed by kids from ages 3-10.
If you liked these glitter hearts, check out:
Preserving Valentine's Day Flowers