Valentine's day is fast approaching and I was looking for a gift for the kids to give to grandma. I immediately thought of doing something handmade since I am all about saving money and lets be honest, you just can't beat the handiwork of a child. I went to one of my favorite places, our local dollar store, for inspiration. I found some votive candle holders and tissue paper. An idea for these Kid Made Heart Votives was born. Don't you just love frugal kids crafts? Another frugal Valentine's craft are these Bubble Wrap Hearts.
Kid Made Heart Votives
Supplies you will need:
*Please supervise your child with this activity as it involves Mod Podge and glass.
Before we started, I cut some hearts out of red and pink tissue paper. I just folded the tissue paper in half and cut out half a heart. I cut various sized hearts.
I gave my kids some tissue hearts and some Mod Podge in a cup and showed them how they could attach the hearts to the glass. They loved working with Mod Podge.
The kids had some trouble making their hearts smooth on the glass, so there are some bumps, but that just adds to the kid made charm.
My daughter made a pattern with the pink and red hearts.
Here is how it will look when the kids are done with their part. You will want to paint over the hearts with a thin layer of Mod Podge when the tissue paper hearts have dried.
This is how it will look while drying. My kids were curious to see if the Mod Podge would indeed turn clear, as I promised.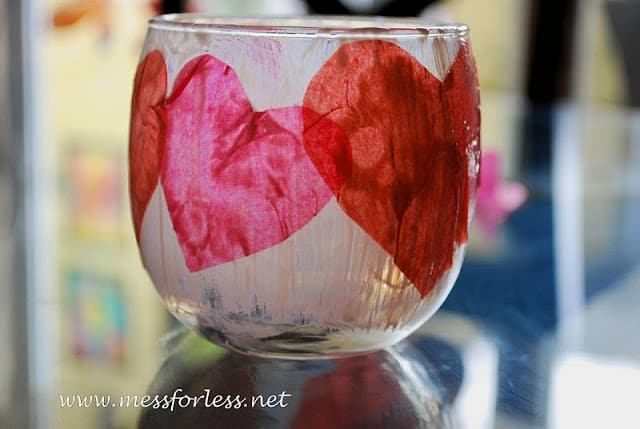 Here are the finished votive holders. Now what grandma wouldn't love to receive these?
Drop a votive candle in there and enjoy!
These Kid Made Heart Votives make really great teacher gifts too. You can even put a gift card in the empty votive if you wanted to add a little more to it.
If you liked these Kid Made Heart Votives, you'll love these Valentine's activities:
Heart Banner
GOT A CRAFTY KID?
The folks at Annie's know crafting, so you know they have put together some amazing kits for your kids.
For girls:
The Creative Girls Club subscription box will get your girl's creative juices flowing. Girls get two kits each month full of crafting fun. Best of all, the crafting can be done with minimal adult supervision. While she is creating, she will be learning valuable skills such as painting, beading, stitching, paper crafting, and much more!
For boys and girls:
These Young Woodworkers Kits have everything your little builder needs to create crafts and toys they can enjoy, while learning important woodworking skills along the way. Your child's first three kits will include 5 kid-sized, high-quality tools they'll use again and again. A new woodworking project is delivered every four weeks, with a new and exciting skill to master. Each project teaches a real world skill that kids will use for years to come.