Recently, I was asked by The J.M Smucker Company to create some unique tips for using a product and I wanted to share how we made these delicious Valentine's Brownie Cake Pops. You can make these as a Valentine's treat for your loved ones or you can make memories as you whip up these treats together.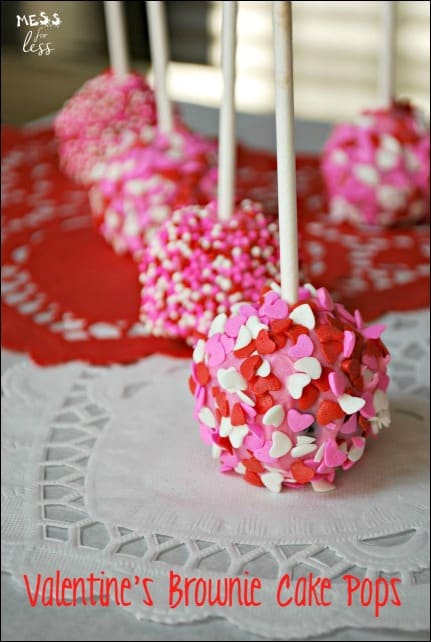 My kids have been big fans of cake pops for years and these cake pops, made with Pillsbury™ Chocolate Fudge Brownie Mix and Pillsbury™ Frosting, are our best ones yet! I love having these Pillsbury™ items stocked in my pantry and Walmart is the best place to pick them up. I'm already at Walmart shopping and it is so simple to swing by the baking aisle and grab some Pillsbury™ Brownie mixes and frosting. The price is right and now I have them in my pantry for whenever I need them. Save on Pillsbury™ now with this coupon.
Making the brownies could not be easier thanks to Pillsbury™ Chocolate Fudge Brownie Mix . Well actually, it can be easier if you enlist the help of your family and #MixUpAMoment.
How to make brownie cake pops
My husband is an amazing hands-on dad. He works hard during the week and on weekends he loves to spend time with the kids playing, reading and yes, even cooking.
Mix up the brownies and bake them according to package directions. Once the brownies are out of the oven and cooled, it is time to crumble them up. My daughter was able to do this with a fork. The corners will be a little harder to crumble, but they add a great texture to the cake pops. After the crumbling, add some creamy, rich Pillsbury™ Chocolate Fudge Frosting. This really helps the crumbled brownies to hold together and gives the cake pops a smooth, velvety taste.
Next comes the rolling. You can certainly have a child help with this step, but you may not get the most uniform brownie balls. I rolled them between 1 1/2 to 2 inches in diameter. One box of Pillsbury™ Chocolate Fudge Brownie Mix will make between 22-24 brownie balls. They are easy to work with when they have been frozen, so freeze them for 1 hour and them take them out and let them rest for 10 minutes before inserting the sticks.
If you have ever made cake pops before, then you know that one of the trickiest steps is getting them to stay on the lollipop stick without falling off.
The best way to do this is to dip one end of the lollipop stick into the melted candy melts and then poke that stick into the brownie ball. The candy will harden and hold the stick in there.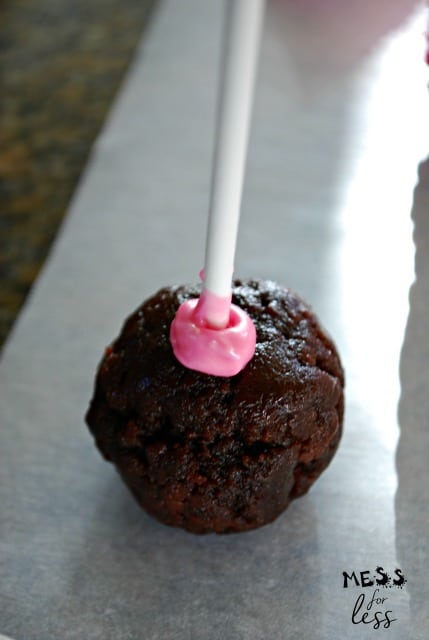 Once the sticks are firmly in place, you can dip your cake pop into the melted candy. The candy hardens rather quickly, so you may need to melt it again in between dipping. Don't worry about being perfect during the dipping process. Any imperfections will be covered up with sprinkles.
Yes, the festive sprinkles serve a dual purpose on our Valentine's Brownie Cake Pops. The look bright and fun, but they also disguise any messy dipping.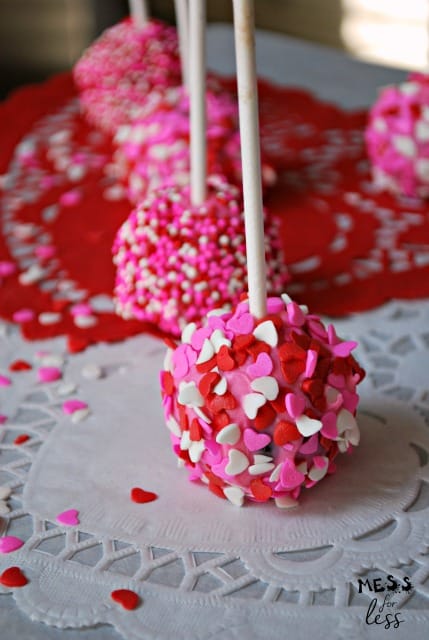 I loved sharing these Valentine Brownie Cake Pops with my family. They were a big hit in our house and really helped us share and feel the love!
Valentine's Brownie Cake Pops
These Valentine's Brownie Cake Pops are great to make with the family. Create memories while making a delicious treat!
Ingredients
Pillsbury™ Chocolate Fudge Brownie mix - prepared and baked according to package directions

1/2

cup

Pillsbury™ Creamy Supreme® Chocolate Fudge Frosting

2

cups

pink candy melts

Valentine's sprinkles
Instructions
Bake the brownies according to directions on package.

Allow the brownies to cool and crumble them into a large bowl.

Add chocolate frosting and mix until thoroughly blended.

Using your hands form the dough into 1 1/2 - 2 inch balls.

Place brownie balls on a parchment lined baking pan and freeze for 1 hour.

Remove from freezer and allow to rest for 10 minutes.

Melt 1 cup of candy melts according to package directions.

Dip one end of lollipop stick into melted candy melts and push into brownie ball. Allow to harden so the stick stays in place.

Dip the brownie balls into the pink candy melts, making sure the entire ball is covered.

Shake off the excess candy melt and shake on sprinkles while holding lollipop over a bowl.

Repeat the process with another cup of melted candy melts until all the cake pops have been covered.
This is a sponsored conversation written by me on behalf of The J.M. Smucker Company. The opinions and text are all mine.