I was recently asked by The J.M Smucker Company to create some unique tips for using a product and I wanted to share these Football Brownie Truffles, guaranteed to kick your game day up a notch. My kids love watching sports and there are lots of important games going on this time of year. To help make game day extra special, we like to serve some tasty treats. This year we decided to make some Football Brownie Truffles to celebrate game day.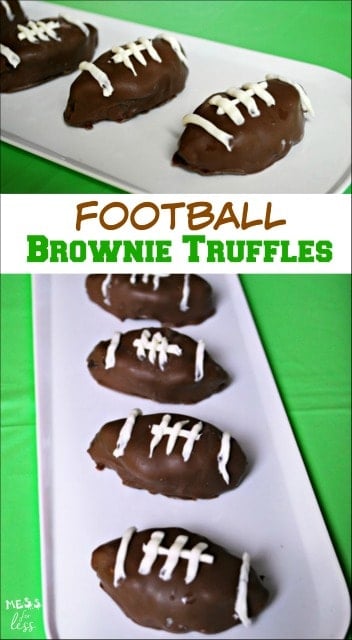 Making them is easy thanks to Pillsbury™ Chocolate Fudge Brownie Mix and Pillsbury™ Frosting.Walmart is the perfect place to #MixUpAMoment and stock up on Pillsbury™ Brownie mixes and Pillsbury™ frosting. I usually pick up some each time I am there so I am always sure to have them in my pantry. Since Pillsbury™ Brownie mixes and frosting are inexpensive, it is easy to stock up and use them whenever the need arises. They come in very handy whether you want to make a quick snack for the kids or if you have company over and you want to serve an easy dessert. You can save on Pillsbury™ now with this coupon.
This recipe may look complicated to create, but I can assure you it is easy. Besides the prepared brownie mix and frosting you only need candy melts to make these. No long ingredient list to bog you down. I don't know about you, but I don't have the time to whip up brownies from scratch, and why would I when Pillsbury™ brownies taste just as good and can be made so quickly.
Making Football Brownie Truffles
Since Grandma was visiting when we made our game day treats, she helped my daughter with the process. Baking is such a great way to spend time with family. My mom and daughter, laughed, talked and bonded while preparing the Pillsbury™ Chocolate Fudge Brownie mix. I love how my mom and daughter were able to "mix up a moment" while creating memories that they will both cherish.
The soft, smooth consistency of these brownie truffles is made by mixing crumbled brownies with some Pillsbury™ Creamy Supreme® Chocolate Fudge Frosting.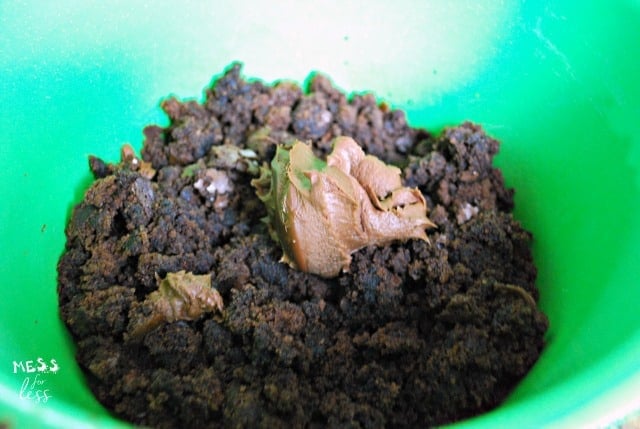 When that has been thoroughly mixed, it is time to get your hands dirty. Kids will really like this part! They get to dig in and form mini footballs with their hands.
After freezing the footballs to make them easier to work with, it is time to dip them in melted chocolate.
When the chocolate hardens, it's time to decorate those footballs.
I used Pillsbury™ Creamy Supreme® Vanilla Frosting in a small zip top bag to decorate the footballs. You will essentially be making a pastry bag by cutting a tiny bit off a corner of the bag and squeezing the frosting through.
Now these football brownie truffles are ready to serve at your next game day gathering. We shared ours with family and friends as a yummy post game dessert. Besides being an adorable football themed treat, these taste amazing. The creamy texture of the brownies and frosting encased in chocolate makes these a winner. Touchdown!
Don't forget to come back and visit Mess for Less when I share how I use Pillsbury™ products for our Valentine's Day celebration!
Football Brownie Truffles
Ingredients
Pillsbury™ Chocolate Fudge Brownie mix - prepared and baked according to package directions

1/2

cup

Pillsbury™ Creamy Supreme® Chocolate Fudge Frosting

1/2

cup

Pillsbury™ Creamy Supreme® Vanilla Frosting

2

cups

chocolate candy melts
Instructions
Bake the brownies according to directions on package.

Allow to cool and crumble brownies into a large bowl.

Add the chocolate frosting and mix until thoroughly blended.

Use your hands to form the dough into small football shapes.

Place on a parchment lined baking pan and freeze for 1 hour.

Remove from freezer and allow to rest for 10 minutes.

Melt 1 cup of candy melts according to package directions and dip the footballs into the chocolate, turning to coat both sides. You can use a fork to turn over the footballs and remove them from the chocolate.

Shake off the excess chocolate and place on parchment so the chocolate can harden.

Repeat the process with another cup of melted candy melts until all of the footballs have been covered.

Place 1/2 cup of Pillsbury™ Creamy Supreme® Vanilla Frosting in a small zip top bag. Cut a tiny triangle off the bottom corner of the bag and use the bag to pipe to frosting on the footballs.

Decorate with frosting to resemble a football.
This is a sponsored conversation written by me on behalf of The J.M. Smucker Company. The opinions and text are all mine.