If you are always searching for the perfect soft and chewy cookie, you must try this Cream Cheese Cookie Recipe. You probably already have everything you need to make them at home. After you try them, be sure to check out our Granola Cookies.
This post contains affiliate links. For more information please read my disclosure.
Cream Cheese Cookie Recipe
I wish I could say that I plan my recipes way ahead of time and often get inspired about what to cook and bake. The truth is, what I cook is usually born out of necessity. Recently, my husband noticed that we had a bunch of cream cheese (bought at a warehouse of course) that was going to be expiring soon. These were blocks of cream cheese that had never been opened and I set to work trying to think of ways to use them.
The first thing I thought was "I wonder if you could add cream cheese to a cookie?" Turns out you can and it makes the cookies soft and chewy which is my favorite type of cookie. One of my favorite cookies is this soft and chewy peanut butter cookie. Yum! But before I get too distracted though, let's learn how to make this cream cheese cookie recipe.
I like to use a nonstick baking mat like this one when I bake. I find the food cooks more evenly, plus it makes clean up a breeze.
This cream cheese cookie recipe makes 3 dozen cookies depending on the size of your cookies. They stay soft for up to 4-5 days in a container.
If you are not a fan of cream cheese (like my husband) and are thinking you will taste it in these cookies, fear not. The cream cheese does not have a taste in these cookies but does make them puffy and soft. They will not flatten and become crunchy thanks to the cream cheese. My entire family (even my husband) LOVED these and we enjoyed how they tasted just as good even a few days after baking them.
Cream Cheese Cookie Recipe
Ingredients
¾ cup butter, softened
¼ cup cream cheese
1 cup white sugar
¼ cup brown sugar
3 egg yolks
1 teaspoon vanilla
2½ cups of flour
1 teaspoon baking soda
½ teaspoon cream of tartar
Instructions
Preheat oven to 350 degrees.
In a mixer, cream butter, cream cheese and white and brown sugars.
Beat in egg yolks and vanilla.
Remove from mixer and stir in flour, baking soda and cream of tartar.
Using a tablespoon, scoop the cookie dough and drop onto a non greased cookie sheet about 2 inches apart.
Bake for 15 minutes at 350 degrees.
Cool on a wire rack.
If you enjoyed this cream cheese cookie recipe, you'll love: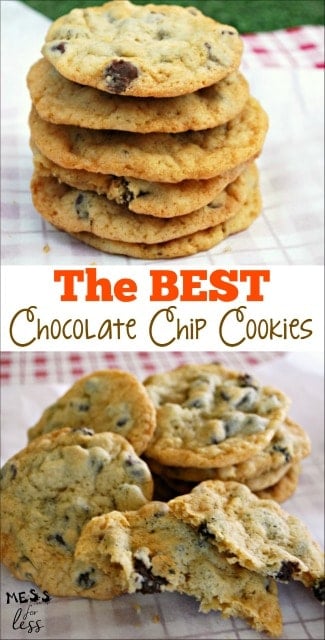 This cream cheese cookie recipe is a great one to make with kids. If you love cooking with your kids, you'll enjoy kidstir. When you sign up for kidstir your child will receive a monthly kit that will provide fun food adventures for them. You'll get tasty recipes and fun new cooking tools that will spark a love of cooking in kids. This is such a great way to create memories with kids in the kitchen.
Want more Mess?