Today's Muddy Buddies snack is easy to prepare. How easy? Prep time is 15 minutes and then cooling time is another 15 minutes. The best part about this Muddy Buddy recipe is that kids can help with many of the steps. So get those kids in the kitchen and lets make some Muddy Buddies! If your kids are still hungry try some of these
Snacks for Kids
.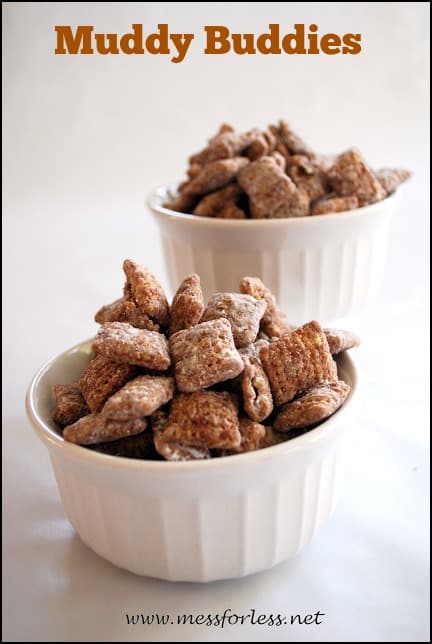 This post contains affiliate links.
Muddy Buddies are made with a
Chex
like cereal with melted chocolate, peanut butter and powdered sugar. This recipe makes 9 servings of Muddy Buddies.
Easy Muddy Buddies Recipe
My daughter loved helping with the measuring of the ingredients and with stirring the melted chocolate.
When the chocolate mixture is fully melted, simply pour it over the cereal.
Then mix it all together.
When you are done stirring, it should look like this. My daughter figured out why they are called Muddy Buddies, "They look like they are covered in mud!"
The coated cereal goes in a large zippered bag. Now it's time for the super fun part – the shaking!
Place on a sheet of
wax paper
to cool and after 15 minutes you can enjoy your tasty treat! You can refrigerate the leftovers (if you have any) in an airtight container.
For portion control you can serve these in small
ramekins
or plastic bowls for the kids.
*Couple of warnings – please make sure the mixture is not too hot if you will have children helping you stir and shake the bag. Ours was slightly warm, but not hot. Double check your school's peanut policy before sending these in for a snack at school. We have been enjoying our Muddy Buddies as a snack at home.
Muddy Buddy Recipe
Ingredients
4½ cups any flavor of Chex cereal
½ cup chocolate chips (semi-sweet or regular)
¼ Cup peanut butter
⅛ cup butter or margarine
½ tsp vanilla
¾ cup powdered sugar
Instructions
Pour cereal into a large bowl and set bowl aside.
Add chocolate chips to a microwave safe bowl and add peanut butter and butter.
Put the bowl in the microwave and microwave for one minute. Add ½ teaspoon of vanilla and microwave for 20 more seconds.
Stir until smooth.
Pour chocolate mixture of the cereal in large bowl.
Mix together, making sure to coat all the cereal with the chocolate.
Place the coated cereal into a large zippered bag and add ¾ cup of powdered sugar.
Zip bag and shake to coat the cereal.
Place on a sheet of wax paper to cool and after they will be ready in 15 minutes.
If you liked this easy muddy buddies recipe, you'll love:
No Bake Cereal Bars with Blueberries
If you love cooking with your kids, you'll enjoy kidstir. When you sign up for kidstir your child will receive a monthly kit that will provide fun food adventures for them. You'll get tasty recipes and fun new cooking tools that will spark a love of cooking in kids. This is such a great way to create memories with kids in the kitchen.