We recently had some friends over for a party. I wanted to offer a variety of yummy food options for my guests so I decided to make this Pulled Pork BBQ Fried Wonton Recipe. These make for an easy party appetizer since you can prepare them ahead of time. Try this unique twist on a traditional fried wonton recipe and surprise and delight your guests this summer!
My daughter even got in on the act and helped me make the wontons. Though I have to admit I only asked her to help to get her away from her little sister who she had been arguing with all day.
This recipe could not be easier to prepare. Drop a dollop of prepare Pulled Pork BBQ into the center of a wonton.
Wet edges and fold into a triangle shape.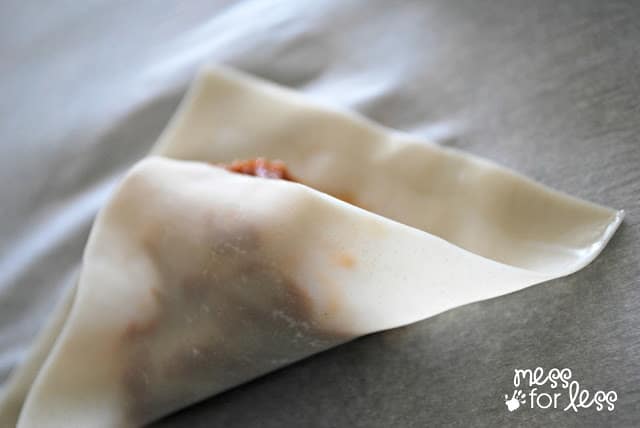 Twist to form a crescent like shape.
You can drop them in the oil right then or refrigerate them over night. If you are planning to refrigerate them prior to cooking, lay them out in a single layer so the wonton skins don't stick together. I used my deep fryer to make these but a large stock pot filled with oil would work well too.
These are best served right out of the fryer. Of course, you will want to wait a minute or so for them to cool.
Inside the crispy, crunchy wonton is some pulled pork BBQ goodness!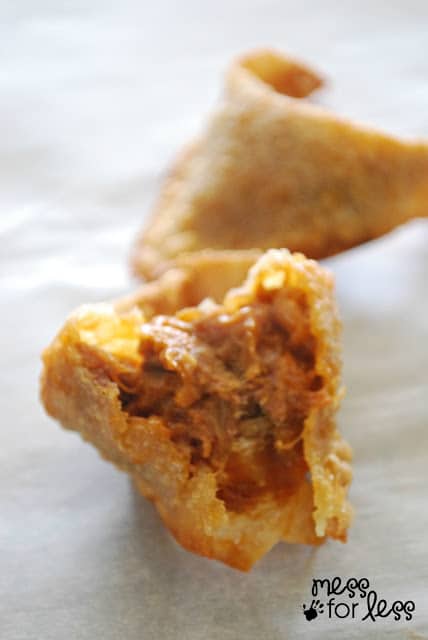 They were a hit at our party! My husband suggested serving them with a dipping sauce would be fun. If you do want to add a dipping sauce, a sweet and sour sauce would work well.
One tip I have for making party prep easier and clean up faster is to use disposable plates and cups. There are lots of great options out there, some are even compostable!
Pulled Pork BBQ Fried Wonton Recipe
Ingredients:
½ tray of prepared Pulled Pork BBQ
25 wonton wrappers
Small bowl of water
Oil for deep frying
Directions:
1. Heat oil in deep fryer or stock pot.
2. Thaw ½ tray of the pulled pork.
3. Lay out your wonton wrappers and fill each with ½ tablespoon of thawed pulled pork.
4. Fold over to make a triangle shape and dip your finger in water to wet the edges.
5. Press down to seal and fold into a crescent shape.
6. Deep fry for 2-3 minutes until the wrapper is golden brown.
7. Drain on paper towels and serve warm and crispy!