You've done it before. You've been at the warehouse store and saw that big bunch of bananas for under two dollars. You've thought "I can't afford NOT to get the bananas." So you bring home a big bunch of bananas convinced that they will be eaten. And a few do get eaten. But a lot still remain and with each passing day they get more and more brown. Now the pressure mounts. You try pawning the bananas off on your kids who let you know, "I don't like mushy bananas!" Now what? You may have heard the saying "when life gives you lemons make lemonade." Similarly, when life (or the warehouse club) gives you bananas, make banana muffins with chocolate chips. You know, that five pound bag of chocolate chips you also bought from the warehouse club. Use them here. And for more yummy banana muffins try our Banana Nut Muffins. Be sure to also check out our Banana Chocolate Chip Cookies.
I know this photo is bit blurry, but I've included it because it sums up cooking with kids. It is messy! Flour ends up everywhere but the bowl as your enthusiastic helper mixes. But it is fun, and my kids will stop whatever they are doing when they hear that I need help whipping something up in the kitchen. So if you've been apprehensive about cooking with kids, go ahead and give it a try. The memories you create will last long after the flour is cleaned off the floor.
Mashing up ripe bananas is easy when you have help. Just arm your child with a spoon and watch as they create banana mush.
We usually don't mash our bananas into oblivion when we make banana bread. I like to leave some texture.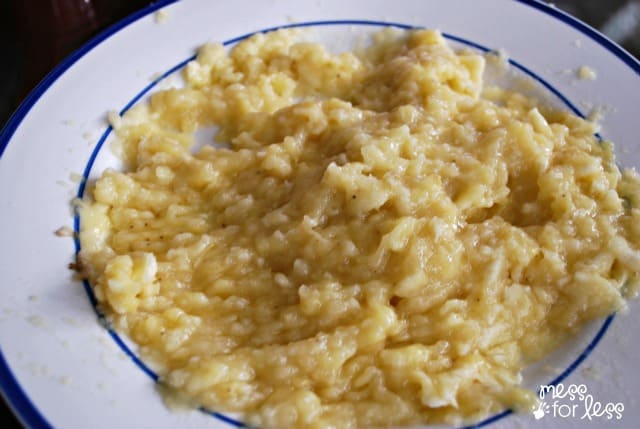 The key to making great banana muffins (or bread) is not to over stir the wet and dry ingredients. Basically you just want to stir enough so you don't see any flour remaining. Less stirring = more fluffy muffins. Of course, I did have to wrestle the spoon from my daughter's hand as she is a big fan of stirring.
I'll let you in on a little secret I used on these banana bread muffins. Applesauce. I was running low on butter and had a big old container of applesauce, so it was an easy decision. I swear you would never be able to tell. The applesauce leaves the muffins moist and you don't notice the apple taste. This is a great tip if you are looking to cut a little fat.
You can use baking cups or not in your muffin tin. I didn't have 12 baking cups (gotta put those on the shopping list!) so I just sprayed a muffin tin with cooking spray and poured my batter in there.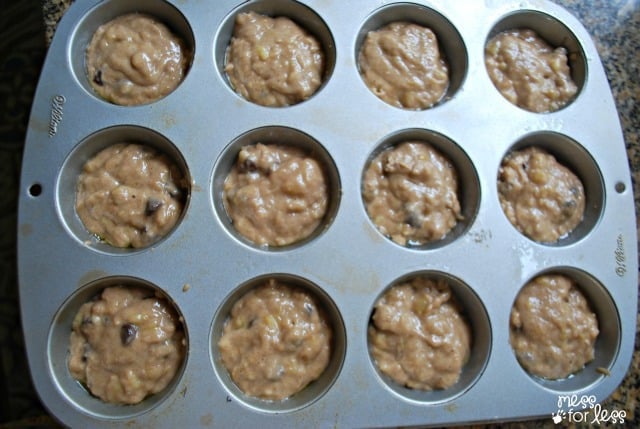 If you have never tried banana muffins (or bread) with chocolate chips added, stop what you're doing and do it now. When my husband came home from work and I told him what I made, he was dubious that chocolate and banana would go well together. He was convinced that they did after just one bite!
I always remove my muffins from the pan as soon as I get them out of the oven. If not, the bottoms can get soggy. I find a cooling rack to be really helpful, since it allows the air to circulate all around the muffins.
These banana muffins are great anytime, but amazing just out of the oven when the chocolate is at its gooiest. Now I just need to figure out what to make with the rest of that five pound bag of chocolate chips.
📖 Recipe
Banana Muffins with Chocolate Chips
The addition of chocolate chips make these the best banana muffins you've ever tasted!
Print
Pin
Instructions
Preheat oven to 350 degrees.

Mash three ripe bananas with a fork. Set aside.

In a medium bowl, mix flour, baking powder, baking soda, salt, cinnamon, and brown sugar.

In a large bowl, combine egg, applesauce, vanilla, and bananas.

Pour dry ingredients into the large bowl of wet ingredients and add chocolate chips.

Stir until all the flour has been incorporated. Don't over stir.

Prepare a muffin pan with cooking spray and divide the batter between the 12 muffins cups in the pan.

Bake in 350 degree oven for 20-25 minutes or until a toothpick inserted in the center comes out clean.
Nutrition
Calories:
184
kcal
|
Carbohydrates:
38
g
|
Protein:
2
g
|
Fat:
2
g
|
Saturated Fat:
1
g
|
Cholesterol:
14
mg
|
Sodium:
203
mg
|
Potassium:
186
mg
|
Fiber:
1
g
|
Sugar:
22
g
|
Vitamin A:
55
IU
|
Vitamin C:
2.6
mg
|
Calcium:
42
mg
|
Iron:
1.1
mg
If you liked these Banana Muffins with Chocolate Chips, you will love: