Have you ever heard of dessert lasagna before? If not, I am going to introduce you to something that will be your new go-to dessert, especially during the hot summer months. Why is this dessert lasagna particularly good for the summer? Well, first of all it is delicious! But perhaps just as important, it is a no-bake recipe that will cool you off on a hot day. Come see just how easy it is to prepare this Dessert Lasagna. This post has been sponsored by Post Foods and Pebbles Cereal.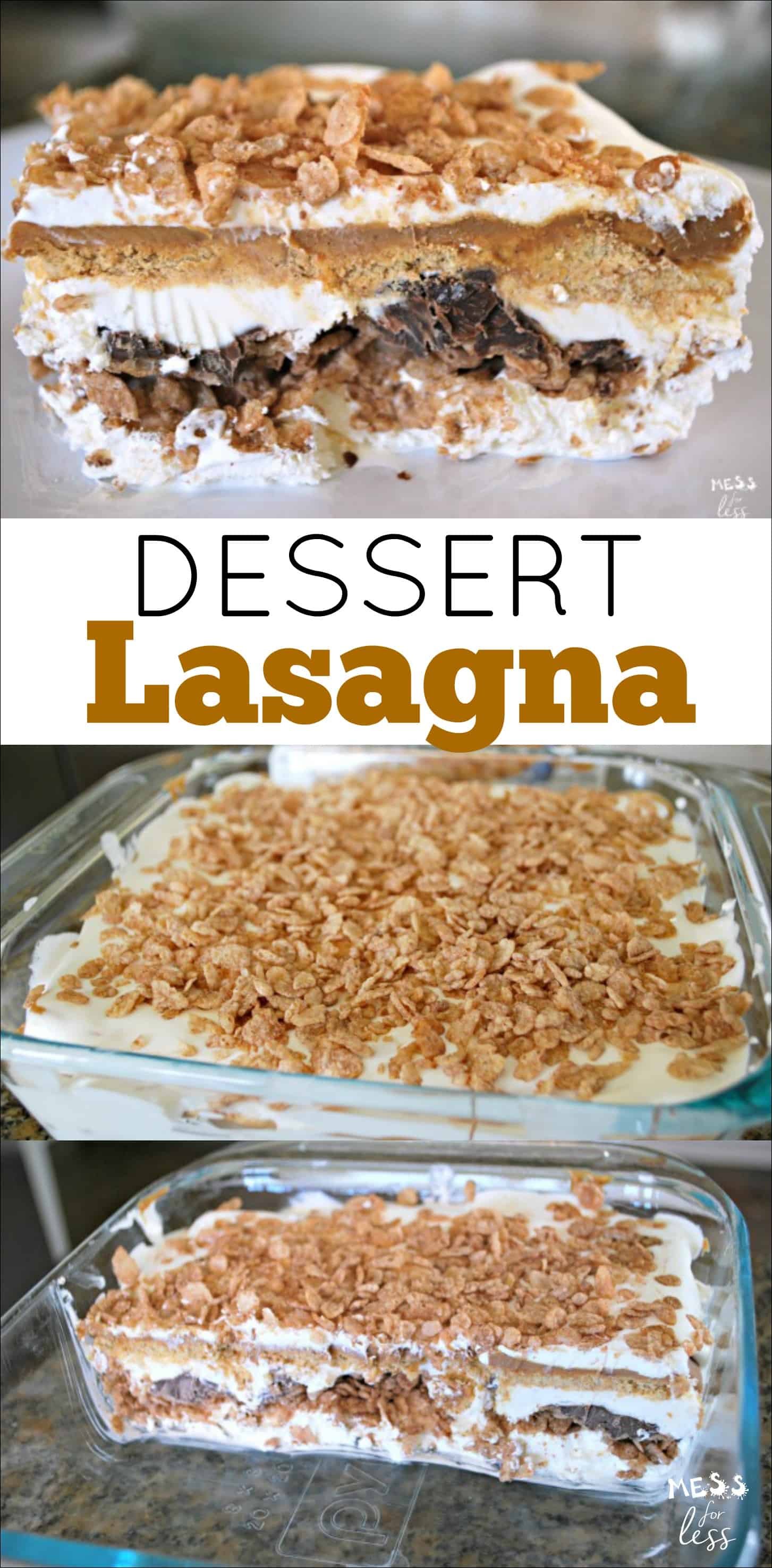 If you are familiar with a traditional lasagna then you know that it is made up of layers of pasta, cheeses, sauce and meat. This dessert lasagna doesn't have any of those ingredients, but the layering concept is similar. With all of the ingredients layered, you are able to enjoy a variety of delicious flavors in a single bite.
I am always thinking of new ways to use foods that we love and one of our favorite new cereals is Cinnamon Pebbles. It is the rice cereal you have come to love from Pebbles, this time sweetened with cinnamon. Cinnamon Pebbles is gluten-free, an excellent source of vitamin D and has 10 essential vitamins and minerals.
We have been enjoying it for breakfast and snack time, but because I adore the cinnamon flavor, I was inspired to incorporate it in a dessert. That's where I got the idea for this dessert lasagna with Cinnamon Pebbles. I figured the Cinnamon Pebbles would provide a nice crunch and flavor to the dessert and it worked out perfectly!
Dessert Lasagna
Use an 8×8 pan and spread some thawed whipped topping on the bottom.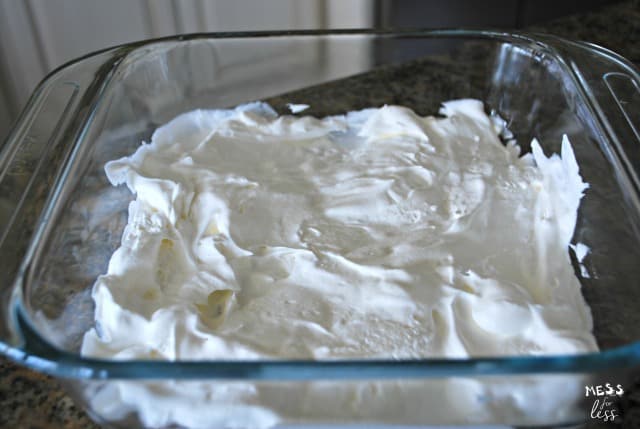 Add some crispy Cinnamon Pebbles on top of the whipped topping.
Top the Cinnamon Pebbles with melted chocolate hazelnut spread. I will warn you not to melt the spread too long or it will turn hard and be unusable. I speak from experience! Just heat it on the stove enough for it to be loosened and able to pour.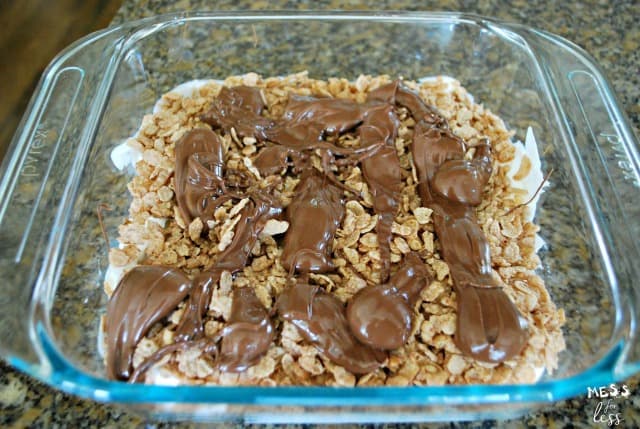 Cover the chocolate hazelnut spread with another layer of the thawed whipped topping and add some graham crackers.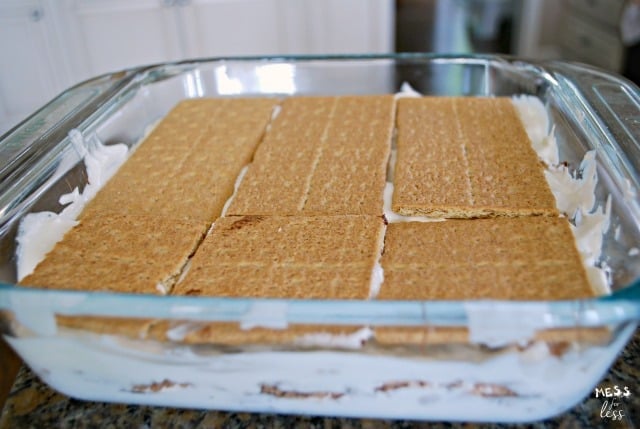 Then add a layer of peanut butter, because peanut butter just makes everything better.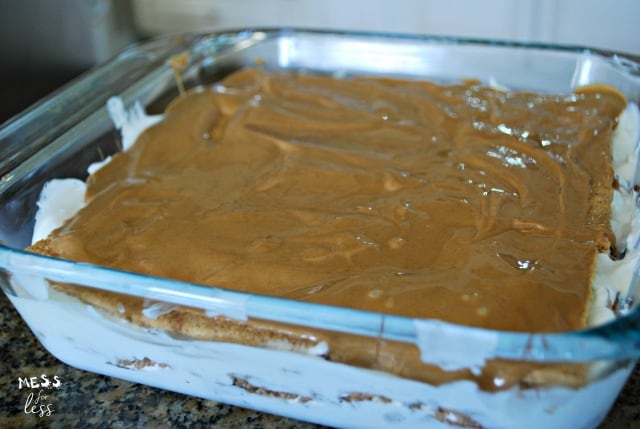 Top with another layer of whipped topping and add a generous helping of Cinnamon Pebbles for some added crunch and cinnamon flavor.
Freeze this for 4 hours to allow it to firm up.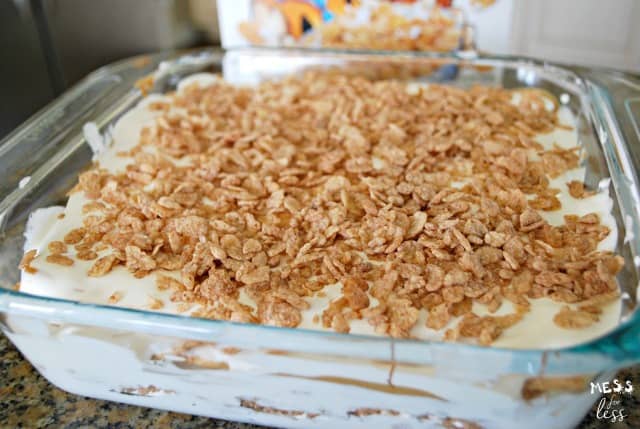 You will need a good knife to cut through the frozen dessert lasagna. Check out those layers!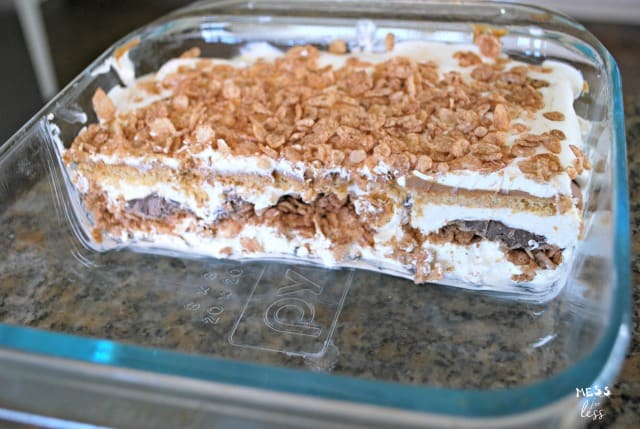 The Cinnamon Pebbles are the perfect accompaniment to the chocolate and peanut butter flavor. This dessert lasagna is creamy, crunchy, chocolaty and nutty. My family now asks me to make it all the time and it's so simple to prepare, that I do.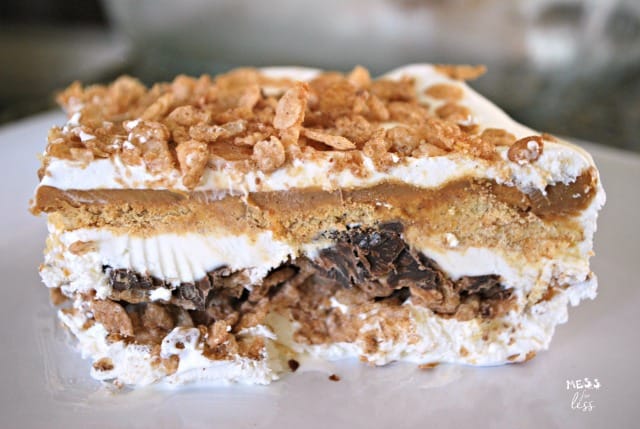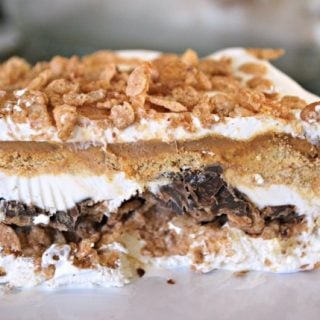 Dessert Lasagna with Cinnamon Pebbles
Looking for a yummy no bake dessert for those hot summer months? Try this easy and delicious dessert lasagna.
Total Time
4
hours
20
minutes
Ingredients
16

oz

containers of thawed whipped topping

1 1/2

cups

Cinnamon Pebbles for inside lasagna

1/2

cup

chocolate hazelnut spread

5

graham crackers

1/2

cup

peanut butter

1/2

cup

Cinnamon Pebbles to sprinkle on top
Instructions
Spread 2 cups of thawed whipped topping into the bottom of an 8x8 pan.

Add 1 1/2 cups of Cinnamon Pebbles on top.

Heat chocolate hazelnut spread until it has loosened and you are able to pour it. Don't overheat.

Pour the melted chocolate hazelnut spread over the Cinnamon Pebbles.

Spread 2 cups of thawed whipped topping over the chocolate hazelnut spread.

Top with the graham crackers. You may need to break the crackers in half to get them to fit.

Melt the peanut butter until you are able to pour it, and pour over the crackers.

Spread remaining whipped topping over the peanut butter layer and sprinkle 1/2 cup of Cinnamon Pebbles on top.

Freeze for 4 hours.
"THE FLINTSTONES and all related characters and elements © & ™ Hanna-Barbera. (s17)"