I wrote this post as part of my participation in a blog tour on behalf of Johnson & Johnson Consumer Inc. McNeil Consumer Healthcare Division, the makers of PEPCID®. I received compensation to thank me for taking the time to participate. However, all opinions expressed are my own. We live in the San Francisco Bay Area, and if you are a foodie, this is the place you want to be. There are so many amazing restaurants and local delicacies. Yet, for me, one of my favorite local foods is found in a ballpark. If you have ever been to a San Francisco Giants game then you have probably had their amazing garlic fries. San Francisco is not far from the town of Gilroy, California, the self proclaimed "garlic capital of the world." People in the Bay Area love their garlic and they love these fries. But you don't need to hop on a San Francisco bound plane to enjoy them. You can make this Garlic Fries Recipe at home and enjoy the same local flavors we find at the ballpark.
Of course as delicious as these garlic fries are, they are greasy and can cause heartburn in some people. How does heartburn occur? It happens when acid escapes from your stomach up into your esophagus. Since the esophagus isn't meant to house acid, you start to feel the burn. The most common heartburn trigger is food, and fatty foods and garlic can be culprits. Other foods that can trigger heartburn include tomatoes, coffee, chocolate, raw onions, mints, vinegar, citrus fruits and juices, spicy foods, ketchup and mustard and alcohol. That is quite a list! To learn more about heartburn here.
I was so glad to have PEPCID COMPLETE® on hand when heartburn struck. It started working in seconds and lasted all day.
Garlic Fries Recipe
We used a french fry slicer to easily cut our potatoes, but if you don't have one, just cut them by hand with a knife. I like to leave the skins on, but you can peel the potatoes if you prefer your fries that way.
Since we love making this garlic fries recipe, we invested in a deep fryer. If you don't have one, you can simply fry the potatoes up in a large pot filled with 2 quarts of vegetable oil that has been heated to 375 degrees. If you are using a deep fryer, simply follow the directions for frying that came with your unit.
You will want to fry these potatoes for 10-12 minutes or until they are a deep golden brown and crisp. If you don't fry them until they are a deep golden brown, they might not stay crispy when you add the olive oil and garlic.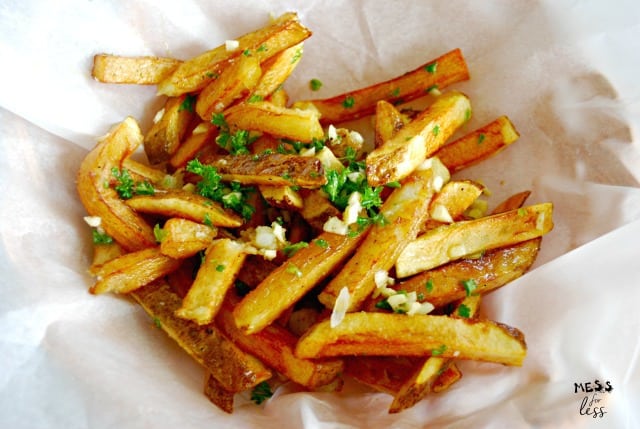 What makes this garlic fries recipe unique is that you use two types of oils. They potatoes get fried in vegetable oil and then topped with garlic infused olive oil. You will certainly want to keep some napkins nearby when you eat them!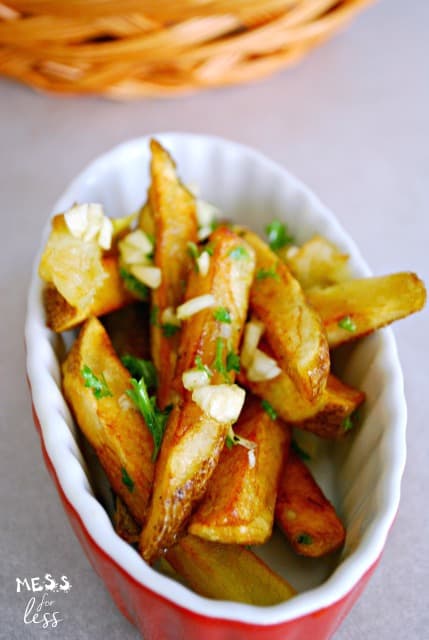 Even our littlest Giants fan loved them!
You never know when heartburn will strike. It might occur when you are enjoying at meal at your favorite local restauarnt or when you're at the ballgame. The PEPCID® Tastemakers Celebrating Local Eats program recognizes and rewards tastemakers across the country who bring the best local food expertise and nearby foodie finds, to inspire and enable others in their pursuit of great tastes. You can find more information on PEPCID®products when you visit their website or Facebook page. You can get more food inspiration and follow local food journeys of featured tastemakers on the PEPCID® Instagram. #PEPCIDTastemakers
From May 2 through June 27, 2016, the makers of PEPCID® will host the PEPCID® Tastemakers Celebrating Local Eats contest on Facebook and Instagram to empower local tastemakers to explore their local food scene (without the fear of heartburn).
Food themes include:
Breakfast (Entry period: May 2 – May 15, 2016)
Sandwich (Entry period: May 16 – May 29, 2016)
Vegetable (Entry period: May 30 – June 12, 2016)
Grains (Entry period: June 13 – June 26, 2016)
Sweets (Entry period: June 27 – July 10, 2016)
Every two weeks from May 2nd – June 27th, the brand will select one finalist to win a $250 cash card and a shot at the grand prize. The runner-up will receive an additional $500 cash card, and the grand prize winner will win an additional $500 cash card plus a trip for two to New York City! You can find out more information* on PEPCID® Tastemakers Celebrating Local Eats contest here: www.pepcidtastemakers.com
*Abbreviated Rules for Blog, FB and Instagram Posts:
NO PURCHASE NECESSARY. Open to legal residents of the 50 U.S. & D.C., 18 or older, and who did not purchase any equipment for purposes of entering the Contest. Enter Contest by

11:59 p.m. ET

7/10/16

. For Official Rules, including prize descriptions, visit pepcidtastemakers.com. Void where prohibited.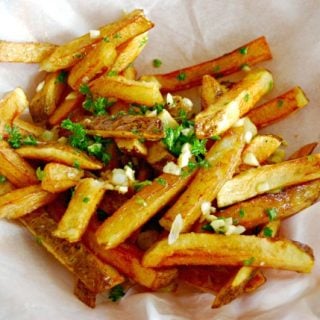 Garlic Fries Recipe
This Garlic Fries Recipe is just as good as the legendary fries served at San Francisco Giants games! Now you can make them at home.
Ingredients
2

quarts

vegetable oil

2

pounds

or 4-5 russet potatoes

1/3

cup

extra virgin olive oil

3

tablespoons

garlic

minced

1/4

cup

parsley

chopped

1

tsp

kosher salt

1

tsp

black pepper
Instructions
Wash potatoes and cut them into fries.

You can fry these in a deep fryer or a large pot.

Heat vegetable oil to 375℉.

Fry potatoes until they are a deep golden brown - about 10-12 minutes.

In a medium bowl, combine minced garlic and olive oil.

When fries are done, drain them and in a large bowl combine them with the olive oil and garlic mixture.

Add kosher salt and pepper and toss.

Want more Mess?