We live in the San Francisco Bay Area, and if you are a foodie, this is the place you want to be. There are so many amazing restaurants and local delicacies. Yet, for me, one of my favorite local foods is found in a ballpark. If you have ever been to a San Francisco Giants game then you have probably had their amazing garlic fries. San Francisco is not far from the town of Gilroy, California, the self proclaimed "garlic capital of the world." People in the Bay Area love their garlic and they love these fries. But you don't need to hop on a San Francisco bound plane to enjoy them. You can make this Garlic Fries Recipe at home and enjoy the same local flavors we find at the ballpark.
Garlic Fries Recipe
We used a french fry slicer to easily cut our potatoes, but if you don't have one, just cut them by hand with a knife. I like to leave the skins on, but you can peel the potatoes if you prefer your fries that way.
Since we love making this garlic fries recipe, we invested in a deep fryer. If you don't have one, you can simply fry the potatoes up in a large pot filled with 2 quarts of vegetable oil that has been heated to 375 degrees. If you are using a deep fryer, simply follow the directions for frying that came with your unit.
You will want to fry these potatoes for 10-12 minutes or until they are a deep golden brown and crisp. If you don't fry them until they are a deep golden brown, they might not stay crispy when you add the olive oil and garlic.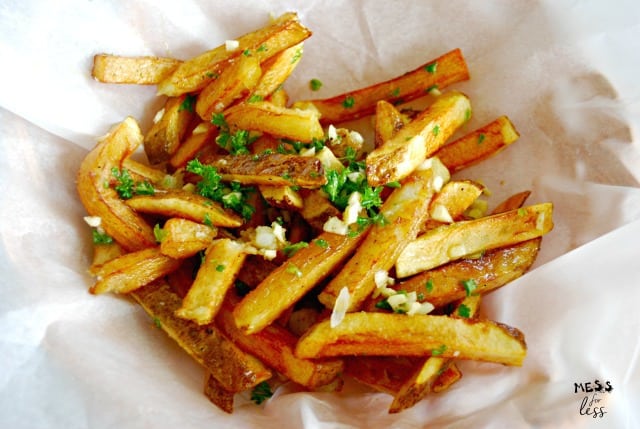 What makes this garlic fries recipe unique is that you use two types of oils. They potatoes get fried in vegetable oil and then topped with garlic infused olive oil. You will certainly want to keep some napkins nearby when you eat them!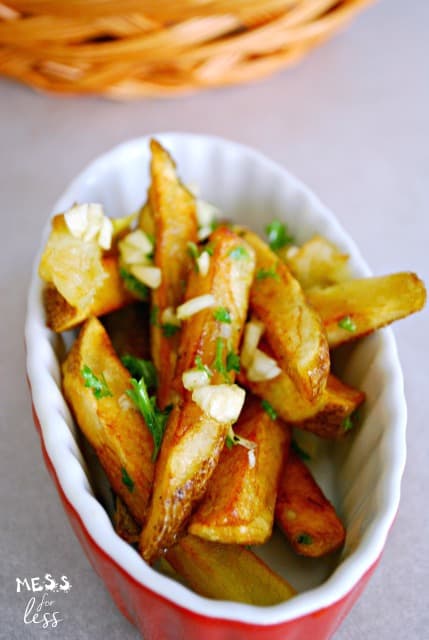 📖 Recipe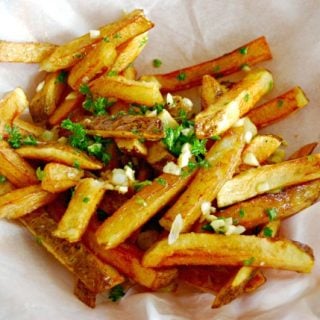 Garlic Fries Recipe
This Garlic Fries Recipe is just as good as the legendary fries served at San Francisco Giants games! Now you can make them at home.
Print
Pin
Rate
Instructions
Wash potatoes and cut them into fries.

You can fry these in a deep fryer or a large pot.

Heat vegetable oil to 375℉.

Fry potatoes until they are a deep golden brown - about 10-12 minutes.

In a medium bowl, combine minced garlic and olive oil.

When fries are done, drain them and in a large bowl combine them with the olive oil and garlic mixture.

Add kosher salt and pepper and toss.
Nutrition
Calories:
350
kcal
|
Carbohydrates:
44
g
|
Protein:
5
g
|
Fat:
18
g
|
Saturated Fat:
3
g
|
Polyunsaturated Fat:
2
g
|
Monounsaturated Fat:
13
g
|
Sodium:
596
mg
|
Potassium:
998
mg
|
Fiber:
3
g
|
Sugar:
2
g
|
Vitamin A:
321
IU
|
Vitamin C:
20
mg
|
Calcium:
48
mg
|
Iron:
2
mg
Please note the calorie and fat content listed in the nutritional information is much higher than it actually is since the program I am using is counting the total oil used for frying, not just the oil that is absorbed into the arancini.
This nutritional information is approximate and was calculated using online calculators. Your nutritional information may vary depending on numerous factors.
If you enjoyed these Garlic Fries you'll also love: