Today I'm going to share how to make a cute Worm Pencil Holder craft with your child. You may already have all the supplies you need at home. I love this craft because it's simple to do and repurposes paper tubes which usually get thrown out. You get to use something in a new way and create something useful. That's what I call a win-win!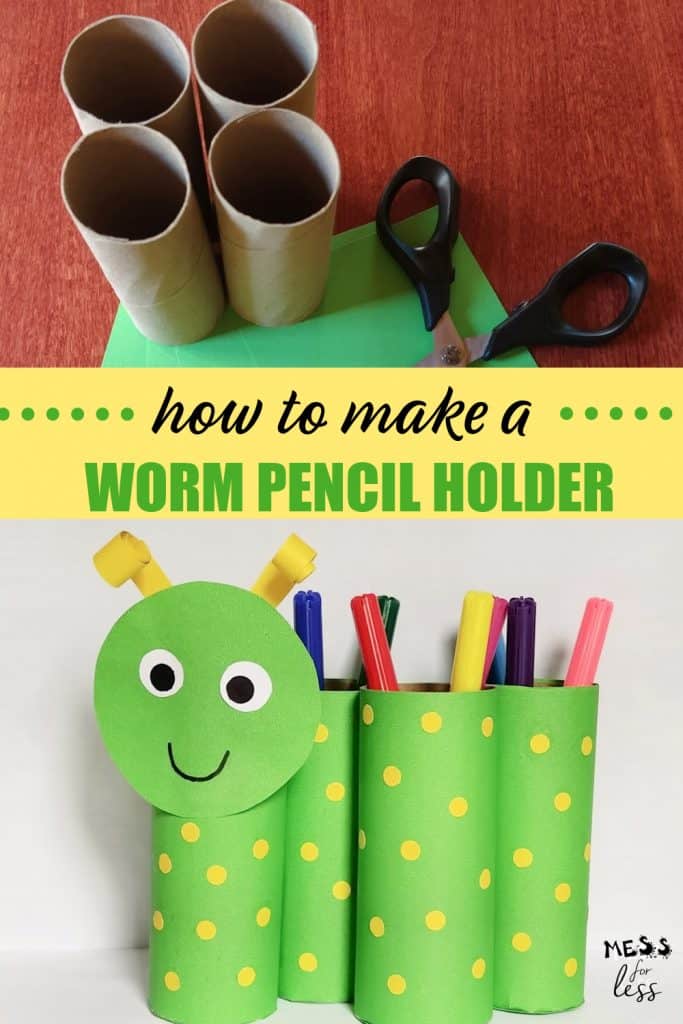 Jump to:
Why your kids will love this DIY pencil holder
With a lot of kids doing the virtual learning thing, giving them a work space where they keep their stuff organized has become very important. My kids are lucky enough to have desks where they do their schoolwork. But it can be challenging for them to keep their supplies and materials organized to make them easy to get to. All this helps to make it easier to complete their work in a timely fashion. This worm pencil holder craft is not only adorable, but it's really functional. Make one with your kids and have them place it on their desk or wherever they are doing their school work to hold pencils, pens, markers, even a small pair of scissors. Basically all the things that are typically cluttering up a desk.
WHAT SUPPLIES DO YOU NEED TO MAKE A DIY PENCIL HOLDER?
four toilet paper rolls
glue
scissor
pencil
black marker
stapler
ruler
HOW DO YOU MAKE A PENCIL HOLDER CRAFT WITH PAPER TUBES?
The base of the worm's body will be made using toilet paper tubes. You will be using 4 tubes. Measure and cut four green pieces of construction paper so they cover the tubes.
Glue the construction paper on to the toilet paper tube.
Hold closed for a few seconds so the glue sets a bit.
Trace 4 circles onto green construction paper using the tube as a template.
Cut out the circles.
Glue the circles to the bottom of the four toilet paper rolls.
Cut a larger circle for the worm's face and draw a smile using a black marker. Cut out two eyes from white paper and glue those on. Draw black pupils on the white eyes using a black marker.
Glue the four toilet paper rolls to each other in a zig zag train that will make the worm's body.
Glue the worm's face to the body.
Cut two yellow paper strips for the antennae and roll them up with a scissor. Glue them to the back of the worm's face.
Use a hole punch to punch holes out of yellow construction paper. Glue them to the body of the worm to give him a little extra personality.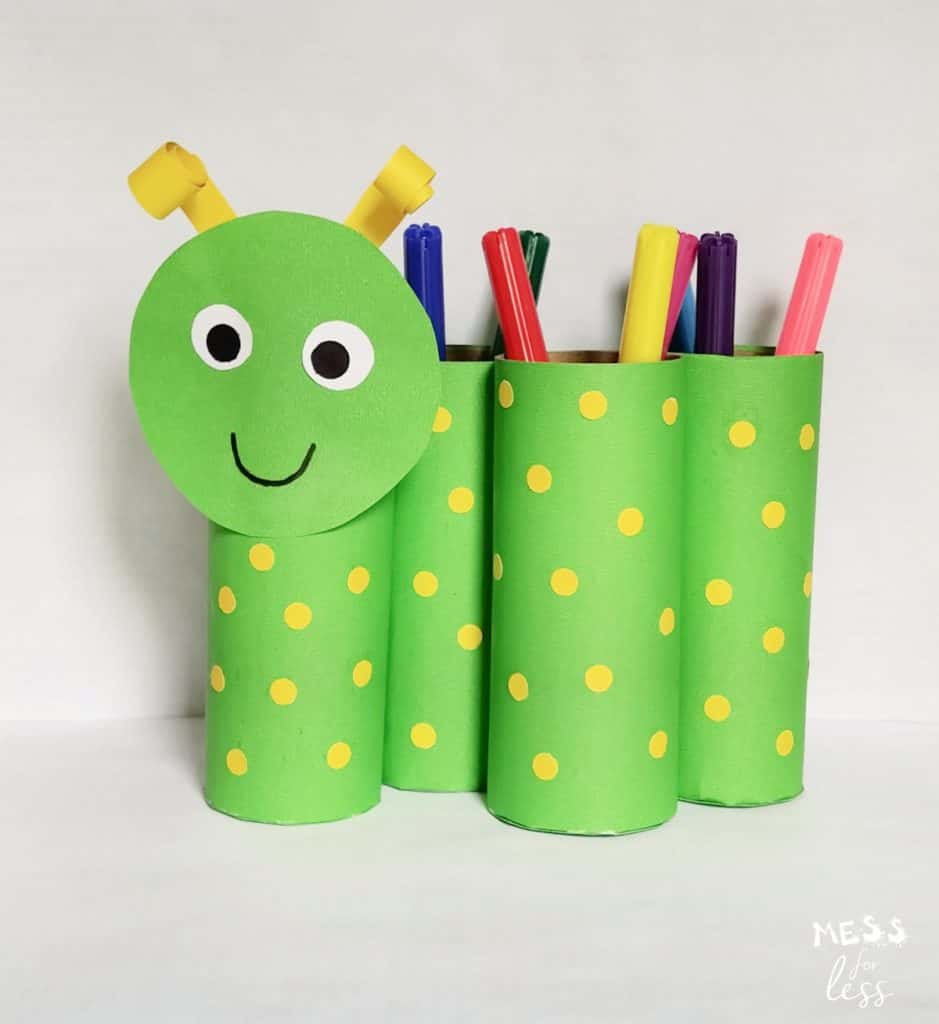 Now this worm pencil holder is ready to help your child stay organized!
GOT A CRAFTY KID?
The folks at Annie's know crafting, so you know they have put together some amazing kits for your kids.
For girls:
The Creative Girls Club subscription box will get your girl's creative juices flowing. Girls get two kits each month full of crafting fun. Best of all, the crafting can be done with minimal adult supervision. While she is creating, she will be learning valuable skills such as painting, beading, stitching, paper crafting, and much more!
For boys and girls:
These Young Woodworkers Kits have everything your little builder needs to create crafts and toys they can enjoy, while learning important woodworking skills along the way. Your child's first three kits will include 5 kid-sized, high-quality tools they'll use again and again. A new woodworking project is delivered every four weeks, with a new and exciting skill to master. Each project teaches a real world skill that kids will use for years to come.
Related Posts
Paper Craft for Kids - Spring Dog